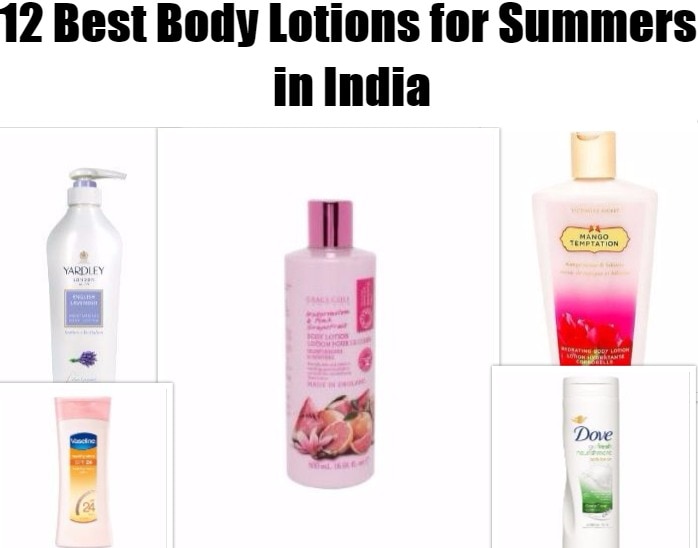 Top 12 Summer Body Lotions in India for Oily and Dry Skin with Reviews and Prices
With the temperatures so high in the Indian summer, we try and do everything to protect our skin from the harsh rays. We pamper our face with utmost care, but we sometimes forget that our body needs some pampering and care too, especially when the temperature is over 40 degrees. Also, if you are out in the sun for a longer period, use a SPF, and reapply it in every two-three hours. Body lotions that are made especially for summers not only helps to keep the skin sweat free and fresh, but they help to cure the flakiness of dry skin as well. Not many lotions for summer season meant for oily skin are available in the Indian market, but I have rounded up some top selling body lotions that your body is absolutely going to love in this hot weather. Read on to find about them.
Scrubbing your body once a week, drinking lots of water, getting a spa or a massage once in awhile is a good way to make your skin happy, but body lotions play an important role in retaining the moisture and protecting your skin from the harmful rays be it summers or winters. It should be kept in mind that body lotion must be applied within 10 mins after bathing so that the skin does not lose its natural moisture. Body lotions should not be specifically used in winters or only during those times when you are suffering from dry skin,  they should be used during all seasons to keep the skin healthy and soft. Body lotions that are formulated specifically for winters should not be used in summers because they might make the skin greasy or oily, although, those with super dry skin might use winter body lotions all around the year.
List of Best Drugstore Body Lotion Brands for Summer Available in India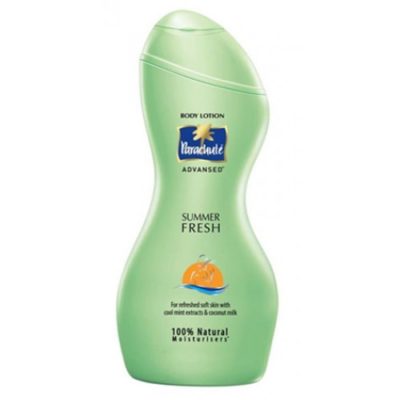 Price: Rs.215/- for 400 ml
I absolutely love all the body lotions from Parachute! This one is my favourite during summers because it smells so fresh and summery, absorbs very quickly without leaving the skin oily. It gives a mild cooling sensation when applied. It comes at a reasonable price, and one bottle lasts long. Can be used by both oily skin and dry skin. And yeah don't go by the packaging, it can be used by both men and women.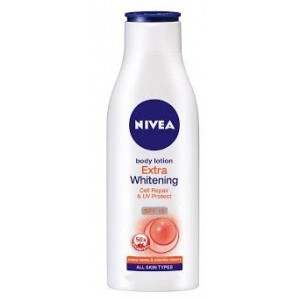 Price: Rs.249/- for 200 ml
This body lotion is perfectly appropriate for everyday use during summers. It keeps the skin soft and hydrated. It has a mild fragrance which fades away within a few minutes of application. It removes tan to a great extent on regular usage. It has SPF as well, so you don't have to worry about tanning or skin damage. It claims of skin whitening which I'm not sure if it can but it can protect you from further skin  darkening.
3. ST.Ives Naturally Soothing Oatmeal and Shea Butter Body Lotion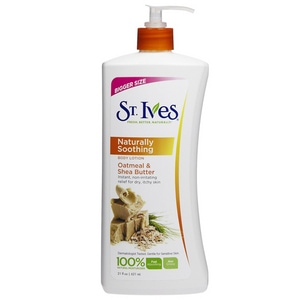 Price: Rs. 599/- for 621 ml
The products from ST.Ives are reasonably priced and work so well. This brand has a variety of body lotions, face and body scrubs, lotions and many other products. This body lotion for summer from ST.Ives helps to soothe the irritated skin and the redness, so this one will work best for those with sunburn or those suffering from skin problems due to summer. It soothes the skin while providing moisture to it.
4. Dove Go Fresh Body Lotion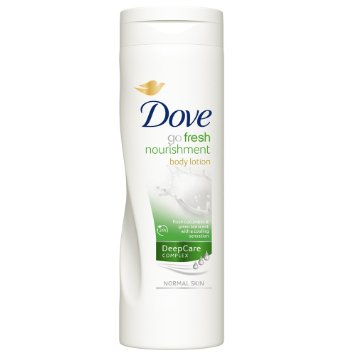 Price: Rs. 110/- for 100 ml, Rs.250/- for 225 ml, Rs.350/- for 400 ml, 
This body lotion is best for hot and humid weather. It keeps the skin fresh throughout the day, nourishes it, and moisturises the dry skin as well. Those with sensitive skin can go for this body lotion as it won't irritate or cause any reaction. Its a great buy if you are looking for a cheap body lotion for summer.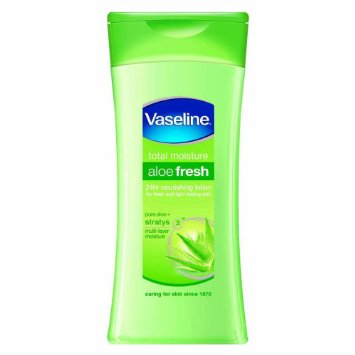 Price: Rs.235/- for 300 ml
It is one of the best body lotions for indian summer. It contains aloe extracts, which moisturizes your skin and gives it a cooling effect and also protects from the harmful sunrays. It has a mild and beautiful fragrance of aloe and cucumber. It also repairs dry and damaged skin to a great extent. Perfect for dry skin.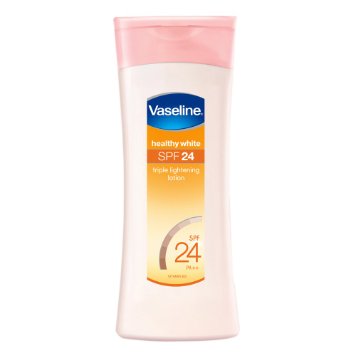 Price: Rs.110/- for 100 ml
It's a light body lotion with a soft fragrance. It does not feel sticky,  lightens the skin with regular use, and protects against tanning. If skin whitening and fairness is your concern then for this Vaseline moisturizer. One of the best no fuss body lotions in India.
7. Yardley English Lavender Moisturizing Body Lotion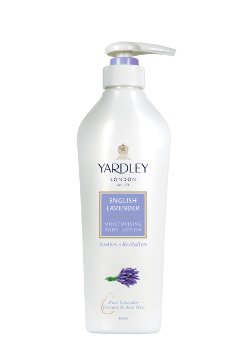 Price: Rs.199/- for 200 ml
This body lotion is soft and creamy, and absorbs into the skin quickly, leaving the skin soft and well moisturized. It has a beautiful fragrance. Although, it might not heal the skin if it's too dry. For those with oily skin, it will not make the skin excessively greasy, but it will balance the moisture perfectly.
8. Himalaya Aloe & Cucumber Refreshing Moisturizer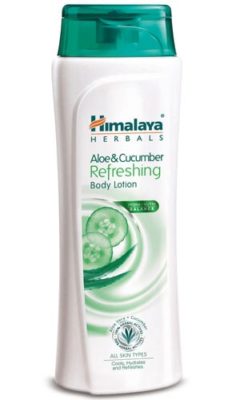 Price: Rs.140 for 200 ml
Aloe and cucumber: your skin's best friend during summers. This body moisturizer for summworks well during summers, keeps the skin cool and fresh, and smells good. It's not expensive, and one bottle goes a long way, so it's cost efficient as well.
9. Victoria's secret Mango temptation Hydrating body lotion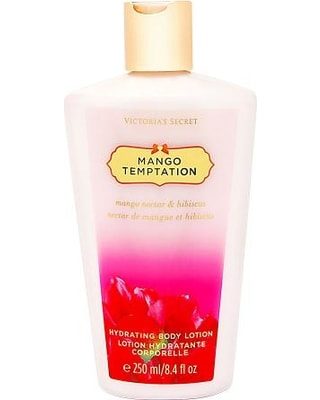 Price: Rs.1090/- for 250 ml
Victoria's Secret- a name which makes a lot of women excited! It is a top international body lotion brand. This has the perfect ingredients to protect the skin from the summer heat while keeping it hydrated. It contains Aloe,Oat, Grapeseed extracts, Vitamin E, Vitamin C, Mango Nectar, Hibiscus. We couldn't ask for more! Its fragrance is so beautiful, and makes the skin velvety smooth and soft. Although the price is on the higher side, once you start using it, you'll definitely fall in love with it.
10. Grace Cole watermelon and pink grapefruit body lotion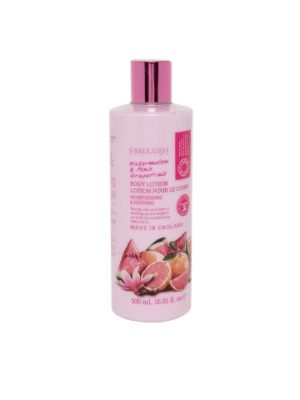 Rs.850/- for 500 ml
From the first application of this body lotion, the difference is felt. Watermelon moisturizes and hydrates the skin, eliminates excess oil, treats sunburns and grapefruit contains a high amount of Vitamin A and C, and shield the skin from the UV rays, thus, making this lotion perfect for summers. This body lotion does not contain parabens, and is very gentle on the skin.
11. Lubriderm daily moisture lotion with sunscreen broad spectrum SPF 15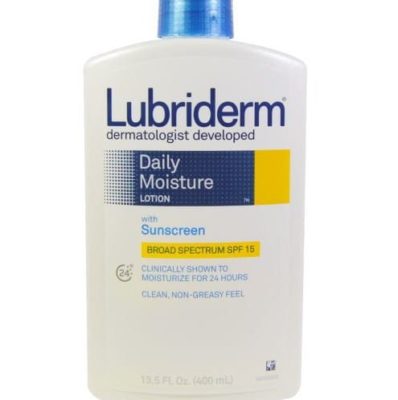 Price: 1685/- for 400 ml
This one is perfect for everyday use as it contains SPF as well. It moisturizes the skin without irritating it, and does not let the skin tan. Can be used by those with sensitive skin.
12. Jergens Soothing Aloe Refreshing Moisturiser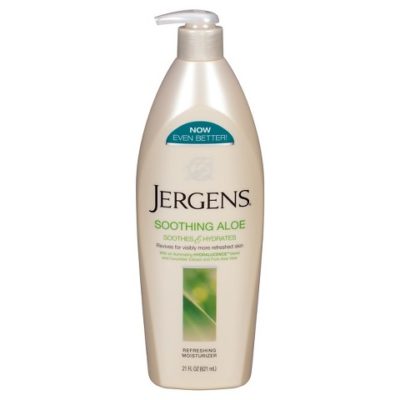 Price: Rs.439/- for 496 ml
It has a refreshing fragrance, does not feel greasy on the skin, absorbs pretty fast, heals and soothes the skin. The only drawback is that it might not heal extremely dry skin.
Some people apply coconut oil in place of body lotion, which is fine during winters because the skin becomes too dry and flakey, but in summers, it not only makes the skin too oily, it can even result in skin darkening if exposed to sunlight. While choosing a summer body lotion, avoid ingredients like fatty acids unless you have a very dry skin because they tend to make the skin greasy and sweaty. Ingredients like aloe, cucumber, glycerin work best during summers because they keep the skin cool and fresh, and also help in treating and preventing sunburns.
If you have got a major sunburn, use ice to reduce the redness and for soothing. Remember, prevention is always better than cure, so if you are out in the sun for a longer period, use a good sunscreen with SPF 30. Go ahead, invest in some good body moisturizer, because hey, taking care of your body is as important as taking care of your face.
Read More:
Which is your favourite summer body lotion? Share your reviews with us.