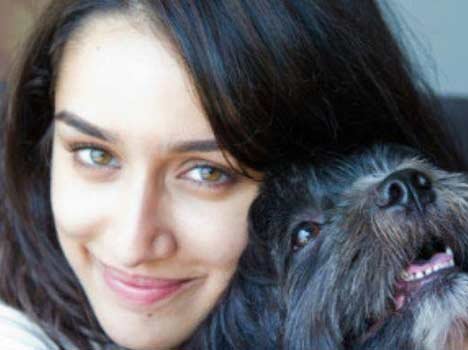 Top 10 Beautiful Shraddha Kapoor Images Without Makeup
A perfect blend of chirpiness, vivaciousness, pertness and unbridled energy and gusto with a dash of naivety, Shraddha Kapoor is the next big thing in Bollywood. With back to back successes at the box office like Aashiqui 2, Haider, ABCD 2 and recently, Baaghi, this hot Indian actress is making the right waves in the glittering world of Hindi cinema. That she looks angelic with a little makeup is a no-brainer. What is little known is that she looks ethereal and beautiful without any speck of makeup. Safe to say she has a picture perfect face in both real and reel life.
Overnight sensation… this is a lofty terms that frequents in films, novels and other literary work. The usual chain of events encompasses a talented ragamuffin, barely making the ends meet but bubbling with untapped potential and zeal, running from pillar to post to show the world her prowess. Dejected on facing rejection from all directions and by people in power, she almost throws up the sponge, embracing defeat. And then, destiny gives that person one shot to make it. She then puts in everything in that one chance… and sets Thames on fire!
On the contrary, they say that Rome was not built in a day. Truth and fiction certainly don't always lie on the same page. The stunning daughter of Shakti and Shivaangi Kapoor- Shraddha Kapoor's case arouses curiosity. Why? She experienced both. Not many would know but Shraddha's launch vehicle in Tinsel-town was a rather obscure part in the 2010- Big B starrer- Teen Patti. That the hindi flick sank without a trace at the box office is a no-brainer. Next came a half-baked role in 2011 in the Y-films presentation- Luv ka The End.
Two back-to-back lukewarm performances in flicks that turned out to be Box Office debacles, no one would have thought that actress Shraddha Kapoor would ever see the light of the day in Bollywood but then, as destiny would have it, two years down the line and she kindled the 77 mm screen in a heart-rending romance saga opposite the debonair Aditya Roy Kapoor (who himself was in dire need of a hit then) in Aashiqui 2. The songs became chart busters, the still of the film's poster became a cult pose, Arohi and Rahul became metonymic with the 'IT' couple! On that note, let us disport ourselves in the best Pictures of Shraddha Kapoor without Makeup .
Unseen Image Gallery of Shraddha Kapoor Sans Makeup
1. CLICKED BY PAPARAZZI SANS MAKEUP-
You might have seen celebs, hide themselves with whatever in sight when faced with paparazzi but that is not the case with stylish Shraddha for sure. The comely Aashiqui 2 lass faces them and how! While she looks sleep-deprived yet we can turn a blind eye to it for she is clearly without makeup and still, manages to look cherubic.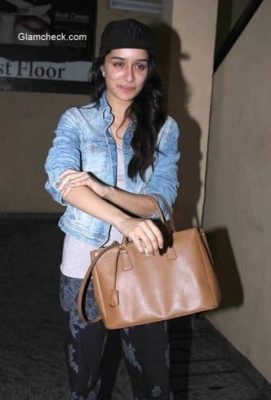 2. SELFIE WITH HER DOG –
A number of Bollywood celebrities unleash the child within them when with their pets and so does Shraddha albeit she exudes a child-like innocence with oodles of energy as she beams with her pet dog. Her no-makeup face adds all the more radiance to this instagram selfie. One of my favourite shraddha kapoor photos.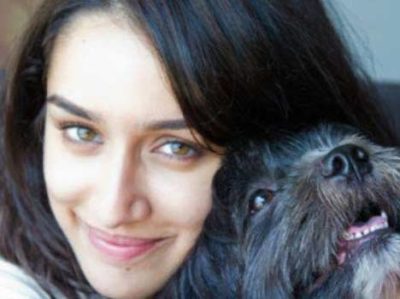 3. MINIMALISM AT ITS BEST-
With a little stroke of an eyeliner, a fuchsia pink lip stain marking her lips and glossy mane tied in a sleek ponytail, she is captured in a relatively low-makeup image in her car. Minimalism, as they say has an indescribable charm and Shraddha surely knows the art of mastering it.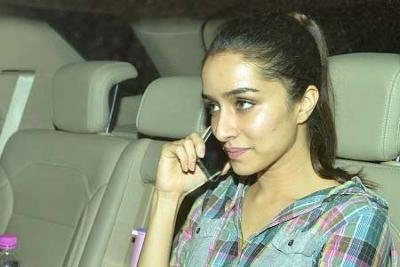 4. DURING THE SHOOT OF OK JAANU-
Her upcoming Mani Ratnam-directed flick OK Jaanu, which is a remake of O Kadhal Kanmani that had South sensation- Dulquer Salman and the lively Nithya Menon in lead roles, has the dashing wiseacre- Aaditya Roy Kapoor opposite her. Captured during one of the shooting schedules of the flick, beautiful Shraddha keeps her no-makeup game going strong and manages to floor us effortlessly without any speck of makeup on her face. When you have a face that is the textbook definition of cuteness, going no makeup becomes cushy, doesn't it Shraddha?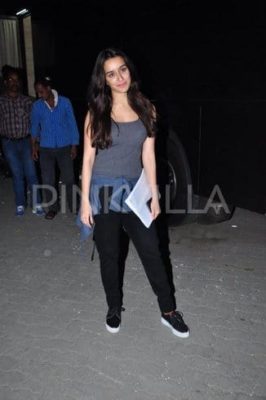 5. GOING NO MAKEUP AT BREAKFAST –
And that is how you go no-makeup while dining! While savoring lip-smacking cuisines, stunning Shraddha gives makeup a total miss. Clearly, there is no speck of makeup on her cherubic face and with that we compelled to throw bouquets at this hot bollywood actress.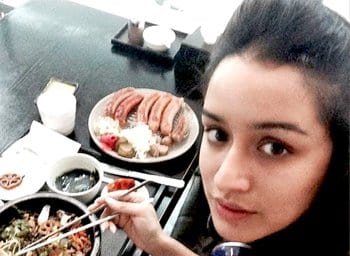 6. LITTLE MISS SUNSHINE-
Isn't the title apt for the ABCD 2 girl who without any speck of makeup, looks drop-dead gorgeous in this frame? With glossy mane, radiant skin that is being kissed a good morning by the sun rays and feline eyes which hold one transfixed, this picture of Ms.Kapoor redefines chirpiness like no other. Another best shot of Shraddha Kapoor without makeup in my camera roll.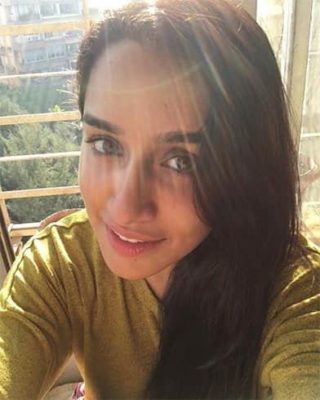 7. BEAMING RADIANTLY-
Isn't there an inimitable energy and burst of vibrancy that she exudes when her lips crease into a smile, like that of a notorious child who beams on unleashing his mischief? With a child-like notoriety in her eyes and no makeup, Shraddha sweeps us off our feet in this snapchat story.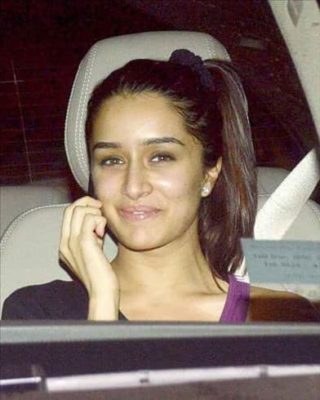 8. INHERENT SELFIE QUEEN-
First things first. THAT'S a unique phone cover. A fusion of Desi and Gothic styles, as I would call it and totally worth a buy. And now come to the Baaghi girl- Shraddha, who is busy clicking a selfie. With slight dark circles that can ignore as we look into the bigger picture, she looks like a simple girl-next-door whose seraphic mien is the textbook definition of joviality.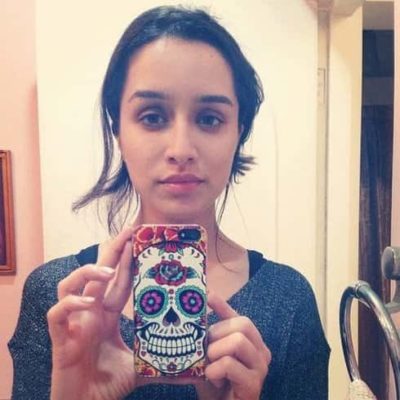 9. GRUNGY AND UNAPOLOGETIC ABOUT IT-
And who looked half as winsome as the ABCD 2 girl when going grunge? Shraddha in this picture certainly does. Luscious locks? Check. Flawless skin? Check. A natural pink pucker? Check. A unique fusion of naivety and notoriety in her orbs? Check. No-makeup? Double check. The Haider beauty is a natural raw beauty and floors us without even trying.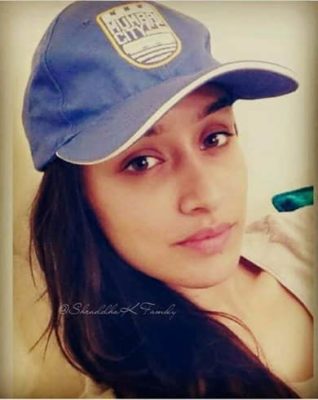 10. THE GIRL-NEXT-DOOR CHARM –
Redefining simplicity in a pair of blue denims and striped shirt with her glossy mane let loose and charm in galore, sexy Shraddha's no makeup look catches our fancy. Clearly, her face bears no trace of makeup and just look at her level of confidence. She carries herself immensely well like always. Alluring as always, Shraddha!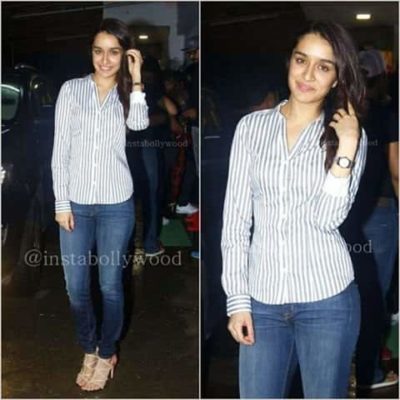 Image Source: 2,1,4,5,6,7,8,9,10,11
Which is your favourite photo of Shraddha Kapoor? Share your reviews with us.