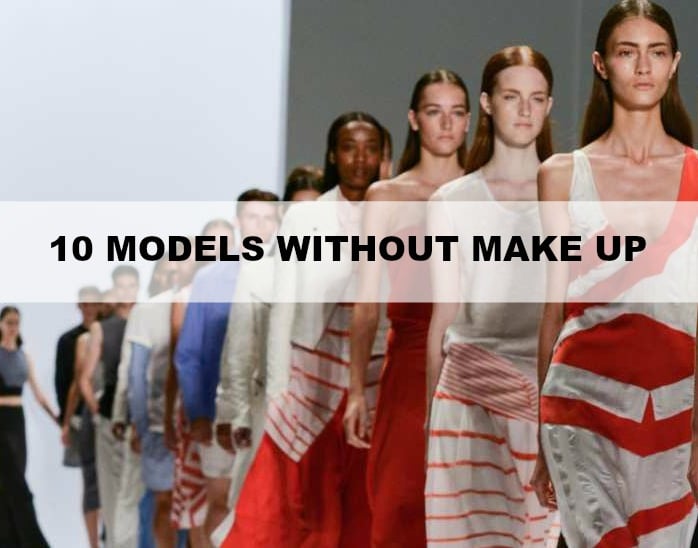 Top 10: Pictures of Models Without Make Up
A lot can be said about the modelling world; how it perpetuate unrealistic standards of beauty and physical perfection, the photoshop and air-brushed make up, the glamourous lifestyle. However, every so often we forget that many of these runway models are remarkable individuals who put themselves into immense physical duress and fitness to achieve their looks. They also work hard at being entrepreneurs, business women and try to achieve their own personal success despite being in the industry. Here are 10 fresh faced supermodels without makeup who look just as lovely on camera as they do off camera. A lot of these models just happen to be regular women in their day to day lives and spend a lot of time focusing on other aspects of their life other than the glamour and the make up.
A good chunk of models begin their careers at extremely young ages (the vast majority of the current reigning supermodels happen to still be in their teens or early twenties) and often many of them go on to doing great things with their life, whether's grad school or starting up a business or talk show.
List of Top 10 Supermodels Without Makeup Game On:
Miranda Kerr no makeup
She rose to prominence in 2007 as a Victoria's Secret Angel and after marrying Orlando Bloom, but today Miranda Kerr is a force to be reckoned with. She studied nutrition and health psychology prior to becoming a model and was the representative of the Australian department s tore David Jones. She's written a self-help book and is the owner of KORA Organics, which commits to providing organic skincare. She's the face for brands like H&M and Givenchy. And she looks just as lovely in the morning without being made up.
2.  Heidi Klum sans makeup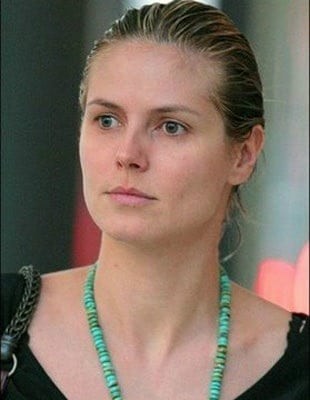 Remember when Carrie Bradshaw famously ran into her in the episode about real models and real people? And yet it seems Heidi Klum hasn't aged a day since that appearance. Possibly the only real world Barbie, Supermodel Heidi actually became the official ambassador brand for Barbie on their 50th anniversary. Donald Trump famously said that she wasn't a "10" anymore (probably because she's an 11 now) but this woman has gone far. From being one of THE supermodels of the millenium, she's gone on to host Project Runway and has her own lingerie line, Heidi Klum intimates.
She also has her own single "Wonderland" out, which was written for the german retailer Douglas. She has been a judge on America's Got Talent. Is there anything she doesn't do? Doesn't she look lovely barefaced?
3. Tyra Banks aka Victoria's Secret Angel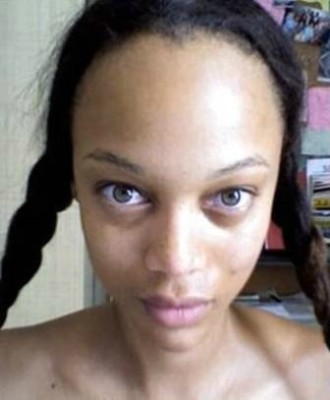 Probably a firm favourite and original Victoria's Secret Angel, she was the first to add a lot of pizzazz into what a model was supposed to be. Up till then, models were waifs with blank personalities on the ramp, but Tyra brought some invigorating energy into each one of her walks, perfectly exemplifying the girl next door
. She had a recurring role on the Fresh Prince of Bel-Air and Coyote Ugle (which went on to become a box office hit).
The victoria's supermodel went on to host the Tyra Banks show and America's Next Top Model, and took a certificate program at Harvard Business school so that she could open her own cosmetics line Tyra Beauty and e-commerce cosmetic company tyra.com. Here she is probably snapchatting away her morning face devoid of any makeup.
4. Doutzen Kroes Victoria's Secret Angel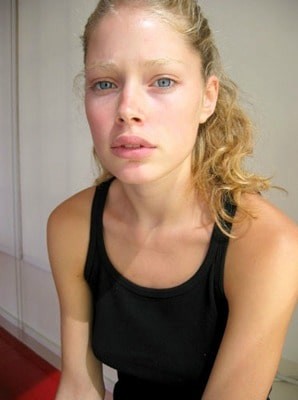 Becoming a victoria's secret angel in 2008, she was introduced a bit late to the fashion industry in comparison to her peers. Doutzen is a brand ambassador for L'oreal Paris and is described as the "Helen of Troy" in the advertising world. She was not discovered by a scouting agency, but was taken in by Paparazzi Model Management after someone sent them her holiday snaps. She contributes to Dance4Life, a Dutch non-profit organization that uses song and dance to educate the youth about HIV and AIDS and its prevention.
She is a supporter of Wildlife Conservation and World Wildlife Fund. Also, it's impossible not to love her. Doutzen loves her job but does not believe that she is changing the world, so wants her daughter to have different aspirations and study so she can become something great like a president. She doesn't th ink there needs to be such a focus on beauty all the time. Hell yaasss Doutzen, keep slaying. Her porcelain skin looks flushed without makeup, cute!
5. Allesandra Ambrosio without makeup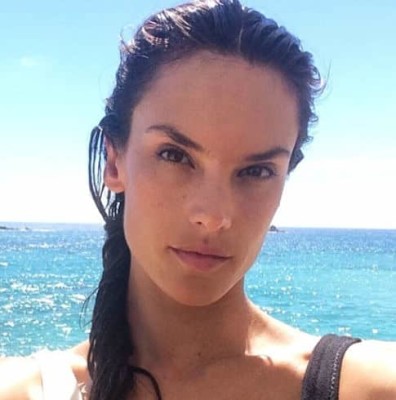 Her career started when she was 12, and she rose to prominence when she appeared on the Brazilian version of Elle magazine, but today, she is a contant face on the Victoria's Secret Model line up. She was ranked no.5 on the world's top earning model's list.  Ambrosio has a line of swimwear called Alessandra Ambrosio by Sais in 2004, which sold 10,000 units in only its first month on the market.
In 2014, Ambrosio launched her own fashion and life style brand named Ále by Alessandra. The line features casual wear to formal attire for women. She is the National Ambassador for the National Multiple Sclerosis Society. Here she is photographed on a beach with no makeup on looking very gorgeous.
6. Emily DiDonato aka Maybelline Baby Lips Girl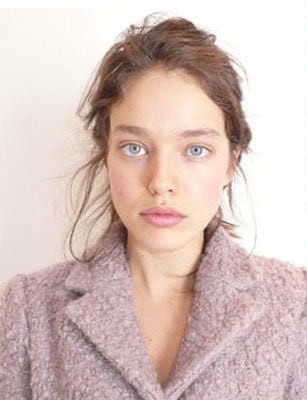 She was scouted at the mall when she was 10 years old by Tina Kiniry. In May 2009, she was signed by Maybelline New York having just graduated from high school with mimimum experience in the fashion industry. In 2010, she became the face of Giorgio Armani's Acqua Di Gioia fragrance. Pictures of her were used as the cover pages of L'Oreal for its Annual and Financial Reports for 2010. For Summer 2013, Emily DiDonato starred in advertising campaign for Oysho. She also made her debut in the Sports Swimsuit Issue in Namibia.
7. Cara Delevigne sans makeup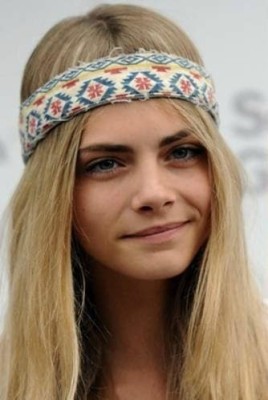 After leaving school in 2009, she signed on with Storm Model Management. She was discovered by Sarah Doukas, who also discovered Kate Moss. Delevingne's first catwalk  was at the February 2011 London Fashion Week, for Burberry Prorsum. She has now moved onto to acting, with her first leading role in Paper Towns, having previously worked in Anna Karenina and The Suicide Squad. She's in a relationship with musician St.Vincent. There's something about her no makeup look that's actually refreshing.
8. Lily Aldridge bare faced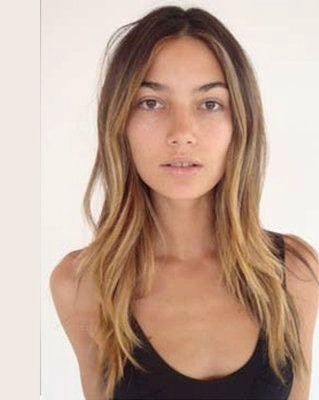 A Santa Monica native, Lily started modelling at 16 and worked for Abercrombie & Fitch, she was also featured in the Spring 2011 campaign for Rag and Bone. She is  the face of clothing company XOXO and the skincare company Proactiv in 2014. Also, she was the face of the Born Free Africa campaign for online retailer Shopbop. She is well known for appearance in Taylor Swift's music video "Bad Blood." We are used to seeing her while she has makeup on so this picture of her is quite hatke.
9. Adriana Lima no makeup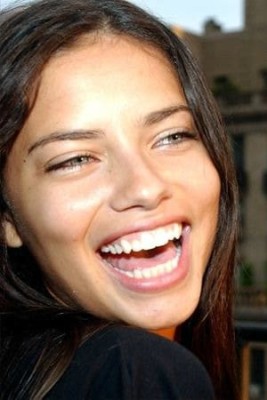 An Angel since the start of the millenium, Adriana is still a model for Victoria's Secret, 16 years later. She is the model they have had the longest till date. She has also been a spokesperson for Maybelline from 2003 to 2010. She has been the face of numerous fashion powerhouses and is one of few models who has her own statue at Madame Tussaud's. In this picture she isn't wearing any makeup but well we can't expect Adriana to look like a million bucks around the clock with her game face on.
10. Gisele Bundchen without makeup game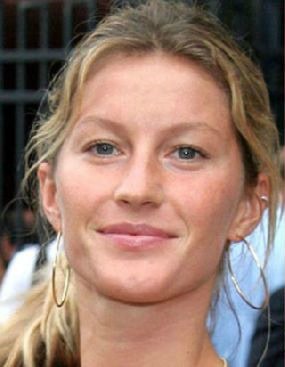 After a legendary appearance in the Devil Wears Prada movie, we all knew that Gisele Bundchen wasn't someone who was going to fade from the limelight too easily. She's married to the NFL football player and NE Patriot's quarterback Tom Brady. Talk about a power couple! She is a Goodwill Ambassador for the United Nations Environment Programme. Towards the end of the 90's, Bündchen was the first among a wave of Brazilian models (along with Adriana Lima) to find international success.
She has also been recognized for putting the heroin chic era of modelling to stop. She also created the "horse-walk", which is a stomping movement when you pick you knees high and kick your feet in front (if you're ever attempting to be on a runway someday.) Here she isn't wearing any trace of makeup but still looks picture-perfect as she would with a beauty team behind her.
If you want I can do a similar round up for our own Indian models off the ramp. Let me know.
Image Source: 2,3,4,5,6,7,8,9,10,11
Read More:
Who is your favourite supermodel without makeup? Share your reviews with us.