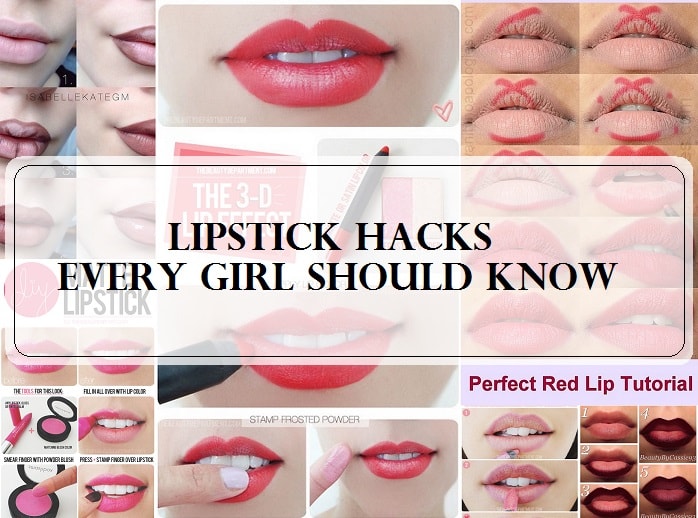 Top 10: Best Lipstick Tutorials for Red Lips, Ombre Lips, Vampy Lips, Glitter Lips, Fuller Lips
Lips are truly the prettiest feature of our face and we always want to make it even better. Gone are the days when we only wore single lip color to make ourselves stand out. Be it gloss, matte or glitter – you can try various lip arts to make it more appealing than usual. We have adored a lot of celebrities with the sexy lip job but little did we realized that some easy lipstick tutorials and lipstick hacks can get you those perfect red lips, the perfect full lip or just see how to apply lipstick perfectly in easy steps. You can also go crazy with ombre lip tutorials, 3D Lips or the glitter lipstick tutorials. Confused? Let us see the detailed list of the best lipstick tutorials for a beautiful look.
With various beauty evolutions, lip makeup has developed into a fine art we can experiment as much as we can. It doesn't matter whether it is a simple red or pink lip color or a regular MLBB, we can still make to look extraordinary and not to mention stunning.
List of the Best Lipstick Tutorials for Beginners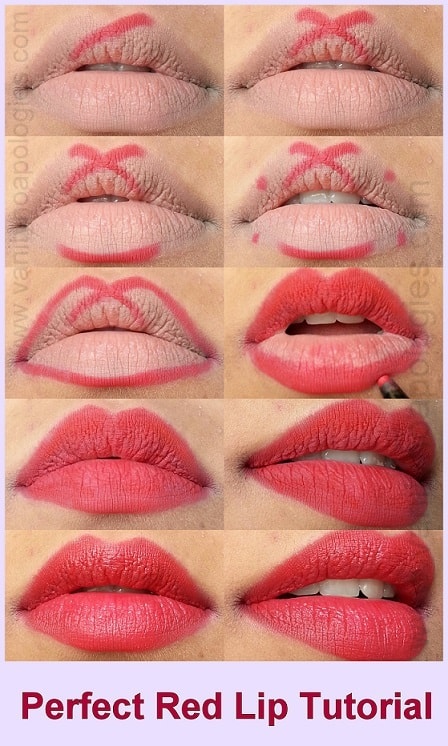 Red lipstick is one of the weakness of every woman out there. We all love flaunting the sexy red pout but most of us don't know how to wear it properly. It might seem very easy but it isn't as it can either make you look drop dead gorgeous or may all together kill the entire look. Follow this detailed step by step red lip tutorial as mentioned by Shruti on VNA to exhibit the perfect red lips for every occasion. She has done some great makeup tutorials and reviews here on VNA too.
OMBRE LIPSTICK TUTORIAL: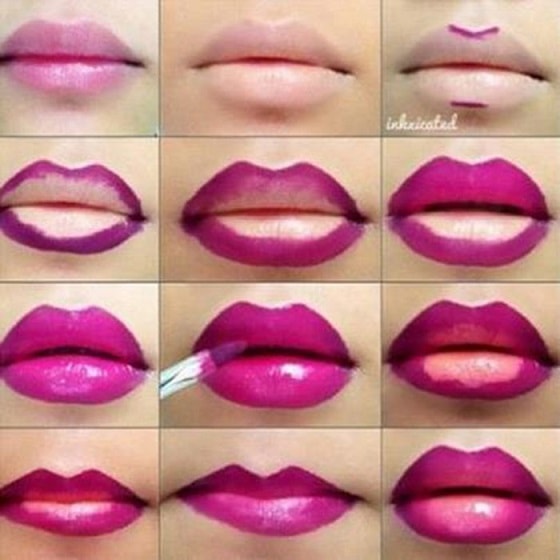 The word "ombre" is a French word, which means "to shade" and that is all the ombre lip tutorial is about. Ombre lip have been doing the round and looks perfectly for every occasion when you choose the right colors. You can either go dramatic with ombre or keep it subtle and yet look gorgeous. Start off by lining the lips with the darkest shade lip liner followed by applying a dark colored lipstick around the line. Now, fill rest of the lips with a lighter shade of the previous color and finish off by pressing both the lips together to merge the color slightly to avoid harsh edges. Voila! Your ombre lips are ready. VNA also has a ombre lip two tone orange red tutorial by Shruti.
How to: 3D LIPS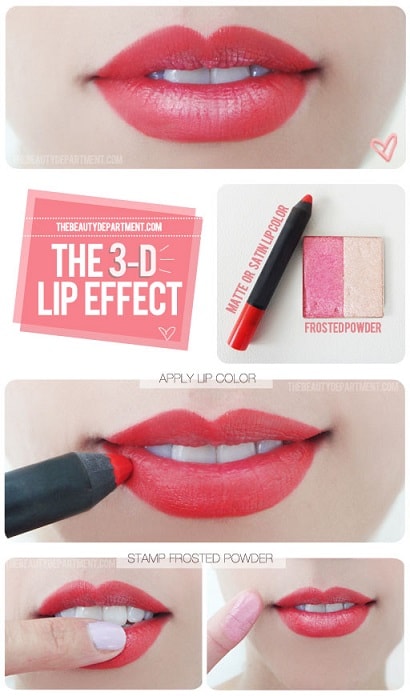 Whoever said you need to do a lip job to make your lips as stunning as Angelina Jolie never heard of 3D illusion lip tutorial. Some of us are born with thin lips or uneven lips and therefore dark colors make it look even thinner. However, a little lip art can fix that problem. Here we have a 3D lips tutorial. Line you lips with the lip liner followed by your favorite lip color matching the lip liner. Now, simply take some highlighting powder or shimmery light champagne eyeshadow and apply them on the center of the inner lips to create a 3D illusion. This is super easy and quick fix when you're in a hurry.
FULLER LIPS TUTORIAL FOR BEGINNERS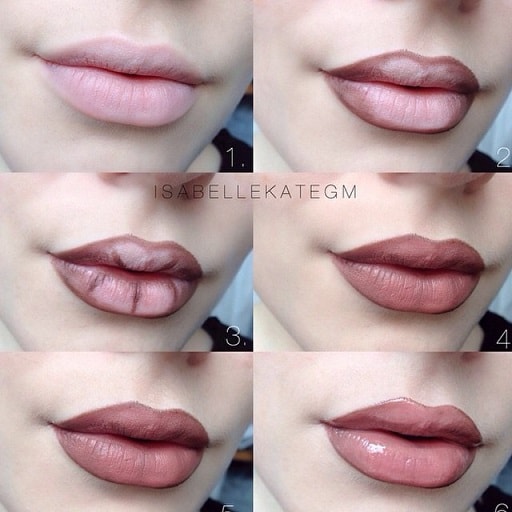 Fuller lips is nothing but a trickery, nonetheless it will magically transform your look. Choose a lip liner one shade darker than your lipstick. Now line your lip slightly on the outer border but make sure not to make it look artificial. Mark the lip by lining and dividing in three parts. Now simply fill your lips with the lipstick followed by the lip gloss to make to lips look appear fuller and better. This easy detailed lipstick tutorial for full lips like Kylie Jenner is what every girl needs to see.
TWO TONED LIPS TUTORIAL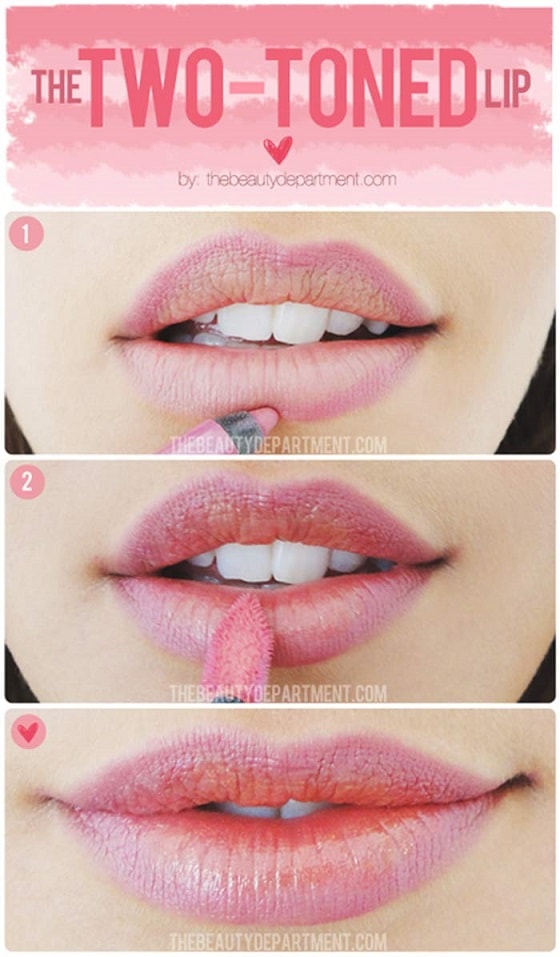 Wearing a single lip color is underrated. Try out the new 'in' thing of lip makeup – two toned lips. All you have to do is to choose two complimenting color with similar undertones to bring out the best of your lips. Line you lips thickly with a color, for e.g. a nice red toned pink and fill the rest of the lips with a red lipstick. Take a brush and merge the color to create a two toned lips. Bright out the inner artist in you and combine two favorite color of yours to create this lip makeup. Hope this lip tutorials helps you out.
How to: MATTE FINSIH LIPS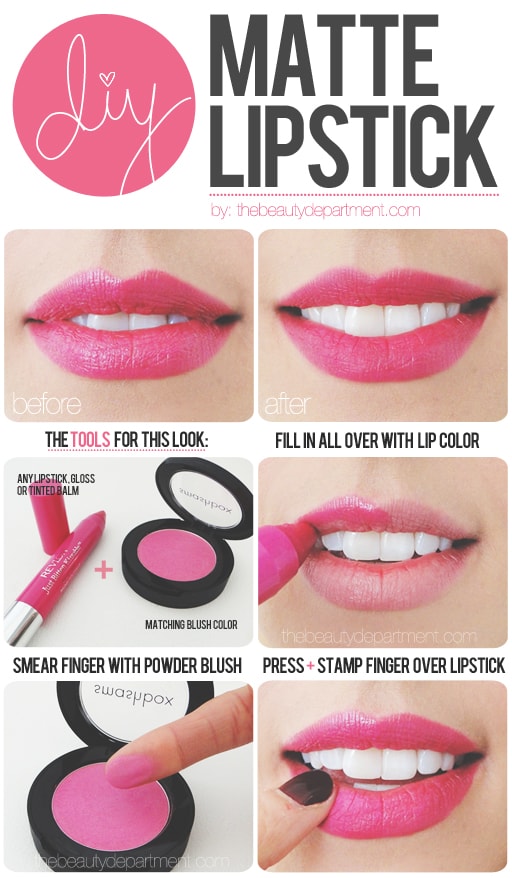 Each and every brand is in competition to bring the best of matte lipstick but little did you know that you don't need to spend the extra bucks at all. You can make you favorite lip color matte in no time. Apply lipstick and make sure it doesn't bleed. Take powder blush of similar lip color or any translucent loose powder and pat on the lips. Press your lips together but do not drag and notice how the lips transform to matte lips within seconds. This matte lip tutorial can turn any lipstick into a matte lipstick within minutes.
VAMPY DARK LIPS TUTORIAL FOR BEGINNERS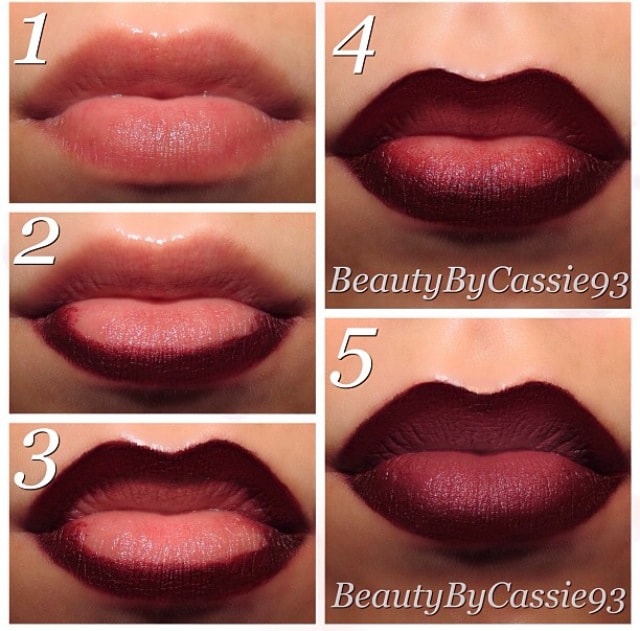 This lip tutorial is not for the faint hearted. With the fall season knocking on the door, this is the best time to learn this makeup tutorial. Line your lips with a dark maroon lip liner or black liner. Make the line tick and cover the edges carefully. Now, fill the lips with a reddish maroon lip color by simply patting the color with the finger. This will eventually blend the dark edges with the light color. You can either choose to wear it matte or apply gloss for a fuller effect. Again VNA also has a vampy gothic lipstick tutorial.
CARTOON LIPS TUTORIAL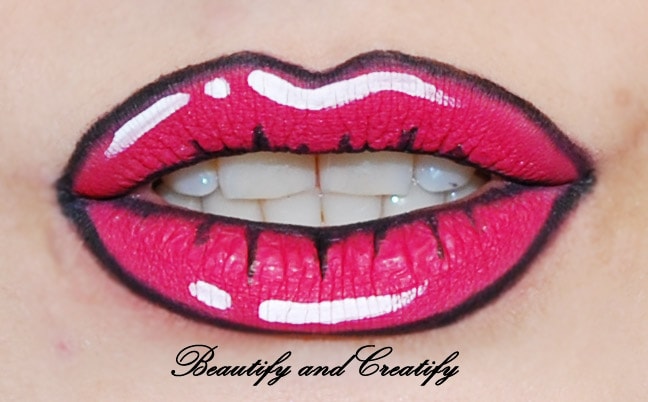 Go crazy this Halloween or fancy party by apply flaunting the cartoon lips. Apply your favorite pink lipstick and firstly line the lips with a black liner. Now use the same liner to little strokes that would look like little wrinkles of the lips. Secondly, use a white liner or face paints to draw similar liner to create an artificial reflection. That is all and your fancy cartoon lips are ready.
GLITTER LIPS STEP BY STEP TUTORIAL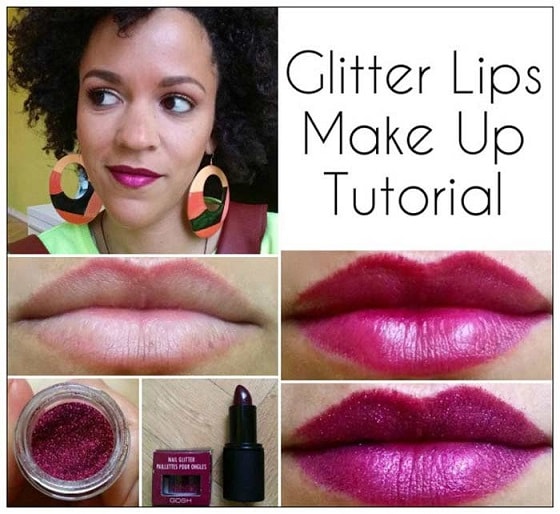 A little glitter can never hurts. Make your lips shine and stand out with the pixie glitter dust and will change the look in seconds. After the application of lipstick, make the lip color semi matte by blotting with a tissue. Now simply take some glitter and apply on the lips concentrating on the center of the both upper and lower lips. This is the perfect lip makeup tutorial for parties to make the lips party-ready in seconds.
FOILED LIPS TUTORIAL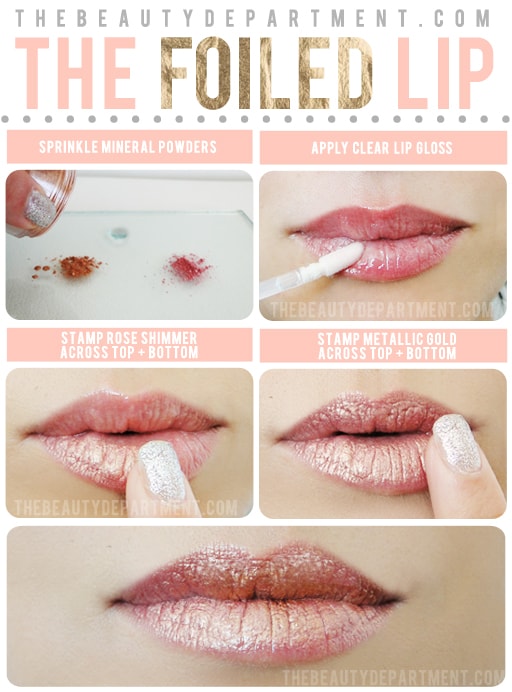 Foiled lips is the lips makeup you love to flaunt in parties or special nights. They create a foil reflection on the lips and looks natural yet stunning. After the application of the lipstick, dab some creamy highlighter on the lips which is of the similar color that of the lip color. Next, apply a layer of shimmery highlighter or shimmery eyeshadow. Now take the lipstick on the finger and dab onto the lips to neutralize the shimmery effect but merely blending it to the previous color. Apply lip gloss to center portion for the fuller effect and voila your foiled lip makeup is ready.
Image Source 3, 4, 5, 6, 7, 8, 9, 10, 11
By Contributor: Sanchita
Read More:
Choose Blush for Your Face Shape and Skin Tone
Alia Bhatt Inspired Makeup Look
How to Kim Kardashian Smokey Eyes
How to Angelina Jolie Pitt Makeup Look
How To Deepika Padukone Makeup Look
Which is your favourite lipstick tutorial? Share your reviews with us.