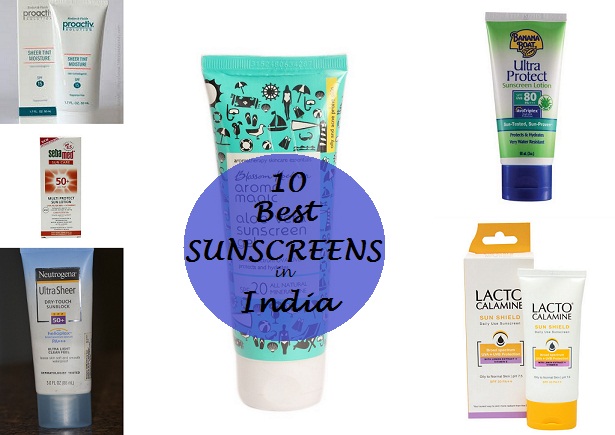 10 Best Sunscreens Available in India
By Contributor: Srishti
Brainstorming through ideas for posts I realized how could I have missed on this one. SUNSCREENS!! In a tropical country like India which is full of pollution and hot sun in the summers, sunblocks are a necessity (especially for girls like me who themselves are insanely protective about their complexion and then they have those ever pampering mothers like mine who say "hae kitni kaali ho gai meri bachhi" in every holiday they come home from college). The best SPF for Indian skin in SPF 30.
Some things we should know:
There is this very common mistake Indian girls tend to make –they miss out on sunscreen on rainy days (when intensity of sun rays though less in not absent) and in winters (when the sun is actually nearer to the earth).
SPF (sun protection factor) role – if your sun screen is SPF20 that means your skin, which would burn in the sun after 10 minutes, is protected for 200 minutes.

It is not recommendable to use SPF of around 75 since scientifically SPF 30 already blocks 97% of UVB rays.
Always apply sunscreen 15-20mins before getting into sunlight.
Anyway back to the point, here are the 10 best sunscreens available in Indian market:
1. Lotus 3 in 1 Matte Lock Daily Sunblock SPF 40
3 in 1 for there are three things it does – sun protection, skin lightening, mattifying. I would actually rank this #1. Its my sweatheart. Believe me, I have been a sunscreen user all my life and I have not come across a better sunscreen. It gives the skin the feel of silica primer, lasts long, is sweat free, and has a mild fragrance. It is "the perfect" sunscreen for any type of skin so oily skinned people shouldn't hesitate in purchasing it. It also comes in a variant of SPF 50. ( Rs.165 for 60gm for 40 SPF)
2. VLCC Matte Look Sunscreen Lotion SPF 30 with Pineapple Extracts
This gets #2 from me. This is again for all skin types (oily skinned girls it's a good to go forJ ). Non greasy effect rocks (though it does not give the matte effect)! What is dislike about it is its pineapple fragrance which although eventually diffuses in the air. It blends and gets absorbed in the skin beautifully. Having an oily skin, you wouldn't need a moisturizer with it, it keeps the skin hydrated.( Rs 295 for 100gm)
3. Neutrogena Ultra Sheer dry-touch Sunblock SPF 50+
I give it #3. The best thing about it is everything about it..haha.. it is as light as a hydrator (you don't feel it on your skin), oil free, water proof and sweat free so it is not easily rubbed off and has a light fresh scent.( Rs.500 for 88ml)
4. Ansolar Daily use Gel-cream SPF30
 It is safe for oily skinned girls. Its light weight, water resistant and yes! sweat free. (Price Rs.650)
5. VLCC sweat free SPF 40
It's not actually that sweat free but it is quite a good sunscreen for dry skin because it is bit greasy (which does not compliment oily skin).  (Rs 325 for 100gm)
6. Lacto Calamine Sun Shield Daily Use Sunscreen – Oily to Normal Skin Variant SPF30
Lacto calamine though has been the aid to many helpless acne prone girl over all these years but this time it came as a disappointment to the oily skin (makes oily skin sweat profusely). But it is boon for normal to dry skin with lemon extracts to control oiliness. (Rs.199 for 50ml)
7. Sebamed Sun Care 50+ Very High Multi Protect Sun Lotion
This is one of the most popular non-sticky sunscreen for sensitive, dry and normal skin. It is light, water and sweat resistant. Its greasy effect is not for oily skin as it does not mattify it well. (Price Rs.1500)
8. Aroma Magic Aloe Vera Sun Screen Gel SPF20
Being aloe vera based it is best suited to acne prone skin, highly sensitive skin, combination oily skin. A pea sized drop covers the whole face and extremely light on the face. (Rs 260 for 120ml)
9. Proactive Daily Protection plus Sunscreen SPF 30
Non greasy light weight formula also helps reduce acne breakouts. (Rs799 for 112gm)
10. Banana Boat Ultra Protect SPF 30 Sunscreen Lotion
This one is pretty good for dry to normal skin. It feels light on the skin but for oily skin it takes a bit of time to get absorbed in the skin and at times might feel greasy. It is water resistant and lasts for a decently good time.  (Around Rs.350-400 for 90ml)
These our my short and useful sunscreen reviews of the best brands available in India. And not only girls but men can use them too! So the list had a lot of options for oily and acne prone skin including a few options for the dry and rough skin as well.
Which is the best sunscreen or sunblock in India? Share your views with us