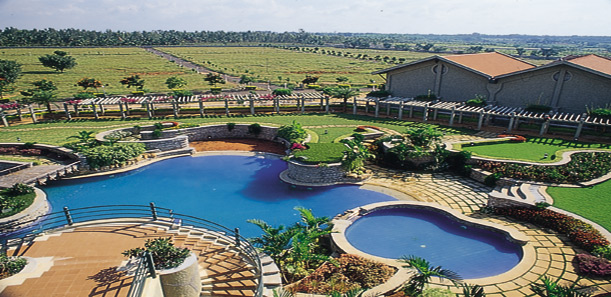 Top 10 Rejuvenating Spas to Visit in Bangalore
The modern-day Spas are more sophisticated environments, where the entire process of healing, relaxing and rejuvenating is involved. This has involved a nice massage as well for added benefits and today various massages are the main focus of a certain Spa resort. One of the most important aspects of the modern day spa is the location. A good location can go a long way in offering the right kind of atmosphere and ambiance to the people who visit the spa resort. Bangalore, in India is well known for its marvelous weather and luxury spas. Being the IT-hub of India, this city is also known for its greenery and the one-season-feel throughout the year making it one of the best places for a nice Spa service to flourish.
Did you know that the word spa is derived from the name of a place in Belgium called Spa? The word spa literally meant to sprinkle, scatter or moisten. This refers to the healing properties of water, when water was used to heal various ailments and diseases. The earliest known spas were actually public places where people gathered in numbers in a common bath. This was done to relax and heal at a place where a particular water body came to hold certain healing properties. Let us take a look at some of the best spa resorts in Bangalore.
List of Ten Best Bangalore Spas for Full Body Massages
1. White Mantra Spa Salon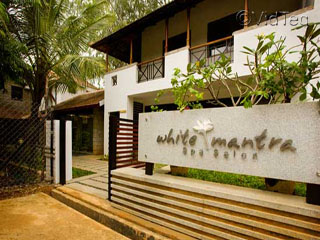 The best part about the White Mantra Spa Salon is perhaps the tranquility that it offers. However, the kind of spa-packages that they offer is quite unique and specific. Ranging all the way from the Traditional massages to more sophisticated ones like the 'Hawaiian Fantasy' and the 'Wine Therapy'; you will be tended, pampered and spoilt during your spa session. The package deals are quite good with a specific discount between 10:30 am to 1:00pm on weekdays. Being close to the Old airport road, you can stop by at the White Mantra Spa if you are in search for a place to unwind and revive.
Address: No. 142, Pop Cottage, Rustam Bagh, HAL Airport Road, Behind Manipal Hospital, Bengaluru, Karnataka 560017
2. Angsana Oasis Spa and Resort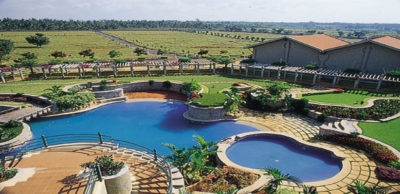 The Angsana Oasis Spa and Resort has a buffet of sorts lined-up for all your various needs. They have specific packages compiled specifically 'for him' and 'for her' where the professionals suggest massages and therapies as per the 'gender-needs'! The best part about Angsana Oasis Spa and Resort is that they also have spot-specific spa treatments like the Press run, Head and Shoulders, Foot loose and Back energy. You can also get a nice facial if all you require is an instant glow for an occasion as well. To a lot of my friends, it bangalore's best spa.
Address: Main Doddaballapur Road, Northwest County, Rajankunte, Bangalore, Karnataka 560064
3. Soukya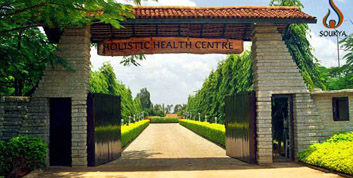 The facility is headed and founded by Dr. Isaac Mathai who is dedicated towards providing individual treatments that are problem specific. Soukya consists of wellness centers, organic farm, life management programs amongst its various other facilities and highlights. This could be your one-stop-destination if you are looking for a cure to an age-old illness or problem and require an entire system-overlook.
Address: Soukya Road, Samethanahalli, Whitefield, Bengaluru, Karnataka 560067
4. The Spa
The Spa located in the Leela Palace in Bangalore has created a place for itself owing to the services and facilities it offers. With Ayurveda as its basic theme, The Spa also has very efficient in-house consultations that focus to single-out your specific requirements and draws-out the kind of treatments and sessions you would require. You could also make the most out of the Detoxifying programs and Yoga at the luxury day spa, that ensure you complete wellness.
Address: 23, Old Airport Road, Kodihalli, Bengaluru, Karnataka 560008
5. The Oberoi Spa and Fitness Center

The Oberoi Spa and Fitness center is one-of-a-kind facility where you can benefit from a wide range of Therapies, Spa treatments, beauty treatments, massages and much more. The spa experience consists of the ancient wisdom of Ayurveda, where you can surrender yourself to the expert hands that ensure your worries away. The Oberoi signature treatment is the very interesting 'Alphonso Mango and Sugar Scrub' which involves cleansing and exfoliation of the entire body using the benefits of fresh Mangoes!
Though you will encounter massage regulars like the 'Thai Spa', however, give a try to the 'Hot Lava Shell Therapy' where the goodness of various nature-elements like mineral salts, Algae and Smooth Lava shells are used to obtain the ultimate relaxing bliss.
Address: 37-39, MG Road, Bengaluru, Karnataka 560001
6. O2 Spa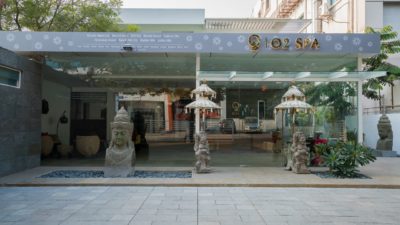 The O2 chain of spa has emerged to be one of the best spas in the city expanding to seven different locations across Bangalore. The Spa services at O2 are a complete package where you can choose from various treatments and therapies that are designed to give you the best that you require. Interestingly, you also have the 'Jet Lag Recovery Package' where you can step-in to the tranquil environment and leave feeling revived.
There are also various other packages that include top to toe relaxations and also facials. For the men, you can always go for the special 'Male Escape' spa package that is specific to the body care needs of men of today who like specific treatments and massages. Undoubtedly one of the most successful spas in bangalore.
Address: Hotel Novotel Bengaluru Techpark, Opposite RMZ Ecospace Business Park, Next To Bangalore Cental, Marthahalli-Sarjapur Road, Bangalore, KA 560103
7. Four Fountains De-stress Spa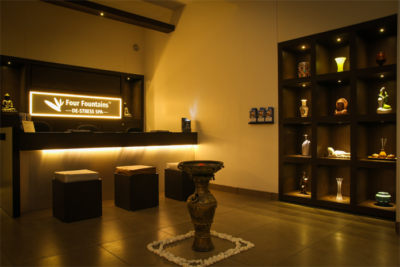 While most spas come with their own signature therapies and treatments, what makes the Four Fountain De-stress Spa a true luxury experience is that it has its very own 'stress-specific' therapy that focus on the stress-related issues of the urban life. Other than that, this is also quite affordable with some some attractive spa packages and great deals for groups, making it accessible to people from all wakes of life. The facilities are convenient and to-the-point that cater to the issues of spa therapies. With a no-fuss approach, you will be welcomed with warmth and a problem-centric professionalism.
Address: 1st Floor, Upper Palace Orchards 13th Cross Road, Bengaluru, Karnataka 560080
8. The 5th Element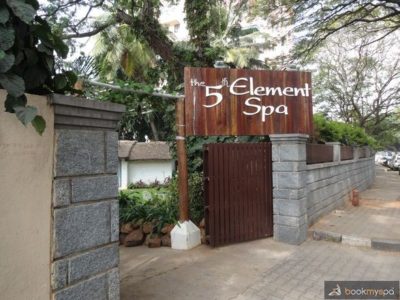 Now, this is a Spa that I call the ultimate experience of sorts. The name of the establishment suggests that while the four elements of nature are otherwise utilized in various forms of healing; the 5th Element which is 'the feeling' is enhanced aswell. Quite philosophical I'd say! Nevertheless, the various party packages are attractive with 'happy hours' and 'couple's discounts' on the offer. You can choose from a wide range of treatments that are purely Indian in their essence along with various others like the authentic Thai body massage thrown-in as well.
The Body wraps are also available that are focused on ensuring that the goodness of the massages flow into the pores as well, thus, giving you the best that the various natural packs and masks have in store for you. They were also a Winner of the Indian Salon Awards 2014 for best customer service.
Address: H. No. 9, Crescent Rd, High grounds Road, Opp. Gururaj Kalyana Mandapam, Bengaluru, Karnataka 560001
9. The Space the Spa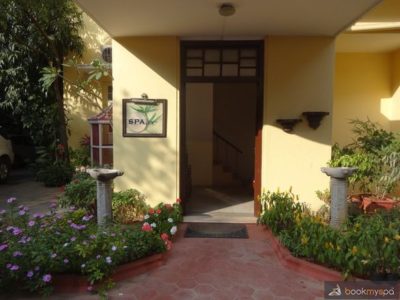 The Space the Spa located in Bangalore has a lot to offer that are wide and various according to your special needs. While the Spa treatment has your regular east-meets-west wisdom combined with techniques, it is the pocket friendly packages that make this particular spa different from the rest. To start with, you have special arrangements for the 'Spa parties'. This is designed to make sure you have a great time along with your friends as well.
Various occasions be it 'Baby Shower' or your 'Bachelorette Parties' ; you and your close friends are sure to have a lot to remember for a long time ! It is important to mention the 'fire and ice therapy' that utilizes the freezing cold and hot lava shells strategically to relive you of your pains.
Address: 3627/A, 1st Main, 7th Cross,, Service Road, Domlur, Indiranagar, Bengaluru, Karnataka 560038
10. Oryza Day Spa and Salon
With branches in two major cities to boast of, the Oryza Spa and Salon has two different branches in Bangalore alone. What makes this particular spa unique is the fact that it combines the cosmetology of a salon along with the therapeutic effects of body treatments and massages together. The packages are made in such a way that they take care of your requirements like the Javanese Therapy, Baliness Bliss among various others. You can also go for facials for skin brightening and anti-aging among the many others offered. I love me some indonesian therapies.
Address: 19,Lavelle Road, Bengaluru, Karnataka 560001
I don't know about you, but me and my husband are already planning a getaway to a spa! Writing this post has made me realize the importance of a spa service. Take your best pick or simply plan a trip to the city if you are located elsewhere.
Read More:
Which is your favourite spa? Share your reviews with us.