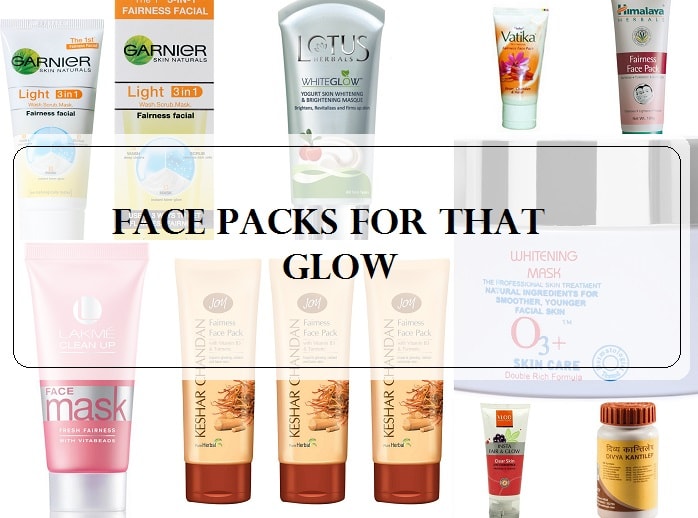 Top 10: Best Skin Whitening Masks or Fairness Face Packs in India
Real beauty comes from within, and so does the urge to look great. Knowledge and skills, accompanied by a neat and flawless appearance boost your ability to empower and increase your circle of influence. How often do you get the time to go to a beauty parlor, wait and spend another hour or so on a facial? Knowingly, that the fair glow from facial is going to last for a fortnight? Why not migrate to fairness facials or face packs which are less time consuming, easy on pocket and available at your command? Why not use a lightening face pack which is easily available in the market, maintains the facial glow and is easy to use? Yes, I am talking about the best skin whitening or fairness face packs available in India for combination oily, dry and sensitive skin.
These face masks rejuvenate the skin by removing the dead skin. They also improve the circulation of blood as the ingredients present in the packs activate the dull epithelial cells hindering the movement of blood flow.
They are handy and easy to use
Gives instantaneous results
You can perform other regular tasks while keeping it applied on the face
Easy on pocket
Don't consume a lot of time
Use them while staying indoors, so no hectic trips to parlor.
Tips to choose the right skin whitening face pack for your skin:
Price does not matter– The lowest price is not always the cheapest.. Manufacturing costs vary and it directly impacts the market price. You might get great products at extremely low price.

Check the composition- It is imperative that ingredients are read properly. For oily sk in, go for a product which has more cleansing properties. For dry skin, go for nourishment products.
Do not get lured by marketing- Even if the product is being endorsed by your favorite celebrity; it might not work for you. Remember, your skin is different from everyone else. Treat it wisely.
Now coming to the core point, which whitening face mask should we use? Yes, there are many in the market, but you need to be prudent before deciding and acting accordingly. A lot of masks promise the moon, but don't work really well with every skin. Hence listed before are my must have fairness packs which are easily available in India. Take your pick:
List of Top Ten Fairness Face Packs:
Joy Kesar Chandan Face Pack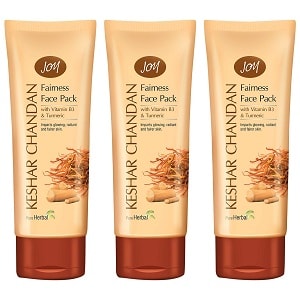 This pack contains Saffron, Sandalwood and Fuller's Earth. These ingredients are essential for any skin treatment. Fuller's Earth defines the complete skin care solution for oily skin. Priced at Rs. 60.00 for 60 ml pack, this can be a good buy in case you want a product for every day application.
Garnier Light 3 in 1 Facial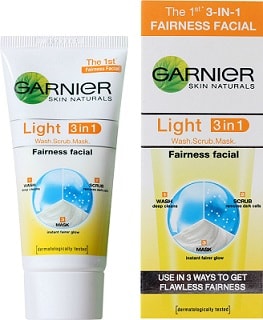 A brand to reckon with, Garnier's 3 in 1 facial pack is a great product. Clean, scrub and use it as a face mask to get a fair glow. It is recommended for all skin types and the cost of a 50 g tube is Rs. 94. Use it once a week as a mask. Containing natural Zinc extracts, it focuses on extracting the dead skin from your face. Good product if you are a little low on patience.
VLCC Insta Fair & Glow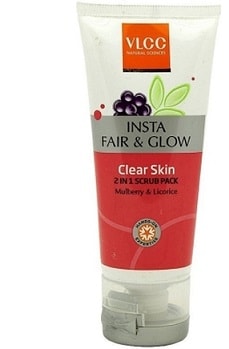 Ideal for normal and oily skin, this pack exfoliates and cleans the skin. If you have used Mulberry and Aloe Vera before, this is the mask to vouch for. It can be used as a fairness scrub & pack both. This product can be used thrice a week. Price is Rs. 75.00.
Himalaya Fairness Face Pack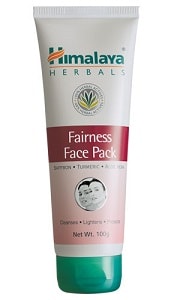 This is a multi-purpose face pack, suitable for all skin types. Cleans and whitens the skin, removes impurities and it can also be used as a lightening agent for tanning. Claimed to be composed of all natural ingredients like Walnut, Haridra, Turmeric and Saffron, this pack is priced at Rs. 130 for 100 g.
Lakme Clean up Fresh Fairness Face Mask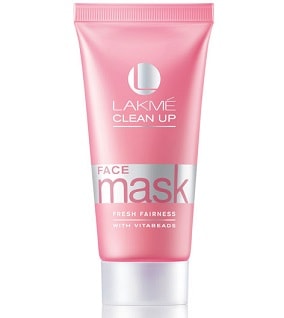 With a name as big as Lakme, you don't really have to bother much for anything else. This pack is supposed to tighten pores because it contains Vitabeads. The whitening face mask is clay based and great for every skin type. Use it if you face pollution every day. At Rs. 225.00 for 100 g, it is a superb product.
Lotus Herbals White Glow Yogurt Shin Whitening & Brightening Masque
 
Lotus is an established name in the field of cosmetics. They have a wide variety of skin care products, and have out of the box or new solutions and products for skin related concerns. It is an ace mask, if you have used Lotus before. Yoghurt and Bearberry extracts are ideal cleansing agents and will work well if curd suits your skin. Price is Rs. 585 for 240 g tube. Best results for dry skin.
Dabur Vatika Skin Naturals Fairness face Pack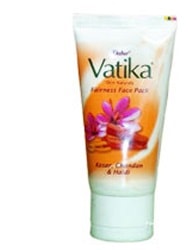 This product reduces the formation the Melanin in your skin, hence makes it visibly fairer. It contains Saffron, Sandalwood and Turmeric. Try it for fast and effective results. Shell out Rs. 50.00 for 100 g.
Patanjali Divya Kantilep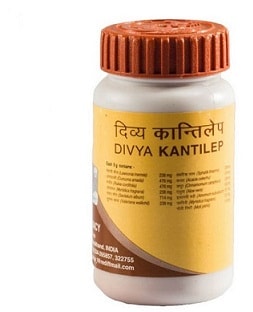 For Rs. 30.00 for a 50 g bottle, Divya Kantilep is as good as it can get. It can be applied every day. Apply it on your skin after mixing it with Rose water. Leave it for three to four hours and wipe your face clean to a fair and glowing skin. It is an excellent product given the price range and works fantastic on pimples and acne. Easily available at all Patanjali stores. You can buy it online as well.
O3+ Whitening Mask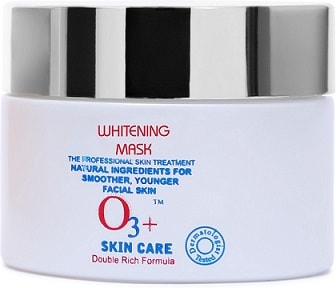 Considered as one the best products for aging and sagging skin, this mask slows down Melanin manufacture and hence makes the skin shinier and smoother. This skin lightening mask works best on normal and dry skin. Little exorbitant at Rs. 775.00 for 50 ml, go for it if you want sure shot solutions.
Organic Harvest Whitening Mask
This pack works on all skin types.The results take time, but the fairness effects on skin are visible and stable. Evens out the skin tone gradually. It contains natural ingredients like Clove and Camphor known for their anti inflammatory properties. Rs. 325.00 for 100 ml.
Keep in mind that you have to be religious about your beauty regime. Don't blame or arrive at any conclusion unless you have used the product for at a month or so.  If the results are contradictory or the product causes irritation, discontinue the usage with immediate effect.
Don'ts while using whitening face masks:
Avoid facing heat
Do not step out directly in the sun after applying any mask
Use the product as recommended by the manufacturer. A lot of packs and masks act as cleansers, so please do not apply any cleansing agent like toner.
Oily skin should use a gel or powder based mask and dry skin should use cream and yoghurt based products.
A must have product is Rose water or Toner. Keep it handy all the time. Masks, which cannot be used as scrubs yield best results when the skin is first treated with a cleansing agent. Use milk for oily skin and yoghurt for dry skin.
Pick and choose the face mask in a sensible manner. If the results disappear after continuous usage, change your product. Hope that this article helps you in arriving at the right decision and makes you more beautiful and radiant soon!
Read More:
Which is your favourite fairness face pack? Share your reviews with us.