Top 10: Best Ponds Products Available in India with Reviews, Prices
For today's post i'll be listing out some of the best products from an old, old brand, ponds. I've had that ponds cold cream that made your cheeks go "googly woogly woosh" for a lifetime, and a lot of you might have as well. And ponds has always been a staple in skincare for me, with it's wonderful new charcoal face wash (And the 8 others I've tried because hey! i'm a sucker for new skin care products and always end up buying every single one that comes out) So what are my best products from Ponds in India and why? read on !
List of Top Ten Ponds Products for Oily, Dry Skin, Anti Ageing
1. Ponds Pimple Clear facial foam :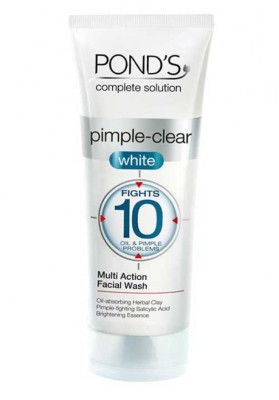 This face wash is a combination of the best ingredients for acne out there, and having tried it myself, i can totally vouch for it. It doesn't work for major breakouts, you might need a proper dermatologist for that, but here's the deal, if you have a few zits here and there popping up, it'll do the trick. It has salicylic acid, herbal clay , scrubbing beads and a brightening essence in the formula which dries out the pimples, pulls away the impurities, exfoliates oily skin and lightens marks, all in one! I've used it when i had a bit of a breakout recently in combination with the resurfacing cream to lighten my marks and it has visibly made a difference to my skin. Price: rs.80
2. Ponds deep whitening facial foam :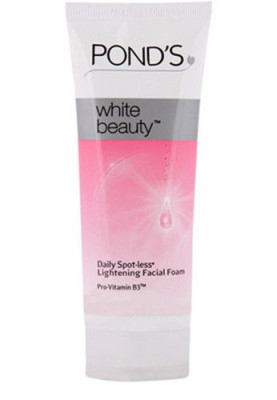 This facial cleanser from ponds is engineered to give you lighter skin and reduce melanin production over the long term. Now personally i'm not all for whitening, but it does work to even out the skin-tone from the ingredients list, and on the short term, it gives you a hell of a glow post-wash. A must have product from ponds, all in all, if you're ever in the mood for trying out something that really is a bit softer on the skin. price: rs.60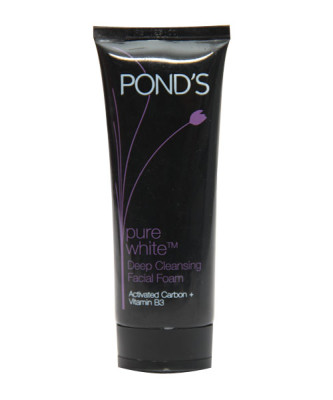 This is a personal favorite of mine from Ponds and i recommend it to everyone i know. I've bought about 2 tubes of this till now and because they foam up really well (this goes for all ponds facial foams) , you only use a little bit of it and so they last forever! The formula uses activated carbon and vitamin B3, which is a combination that removes dead skin cells and impurities from oily combination skin , leaving your skin more radiant. Now keeping aside the good press I'm doing for this ponds product here, it really does leave your skin looking cleaner, and more radiant, and surprisingly , it does do all it claims to do. I use it right after my makeup remover at the end of the day, and it keeps the breakouts at bay. Price: rs.40
4. Ponds age miracle cell Regen facial foam :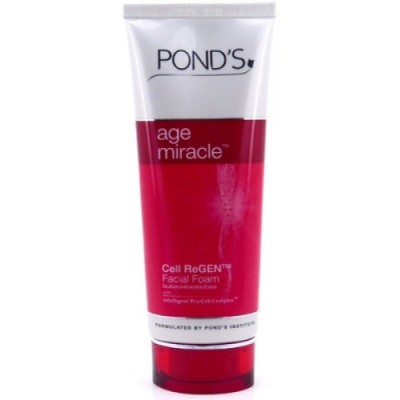 This face wash from Ponds, and the partner from l'oreal are some of my favorite budget face washes, ever. The formula has retinol boosters and all that anti-ageing jazz, which i'm not sure if it works. But what i can vouch for is the fact that it allows newer, younger cells to come to the surface because of the micro-exfoliating action of the face-wash. It has micro-beads and micro-granules which removes the build-up of dead cells over the skin , leaving it looking fresh and renewed. Not to mention it gives your skin one hell of a cleanup. All in all, a great product from ponds in India. Price: rs.299
5. Ponds age miracle cell Regen deep action night cream:
I have no idea what's in this thing but it is amazing! I'm not one to rave about products without any proof from the ingredients list, but hey! The first night i used this ponds day cream (and this was when my skin was red, irritated and dull) i could see a difference when i woke up. My skin after weeks seemed like my skin again! It wasn't red, dry or dull, it looked actually "awake" , you know? This ponds cream is one of the bests and is definitely worth trying from my experience. Price: rs.575
6. Ponds flawless white Day cream :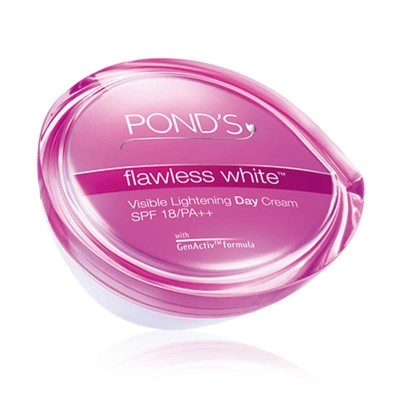 This ponds whitening cream is my everyday primer, since i'm a cheapo who won't splurge on a primer unless it's a special occasion, and it works well. It gives you a visible whitening effect, leading to more even toned skin and base, and mattifies the face once it dries down , and since in the summers my skin is oily as hell, this works for me. It has spf18 and PA+++, so that's always a plus in India, and all i have to say is, it's a great everyday ponds cream . Nothing that blew me out of the water like the ponds night cream, but if you're looking for one and your skin is oily and redness prone, you might love this. Price: rs.449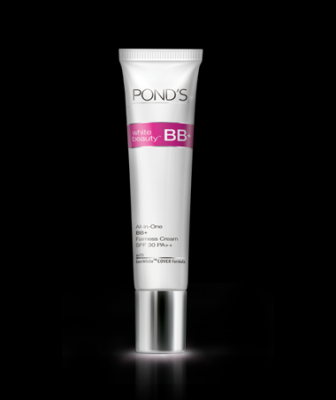 It's tinted (but with only one shade available), it's thick in terms of consistency but it blends out well , it works fine as a tinted moisturizer with a decent evening effect and coverage and hey! It's cheap. This ponds bb cream gets the job done. It's not as great as the garnier bb cream in terms of the finish in my opinion cause that one just makes your skin look healthy! But it is a great product from ponds available in the market and though it may not be my personal favorite, ponds bb cream is a lot of people's holy grail bb cream in India, and for good reason. You can read a more in depth review here on VNA by Anshita to judge whether it's up-to your liking. Price: rs.75
8. Ponds white beauty Pearl Gel face wash :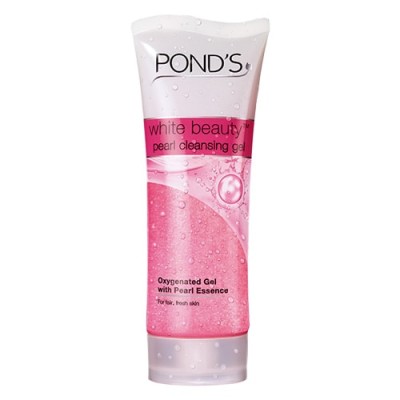 It's one of those ponds products that i was blown by, again! The way that it leaves your skin is amazing! It looks glowing , and clean and surprisingly soft. Now that i think of it, all ponds skin care products leave your skin feeling that way after a wash don't they? They are pretty similar. But more over, this face-wash has pro-vitamin b3 which lightens dull skin and dark spots, so would i pay what i did for it again? definitely. One of my favourite ponds prodcts for dry skin. Price: rs.95
9. Ponds white beauty Tan Removal scrub :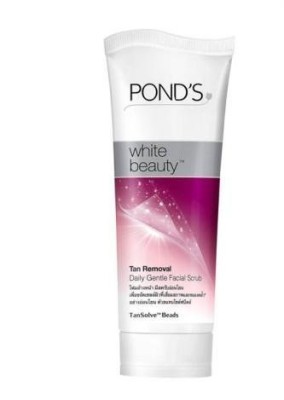 This ponds face scrub incorporates what the brand calls "tansolve" beads, into the formula to scrub away dead cells and gently exfoliate the face making your skin look radiant and brighter, and i couldn't agree more. After a day out in the summer sun i come home to scrub my face with ponds scrub and it takes the tiredness and dull-ness off the day away along with scrubbing off the day's tan dead skin and makes me look rejuvenated! All in all ? Definitely in my top 3 ponds products in the Indian market. Price: rs.145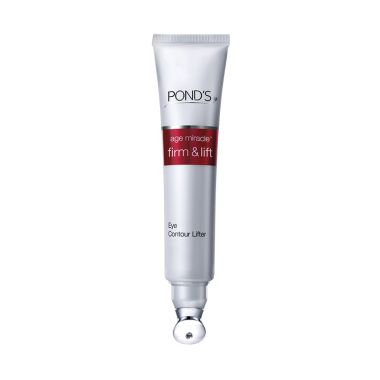 I was impressed by the review i read for this firm and lift ponds range on VNA and felt like i had to mention it. Also i fell in love with the applicator of it which seems more like a massager in my opinion. I can't personally vouch for it but Sanchita who reviewed the ponds anti ageing range said that it hydrated her skin very well under the eyes (which is plus for anyone who uses concealer that's dry in consistency !) and that the applicator had a cooling and smoothing effect and the skin was more even toned under the eyes while she saw little to no difference with the wrinkles on her short term use. I will personally be picking this up when i'm done with my current one from a french brand i can barely pronounce and be giving a more drugstore range a try.
Read More:
Which is your favourite Ponds product in India? Share your reviews with us.