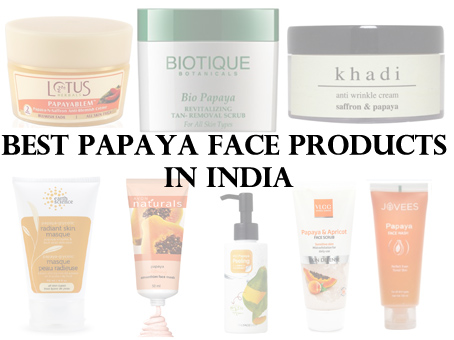 Top 10 Papaya Face Products Available in India with Reviews and Prices
When I say papaya, most of us associate it with the delicious fruit that we eat. But, have you thought of the benefits that our skin reaps when we eat papaya? Papaya is rich in Vitamin C, A, E and K and provide a range of skin care benefits. Which is why everyone loves fruit based products. Not just the flesh, but even the seeds of papaya has a lot of benefits to offer. It's natural properties contain mild bleaching ingredients and helps hydrate your skin on hot summer days. This is owed to the high water content the papaya has which makes the flesh delicious and sweet. It also helps in treating signs of aging as well as acne marks and scars. Let us take a look at some of the must have papaya based skin care products we have in India for getting beautiful skin.
List of Ten Papaya Face Care Products
1. Avon Naturals Papaya Whitening Cleanser
In case you have dry skin and managing your skin care routine during winters is a complete disaster, the Avon Papaya Whitening Cleanser is the one for you. It works very well for dry and flaky skin! It has a very pleasant fragrance and does not irritate your skin at all. It costs about Rs. 189 (as on Nykaa) for a 100ml pack. After applying the face wash and washing your face, your skin will feel instantly hydrated and because of the gentle papaya extracts used in it, the product is very mild on your skin
and will not damage your skin.
2. Jovees Papaya Face Wash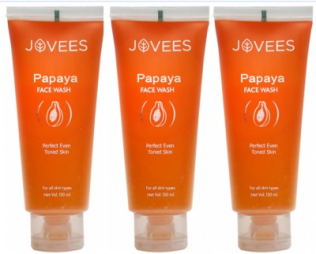 The Jovees Papaya Face Wash acts as a great face cleanser as the components of the papaya flesh break down the dead skin cells that sit on your face that hides your true skin under all the layers of dirt and grime. The papaya enzymes also help lighten skin tone, reduce the marks left by acne and pimples. It is perfect for everyday use in case you encounter dust on your way to work or college. Give it a shot! Who knows it could be the face wash for you.
It is fruit based, so the chances of any harsh reaction happening on your skin could be minimal or null. It costs about Rs. 148 (as on eBay India) for a 100 ml pack.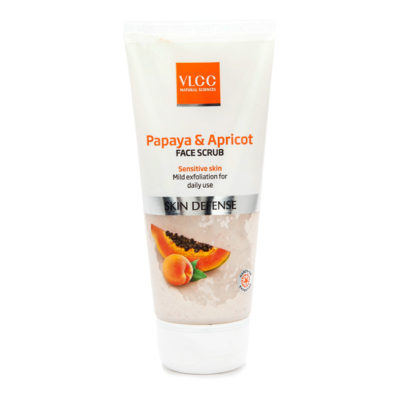 Now VLCC is a personal favorite. Their scrubs are the best! They are specially formulated for people with sensitive skin and this scrub is gentle on your face! The apricot granules scrub away blackheads while papaya makes your skin feeling soft and smooth without any harsh reactions like itching or any kind of irritation or allergy. The papaya scrub make you skin feel supple and moisturized. This product works very well during during winter months when your skin feels the most dry. This is also one of the top selling papaya skin care products.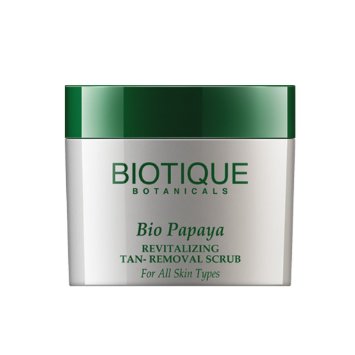 The Biotique Bio Papaya Smoothing and Revitalizing Scrub is an ayurvedic product and it definitely means business. It 100% natural and contains botanical extracts only so if your skin is very sensitive to the harsh chemicals used in face scrubs and products, switch to this scrub, you will not regret it. You will not experience any side effects whatsoever and the scrub does not cause any burning or irritating sensation unless you rub your face really hard, of course.
The scrub has papaya pulp in its composition so you are actually applying papaya on your face and not any synthetic substitute of it. It has to be the best papaya face product available in the Indian market. It costs about Rs. 199 for a 75 gm pack (as shown on Nykaa).
5. Avon Naturals Papaya Smoothies Face Mask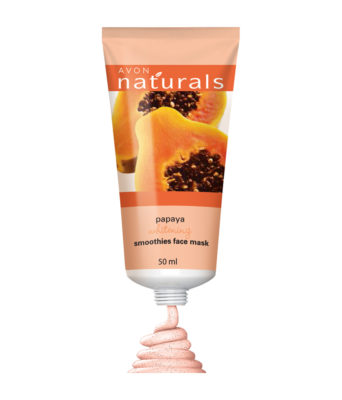 The Avon Naturals Papaya Smoothies Face Mask costs about Rs. 170 for a 50 ml tube (as shown on Nykaa.com) and has a very creamy consistency to it, quite like a smoothie. It has micro particle beads which gently scrub away dead skin cells and give a very refreshing feel to your face after washing. Although it may not be suitable for girls with oily acne prone skin as the beads may be harsh on acne, it definitely leaves your face glowing as it gets rid of all the dead skin cells resting on your face all day. Do give it a shot in case you have dry skin.
6. Lotus Herbals Papayablem Papaya-n-Saffron Cream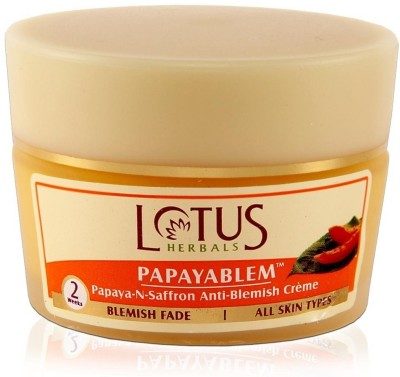 The Lotus Herbals papaya Cream is very gentle on your face. Although it has a very prominent yellow colour, it will not stain your skin in any manner so feel free to wear it before stepping out. This cream cots about Rs. 355 for a 50 g bottle (as shown on Amazon India).
7. Khadi Saffron and Papaya Anti Wrinkle Cream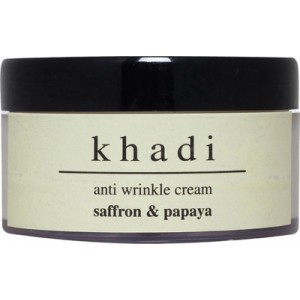 Although this papaya anti wrinkle cream may not be suitable for the younger audiences of Vanity No Apologies, it can be a useful for those who face wrinkle problems or any other signs of aging. It comes in a handy little bottle which is very travel size and spill proof. It contains natural herbs and components which slow down the process of aging and rejuvenate skin along with retaining the oils and moisture required. It costs about Rs. 234 for a 50 ml bottle (as shown on Amazon India).
8. Earth Science Papaya Glycolic Gentle Skin Peel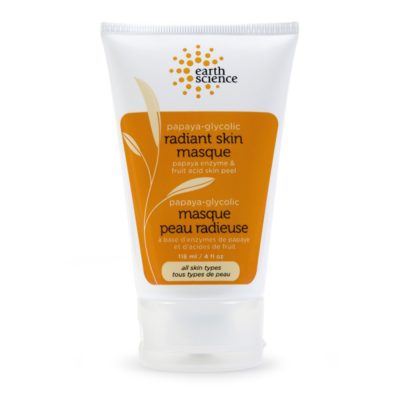 The Earth Science Papaya Glycolic Skin Peel doubles up as a face peel as well as a face mask. It leaves your skin feeling so smooth and fresh, it works great! But be careful as to how long you leave it on your face, it may get difficult to take off when it becomes dry. It deep cleanses your skin. It comes in a tube which costs Rs. 1418 for a 118 ml tube (as shown on Amazon India).
9. The Face Shop Smart Peeling Mild Papaya Peeling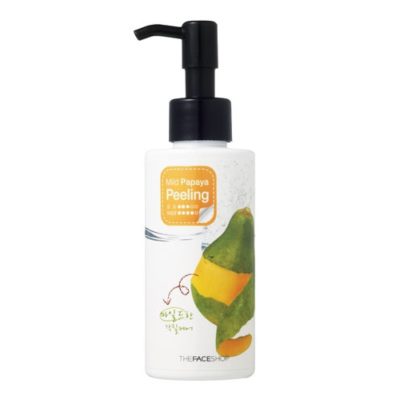 This papaya product is genius. You can actually see your dead cells peel off and separate from your face! Although it is on the pricier side, it is so mild and gentle, you will not regret it. It is my favourite peel
and works so well to remove dust and grime. Not only can you use it on a daily basis, can it removes make up and oils from your face very easily and is very convenient to use. It costs about Rs.1762 for a 150 ml bottle (as shown on Amazon India).
10. Biotique BIO Papaya Exfoliating Face Wash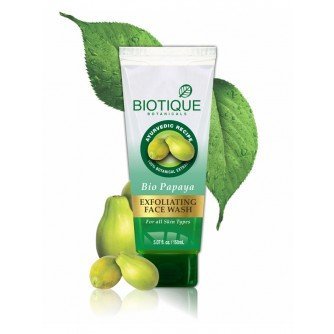 The Papaya Face Wash is actually a very useful skin care product if you are skeptical about a face wash or a face scrub. The face wash has micro particles of apricot(akrot) which acts as an abrasive and doubles up as a scrub as well. Be gentle with the face wash, as rubbing it onto your skin may cause irritation or rashes if your skin is too sensitive.
It is natural and dermatologically tested so there is nothing to worry about if you have super sensitive skin. It has a very pleasant papaya smell and works on all skin types if used correctly.  It costs about Rs.60 for a 50 ml tube (as shown on Nykaa.com).
Ladies, go give these skin care products a shot and let us know your favourite papaya or any fruit based products in the comments below! Until then, stay tuned for more. Cheers!
Read More:
Which is your favourite papaya product? Share your reviews with us.