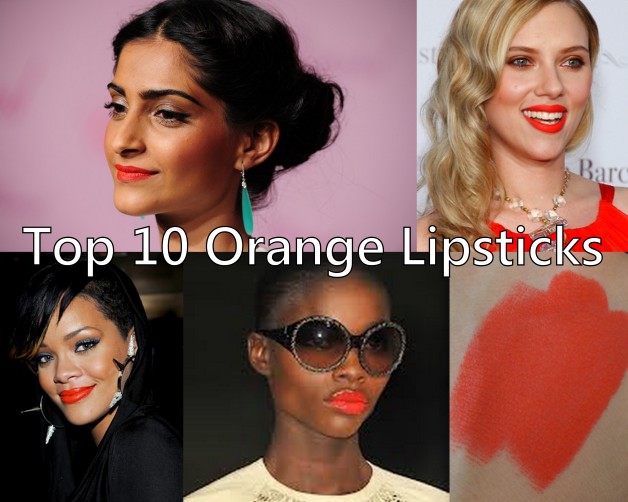 My Favourite 10 Orange Coral Lipsticks For Medium To Dark Indian Skin
Not peach. Not coral. But ORANGE. O-r-a-n-g-e. Neon bright in your face orange. That's what we are going to talk about today. After my "great in-depth reasearch" on Red and Pink lipsticks, its time for Operation Orange. yep. The list contains all drugstore as well as high end brands (although there is no such thing as "drugstore" if we look at the prices). And no matter if you are fair or medium or dark olive, you will find one match here. So start googling the swatches…..hey but only after going through the list first!
1. Mac So Chaud:
It is a a bright orange lipstick which has been passed down from generations under the table until orange became a very 'it' colour a few years ago. And now when I'm talking about orange and mac then I can't help but mention Mac Morange and Mac Neon Orange. They all are a little difficult to carry if you are not used to bright orange shades. But these all are mattes, so that helps…in a way. (Price Rs.990)
2. Colorbar Velvet Matte Obsessed Orange:
This lipstick has been making waves in the Indian beauty scene from the time it got launched. An Indian brand launching a bright matte orange lipstick was sort of..umm..weird welcome! And not just this one, Colorbar Soft Touch Citrine is a nice orange lip colour too. (Price Rs.250)
3. Chambor Powder Matte Lipstick Orange Flambe:
Its sounds like an exotic bird from Australia or something. Its an orange you could wear easily since its not too bright or neon. Only thing is the matter texture which makes your lips a tad bit dry after a while. (Price Rs.450 something)
It was my first orange lipstick when you know oranges were just starting to make their way to my lips. Its a hanuman ji inspired shade. No no I love the tiika! It lasts all day. (Price Rs.480)
5. Faces Moisture Rich French Rose:
Faces Moisture rich lipstick have some nice colours and ofcourse the quality (I've slowly started to like this brand even though it has got 'Canada' thingy attached to it, god knows why). I wonder why its named French Rose…french roses are nowhere close to orange. Anyway who cares as long as its a fun pigmented orange in your kitty. (Price Rs 330)
6. Inglot Matte Lipstick 103:
Inglot 103 is a star when it comes to such tangy shades…such full power..such pigmentation…such pay off…such..well you get the idea. Its a very warm reddish orange which I think will suit all Indian skin tones. (Price Rs 550)
7. Inglot Freedom System Round lipsticks 20, 19, 37, 38:
Oh yes these many because I simply couldn't pick one! So I thought maybe I should leave this tough task to you…come on you don't get a free lunch okay! Inglot round lipsticks are cute little pans and have a rich colour pay off. They are available online at majorbrands.in. But if you buy them at the Inglot stores, you would need to purchase the palette too which is way expensive to be honest. (Price Rs 250)
All I am talking about here are mattes and satins. Why NO shimmer? So here is one party festival orange with slight shimmer. You can check my review and swatches here too. (Price Rs.600 approx)
9. Lotus Herbals O Orange:
Surprise surprise! Lotus has got an orange lipstick too…which was launched much before you got obsessed or flambed. Its a nice muted orange with a shine which you can wear almost anywhere. Too bad it doesn't lasts much long. (Price Rs 395)
10. Maybelline Bronze Orange:
This one is another muted orange lipstick for those not-so-daring souls out there. Its not a shame..its just you gotta start somewhere so maybe you can start off with this lipstick. (Price Rs 250). Maybelline has got this Vivid lipsticks range aborad..grrrr..which has got a couple of nice orange shades. Let's wait for them to be launched here….as always.
Don't forget to read my post on Top 10 Pink lipsticks for Indian skin.
PS – The winners for last night's makeup riddle are Dr.Rashmi and Ash. Although most of you got the answer right (see I told you it was easy, I never set difficult papers you know) but these two had real quick fingers. They get 5 extra entries each in my next giveaway. Oh yes yes the correct answer is Mac Vegas Volt