10 Best Oils for Hair Growth in India with Prices
By Contributor: Ruchi
Along with a good shampoo and conditioner, a good hair oil completes hair care. Different hair oils are for different purposes- to moisturize scalp and hair, to prevent hair fall, to fight dandruff, to promote hair growth, to stop hair graying, to impart shine and smoothness to hair. There are some essential and ayurvedic oils which focus on hair growth and prevent hair loss. I am listing the best oils for hair growth in India.
1. Satthwa Premium Hair Oil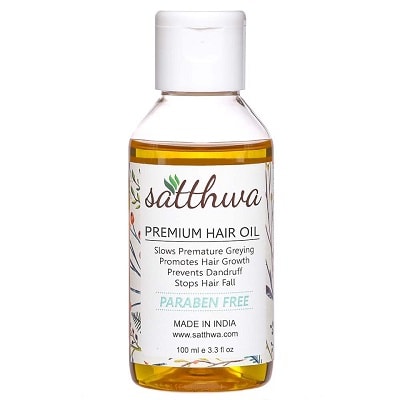 I came across this hair oil after going through some of the before after photos they posted of their customers on facebook. Loved what I saw and I can vouch for the hair oil now. Its a blend of olive oil, castor oil, almond oil, grapeseed oil, etc. Basically they have made a concoction of all the oils that aid the hair growth process. It takes 6 months to show the complete results but be patient and you will definitely get a thicker mane. It also controls dandruff too. I have suggested this oil to so many people and they all have loved the results. If you are suffering from hair loss then do give this oil a try. And if you have tried it then do share your experience with it. You can buy it here
(Price Rs.599 for 100ml)
2. Forest Essentials Bhringraj Hair oil
Switch to this bhringraj oil and get your all worries resolved. Yes this is one of the best hair growth oil, if you want to overcome that bad hair cut or want to grow hair long for an occasion, try this. With goodness of  seasame, coconut oil and herbal extracts, this oil promotes hair growth and prevents hair loss. (Price Rs. 925 for 200ml)
3.
Khadi Ayurvedic Hair Growth Vitalizing Oil
It's an ayurvedic oil and suitable for all hair types This hair oil strengthens hair roots and hair strands and helps in hair growth and prevents hair loss. It also keeps the scalp healthy. (Price Rs.350 For 210ml)
4.
Shahnaz Hussain Shalocks Ayurvedic Hair oil
Another ayurvedic oil, with excellent combination of herbal oil extracts promotes luxurious hair growth , prevents hair loss and controls premature hair greying of hair (the name of this oil reminds me remember Sherlock homes!). (Price Rs. 525 for 200ml)
5.
Khadi Ayurvedic Hair Growth Oil- Rosemary & Henna Hair oil
This is a herbal oil  with natural ingredients, you know these ayurvedic oils are the best to bet on. This oil has antioxidants and has anti- inflammatory properties along with the purifying properties. (Price Rs.255 for 210ml)
6.
Lotus Herbals Grow Hair Herbal Oil
If you are suffering from hair fall, and want to grow new hair, try this. It's an ayurvedic oil which prevents hair loss and promotes hair growth, controls premature greying. And not just that, it is also helpful in headaches and sleeplessness. A great oil from one of the good beauty brands in India. (Price Rs.234 for 60ml)
7.
Oxyglow Bhringraj Regrowth Hair Oil
It's another good bhringraj oil with ingredients like groundnut oil, coconut oil, bhringraj oil and flex seed oil (flex seed oil is a boon for hair) which helps in treating all the hair problems from promoting hair growth to preventing hair loss. (Price Rs.150 for 120ml)
8.
Biotique Fresh Growth Therapeutic Oil- Bio Bhringraj
This therapeutic oil  has  pure bhringraj, butea frondosa, amla, centella blended with coconut oil and goat milk to treat hair loss and promote hair growth. It nourishes scalp and strengthen hair strands. (Price Rs.159 for 120ml)
9.
Khadi Brahmi Amla Hair Oil
Another good oil from Khadi. It helps in preventing hair fall, promoting hair growth, fighting dandruff and leaves hair soft and manageable. It also contains heena which is supposed to darken hair color. (Price Rs.200 for 210ml)
10.
Matrix Biolage Root Nourishing Oil
Personally I like this brand a lot and I am impressed with its formula that contains 3 natural oils- almond, coconut and sunflower seed. This triple oil enriched formula nourishes scalp and hair, promotes hair growth and fights dandruff. And you thought only Indian brands can come up with such good stuff. (Price Rs.125 for 100ml)
So you see almost all the above mentioned oils have similar ingredients so thus all of them are know to be effective. Some will take longer than the others to show the results. Hair growth is a slow and natural process so you need to be patient. Just use the oil consistently and stick to it and it will show results. These hair growth oils should be complimented with a good protein rich diet and healthy eating habits to show faster results. And these oils can be used by men and women both.
Which is the Best Oil for Hair Growth in India according to you? Share your view with us.