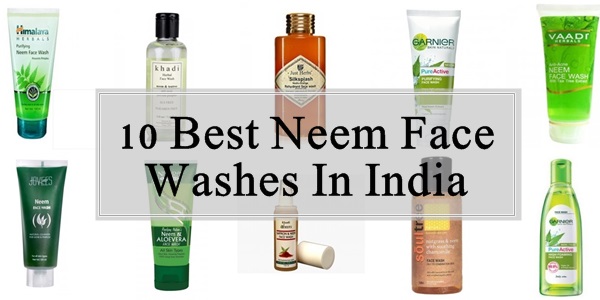 Top 10: Best Neem Face Washes In India for Oily Acne Prone Skin, Dry Skin
Neem face washes have been pretty common in our country for a long time and because of the hot, humid and sticky weather in the country for almost 8 months a year, the need for neem face washes is always on the rise. Neem cleansers not only provide deep cleansing and moisturising, but they are also super gentle on the skin and have a soothing effect that lasts for hours. In this post, I've done a round up of 10 of the best neem face washes available in India for oily and dry skin that are gentle on the skin, can be used by men too, free from harsh chemicals, deep-cleanse the skin, provide help against acne and pimples and are also pretty budget friendly. So if you are someone who likes to try out neem face washes for their therapeutic and natural effects on the skin, keep reading!
Neem washes are generally chemicals free so you dont have to worry about their adverse effects on the skin in the long run. They dont contain any harsh ingredients that may cause skin allergies etc. Neem products are gentle on the skin all year round and are in fact moisturizing too. Most neem washes provide help in dealing with skin problems like acne, pimples and even oiliness due to pollution. Neem facial cleansers also help with the problem of blackheads and whiteheads. I have personally been using a lot of different neem face washes and have tried almost every single one available in the market.
List of Top Ten Neem Face Washes in India:

I have personally been using The Himalaya Herbals face wash pretty much daily for the past three years. It is a great cleanser. It provides a very soothing effect to the skin and does help with the existing pimples etc. However, it doesn't really prevent acne. It is mild on the skin and feels and smells fresh. Totally recommend this to everyone! (Price: Rs 100)

Khadi Herbals Neem and Teatree Face Wash


To be honest, this is the only product I have ever used from the brand Khadi. It is a decent facial cleanser. It cleanses the face pretty nicely and being a herbal face wash, it is very mild on the skin and doesn't cause any kind of dryness or irritation. However, again, this wash doesn't help with the acne problem much. (Price: Rs 220)

Just Herbs Silksplash Neem-Orange Rehydrant Face Wash


The Just Herbs Silksplash neem-orange rehydrant face wash is a promising neem product. I'm definitely ordering it in my next online beauty haul. This cleanser is a chemical free product and it moisturizes the skin really well. It is a perfect wash for the colder months. (Available for Rs. 325)

Garnier Pure Active Neem Face Wash


The Granier Pure Active Neem Face Wash is actually a great neem wash. This is one of the few products that I've tried on my super sensitive skin that purifies and cleanses really well as well as keeps the acne at bay. This product is also one of the most affordable face washes out there. The only downside that I've found about this one is that you need a little more of this as compared to the usual quantity of cleansers you'd apply at once. Other than this, it is a great product. (Price: Rs. 55)

Vaadi Herbals Anti Acne Neem Face Wash


I just discovered this neem face wash by Vaadi Herbals around last week and it is definitely made its way into my skincare haul. This face cleanser is so affordable and is gentle on the skin. It is one of those mild washes that you can use daily in your CTM routine. (Price: Rs. 48)

Jovees Neem Face Wash


Jovees is a trusted brand when it comes to skincare and face washes. This neem face wash claims to help mitigate pimples, lift away impurities and keep the skin moisturized. This facial cleanser has natural therapeutic properties and you should definitely try this one out. (Price: Rs. 155)

Nature's Essence Neem and AloeVera Face Wash


This face wash is infused with neem extracts along with Aloevera and turmeric extracts too. All of these ingredients together are good for the skin and not only freshen up the skin but also help keep acne and pimple away. If you are looking for a budget neem wash that you can also use on a daily basis, then you must try out this product. (Price: Rs. 60)

Abeers Khadi Abeers Saffron and Neem Face wash


This face wash is free from chemicals and preservatives. It promises to do a fair job of deep cleansing and moisturizing. It contains the extracts of neem and saffron which are both very good for the skin. Along with helping with the acne, this facial wash also helps prevent blackheads and whiteheads. I think it is one of the best neem face washes available in India. (Price: Rs 225)

Soul Tree Nutgrass and Neem Face wash with soothing Chamomile


This is a fairly newly launched neem product for oily skin in the market. It is described as "Fairtrade Chamomile hand-picked from the forests of Ranikhet, organic Nutgrass and Mandarin oil make this fresh, citrusy face wash by SoulTree a deep cleanser for your skin that controls oiliness." Since it claims of helping with oily skin, you need to buy it soon (Price: Rs.266)

Garnier Pure Active Neem and Tulsi High Foaming Face wash


This facial wash by Garnier is again available at a very affordable price. I have used this face wash a lot and have liked it too. It lasted me for about three weeks when I used it twice daily, so considering the price point, it is a great buy. Along with neem extracts, this facial cleanser also contains tulsi extracts. It is very gentle on the skin and doesnt cause any irritation or dryness. I definitely recommend this to everyone. (Price: Rs. 60)
So this is my list of top favourites for neem face washes available in India. I have tried most of the face washes that are on this list and have already made my list of cleansers that I have to include in my next skincare haul.
I love using neem products on my skin. It works wonders for my oily skin and helps with the sensitive skin that also happens to be acne-prone. Neem has therapeutic qualities and prevents blackheads and excessive oiliness too, all at a very affordable price that products come at. All in all, I totally recommend everyone to try out at least one face wash (and more too) from this list!
Read More:
Which is your favourite neem face wash? Share your reviews with us.