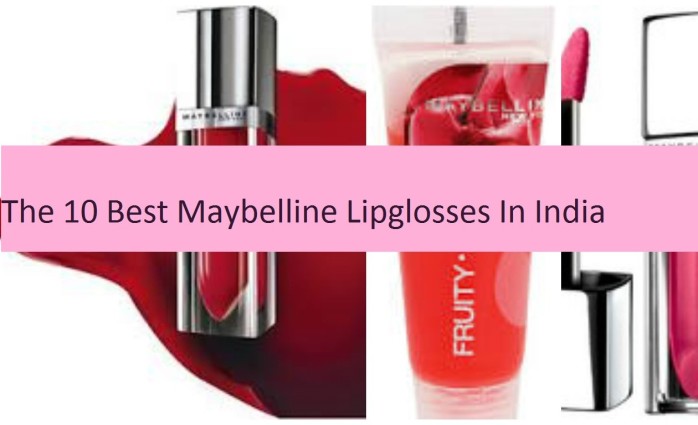 Top 10 Maybelline Lip Glosses in India with Reviews and Prices
Now here's the thing. I don't like shiny lip glosses or shiny things in general. I'm an all-matte lip girl , but recently I tried out a colorbar lip gloss that was beyond dazzling , and I was in love with how vibrant and perked up my whole face looked because of it that I had an epiphany! Hey, lip glosses work for me! And so today, i'll be listing my favorite and highly recommended maybelline lip gloss shades that are available in the Indian market and suit Indian skin tones perfectly. Maybelline has quiet a few lip gloss ranges and I'm gonna pick the top rated shades from all of them.
List of Top Ten Lip Glosses from Maybelline for Indian skin Tones
Maybelline Fruity Jelly Lip glosses:

This formula of maybelline lip glosses is now difficult to locate in the market and counters but i believe you can still get it online at amazon and flipkart. Which is a downer since the formula is a real winner. This lip gloss is extremely soft and gel based, with a non sticky feeling to it. The best way i can describe it is a runnier version of the Loreal Liquid lipsticks. (Which by the way are amazing!) The longevity of these is average for a lip gloss, but for the price i think they're a hit! These glosses are very sheer and aren't ideally to be worn as it is if you want but rather over a lipstick so you can get some bank for your buck.
Retail price : Around Rs.150 each, which makes this little gujju, very happy!
1. Maybelline fruity jelly Tempting Toffee lip gloss :
This nude lip gloss shade is perfect for fair skin tones offering a beautiful contrast with the rather deep color (when layered) and their complexion. Also, it'll work beautifully with duskier skin tones as a nude . Tip : The formula itself is actually quite sheer and the color doesn't show through all that much , making it a wonderful shade to pair over a great brown-based nude lipstick. I recommend pairing it with the " brown wave" lipstick by colorbar. This is one of my favorite things to do with lip glosses like these, whose formula is more gel based and hydrating. I use it as more of a lip balm or a base and put my lipstick over it. Sure the longevity isn't that great but the finish and feel of it is divine!
2. The maybelline fruit jelly Crazy for caramel lip gloss :
This shade of lip gloss is somewhat similar to the previous one, but with a hint of more burnt tones and browns. It's suitable for olive and dusky skin tones, however it will tend to wash out really dark skin tones and make fair skin tones look rather dull. If the shade goes for your complexion though, it's amazing. Again, it's on the nude side.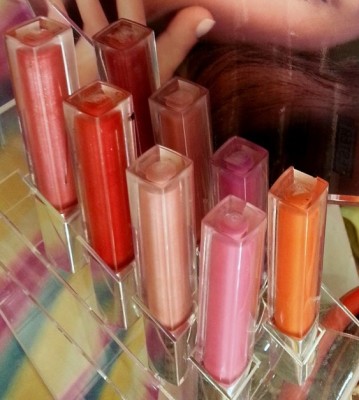 These Lip glosses from maybelline are a bit more pigmented than the previous range , and a little bit stickier. The formula is also designed to last a little longer and all in all, it's for those days where you want some color on your lips and look fresh and put together without having to put on a lipstick and having that opacity to the pigment. One of the best selling maybelline lip glosses in India. Swatches for all the shades are on VNA..just follow the link.
Retail Price : Around Rs.350 , which is amazing considering how great the product is!
3. Maybelline Colour Sensational Mirrored Mauve lip gloss :
This lip gloss shade is a very pink mauve , and swatches out a little lighter than you'd expect. It's perfect for fair skin tones, and will work for medium skin tones as well, but i don't see it doing a lot for deeper skin tones, since it will create a corpse-like contrast. (number 4 in the swatches)
4. Maybelline Color Sensational Plum Luster lip gloss :
This is a more raspberry infused plum shade, and look beautiful on all Indian skin tones. I see it working with any outfit, any basic eye look and looking fly! The shade is pretty versatile as far as i can tell and definitely one worth investing in . It's also more deeply pigmented than the other ones and leaves a stain on the lips after wearing off. (number 2 in the shade card swatch)
This is my favorite color from this range because it's that perfect red for Indian skin tones, it's not very blue based, and has a bit of a orange base to it, making it a less stark look for Indian and deeper complexions. It will work for just about everyone. It's a beautiful maybelline shade for those occasions where a red lipstick is a little too much, but you're feeling up-to wearing a red! (number 3 in the shade swatches)
6. Maybelline Color Sensational Captivating Coral lip gloss :
This gloss color is for those of us that like experimenting with colors and don't mind going all out in an orange. The color is labelled as coral but in my opinion it is a pretty subtle orange shade, and if you're trying to branch out into different shades, a lip gloss that doesn't have the opaque impact of a lipstick, but still deposits a hint of color is the way to go. (number 7 in the shade card)
7. Maybelline colorsensational Glisten Up Pink lip gloss :
This color is my ideal nude-pink for fair skin tones, and if you're looking for a light gloss with a hint of a pink color to go with a "in your face" eye makeup look that has some deep colored shadows and some serious eyeliner going on, this is the shade for you! It's also on the list because it creates a beautiful contrast with the oh-so-black kajals we all love so much. Just make sure it doesn't wash you out, and you'll be falling in love with this frosty pink in no time! (number 5 in the shade card)
Maybelline Color Sensational Lip-polish :
This is my favorite lip product from maybelline ever, and for good reason. The serum-ey gloss leaves an amazing shine on your lips, the concentrated pigment shows up with one swipe and when the lip gloss wears off, the formula leaves your lips feeling amazingly soft . It comes in about 15 shades , and it's available online all the time, and i'm sure you can locate it in your local store. Another top rated maybelline lip gloss in the market. Retail Price : Around Rs.450, but they're always on discount online.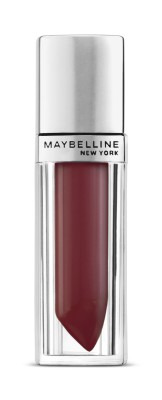 8. Maybelline Lip Polish in Glam 12 :
This gloss shade is more of a deeper version of gleaming grenadine, and is a lot more pigmented. It's a warm , warm red, with a lot less orange and a lot more of a tomato red in it than the gleaming grenadine shade. If you're feeling up-to a red , do give this a go.
This shade is the perfect nude for deeper skin tones and medium skin tones, it's a brown-to-pink based shade that looks brown in the tube, but happens to swatch out lighter. I know it's difficult finding a good nude for our Indian skin tones unless you go into the wash-me-out category, so this color was a great find! Anshita has done a detailed review and swatch on this one.
10. Maybelline Lip Polish in Glam 3 :
This shade is the most beautiful cross over between peach and orange that i have ever seen , and it swatches out really pretty on the lips. It's a great everyday shade and goes well with every skin tone, unless you're really yellow undertones, in which case the orange will look a little bit off. All in all, it's a real winner.
Read More:
Which is your favourite maybelline lipgloss? Share your reviews with us.