Top 10 Matrix Hair Care Products in India with Reviews and Prices
Matrix hair products have gained popularity ever since they were established by L'oreal and have taken over to provide various products with a professional quality at a reasonable cost. Since this range comes from a promising brand, the trust in Matrix continues by proving its worth. The varied range of hair products like shampoos, conditioners, hair oils, hair colors, hair masks, etc caters to needs of a lot of hair products like shampoos and qualities like straight hair, curly hair, chemically treated hair and coloured hair. These are some of the best products from matrix available in Indian market for hair products like shampoos which I feel are worth all the efforts and price.
List of Top Ten Must Have Hair Products from Matrix:
1. Matrix Biolage Hydrasource Shampoo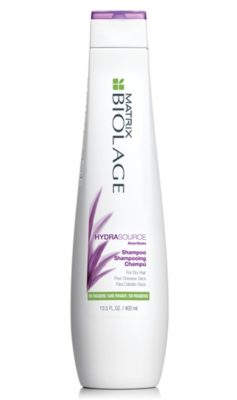 This product claims to renew the lost moisture of the hair making it smooth and soft. It is for dry hair which is prone to breakage. It is to be kept for 1-3 minutes. It has ample amount of moisture in it which I feel makes me give up to use conditioner on a regular basis. This matrix shampoo is ideal for dry scalp and is also suitable for colour treated hair. The company recommends it along with hydrasource detangling solution for best results. Matrix has relaunched their Biolage hydratherapie shampoo and named it as Biolage Hydrasource shampoo. A lot of people do not like this new innovation but for me, it has worked even better.
Price: Rs 439/400 ml. 
2. Matrix Permanent Socolour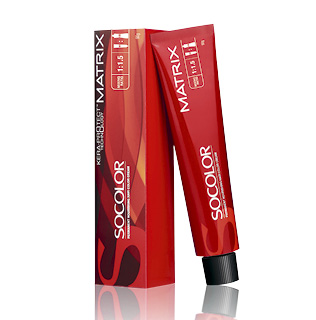 Kera protect is a cost effective hair colour ideal for coverage of grey's and comes in 19 amazing shades. This matrix product is easy on hair and on pocket. If you're looking up for a hair colour which is reasonable as well as effective this is the perfect one. Also, it gives less damage to hair. My mum swears by this hair product and is so amazed that every time we buy this she wants a different colour and if you want you can also mix the colours and make up a new shade as she does.
Since, she cannot experiment with bright colours and ends up mixing darker ones, we can play with some colours and who knows make up a new shade which is beautiful. Believe me she does not look scary, the colours suit her leaving her hair soft. Socolour caters to middle aged women as well as young with the different shades and colours available in India. The next day after application following it with Matrix Biolage Hydrosource Mask makes hair even softer along with a fresh colour.
Price: Rs 350
3. Matrix Biolage Oiltherapie Conditioner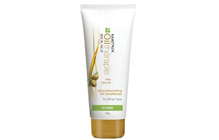 Olive oil is the key ingredient of this matrix conditioner. This gives the required shine and gloss to the hair. Though, use on a regular basis makes hair oily for occasional use I feel it is ideal. It detangles hair magically and nourishes them. You just need to put it on for 1-3 minutes on damp hair after shampoo and the texture of the hair is like so soft but, only with occasional use. For really dry hair it can work wonders and make them look rich and shiny.
Price: Rs 170/98
4. Matrix Biolage Advanced Fiberstrong Masque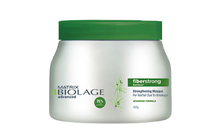 This hair products like shampoos and strengthens weak hair and cuticles. It consists of Bamboo and ceramide making hair stronger. Matrix is known for scientifically proving results hence Bamboo can work wonders in this respect. It is ideal for weak and fragile hair and makes them strong resulting in less hair fall. You just have to put it on damp hair after shampoo and massage it gently strand by strand for 5-10 minutes and then rinse. One of the best selling matrix products for hair.
Price: Rs 745/ 490 g
5. Matrix Opti Professional Shine Enhance Serum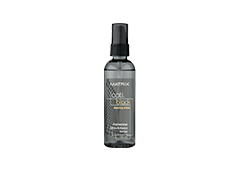 This is made specifically for black or dark hair and makes you ready instantly for any party or occasion with an extra shine and added salon touch. Vitamin E as the key ingredient, it gives a transformed look to hair. On one hand, hair products like shampoos up till now made my hair look shiny but gave an oily or an unnatural look, whereas this matrix one on the other hand gives a subtle absor bent shiny look which is not at all greasy and is just so natural. Best seller from matrix hair range for special occasions.
Price: Rs397 for 100 ml.
6. Matrix Styling Heat Buffer Thermal Styling Spray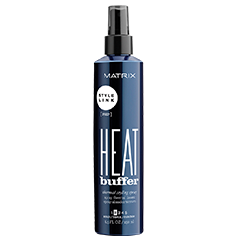 A must have hair spray for all the people who love to style their hair or who want to style their hair but are too scared of the damage. The application of this spray provides heat protection up to 450F/232c, it adds on to shine with level 2 hold. it is just perfect for all the styling and saves your hair. Believe me, no more staying away from heat. It also ensures that your hair has a soft and shiny finish free from damage. Hence it is ideal for any type of styling but if you want a higher level of hold then this is not the product for you. But, I feel any styling would be incomplete without this matrix spray.
Price: Rs550 for 250 ml
7. Matrix Opti Professional Split end Serum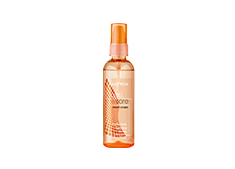 When I heard of this hair product I just couldn't resist from using this. It is enriched with shea butter and recommended for hair which is chemically treated. It works best when applied on dry hair starting from the ends moving towards the scalp hence concentrating more on the split ends and works on them and their repairing leading to further hair growth and improvement in the texture. It makes hair really smooth and even. It is also a non-greasy formula which deals with frizz and makes hair smooth and soft. It is also claimed to give a reflective shine to the hair.
Price: Rs 381 for 100 ml.
8. Matrix Biolage Rich Oil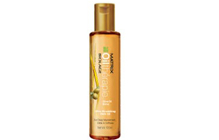 This matrix biolage hair product is a perfect blend of olive oil, coconut oil, sweet almond oil, sunflower oil and soya bean oil. Apart from making food tasty, sunflower and soya bean oil have been proven to improve the hair and its strength. It is claimed that only 8 ml is required for full head application hence a single bottle goes on for a long time. It is suitable for all hair types and provides benefits like shine, nourishment, softness, manageablility and control for healthy looking hair from root to tip. This professional mixture of all five oils is ideal for all hair types. It is recommended to follow it with Biolage ultratherapie oil shampoo. It is definitely an all-in-one hair oil. I just wish the new Amla oil which Matrix has introduced was in it as well.
Price: Rs200 for 100 ml.
9. Matrix Biolage Anti- Dandruff Purifying Gel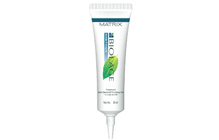 This hair gel from matrix biolage is an innovation which purifies and cleanses scalp and hair. It is one of the most effective products constituted with the advanced combination of piroctone olamine, citric acid and exfoliating agent which are proven to remove visible dandruff and its flakes as well. Again a top matrix hair care product in India. Apart from that it also helps to reduce its reappearance in turn leaving hair shiny, soft and all refreshed. This is really effective for people who have severe dandruff and are not able to cure the problem. The application is a bit tricky, but with correct application the results are wonderful.
It needs to be put on dry scalp (make sure it is perfectly dry) section by section and to be massaged for around 3-5 minutes and then working it like a shampoo by adding water and making lather and then to be rinsed. For best results make sure you do not put anything after the use of gel like conditioner or serum as it would take away the effects of the matrix gel. This can be done once or twice a week.
Price: Rs 190 for 200 ml
10. Matrix Straightening New Opti- Straight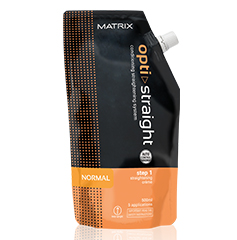 This is considered one of the best products from matrix for straightening and is widely used all over the country and the world. It is also the first ever anti breakage straightening system by Matrix. It is claimed to automatically stop the straightening process the moment hair is straightened and hence does not harm hair and prevents in breakage and damage. Also, it has a fresh fragrance which gives a citrusy feeling to hair with smooth and soft texture. The natural soft straightening service offered by Matrix uses this to give the desirable result.
If you're looking for straightening or you're scared of it and your hair is fragile then this is the best product for you. This is further available on the basis of your hair type. It classifies further for two types of hair, Normal which is for medium to fine hair that is naturally wavy or frizzy and the second one is Resistant which is for medium to thick hair that is naturally curly and frizzy. No more staying away from straightening.
Price: Rs370 for 125 ml

Read More:
Which is your favourite matrix hair product? Share your reviews with us.