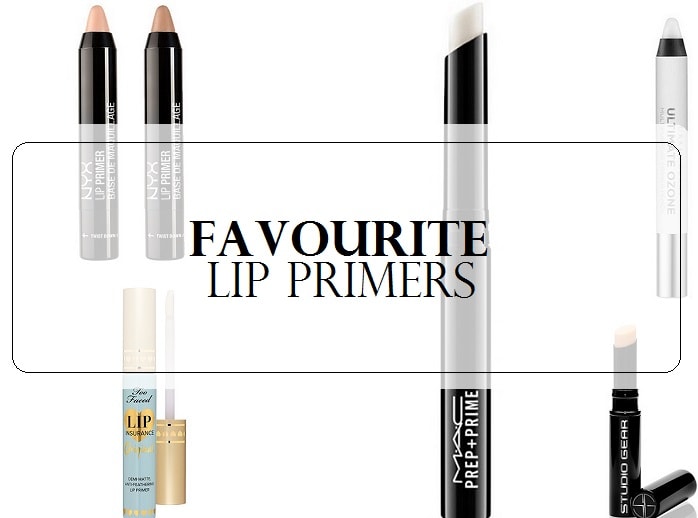 Top 10: Best Lip Primers in India with Reviews and Price List
How are your Christmas preparations going on? Merry Christmas and a Happy New Year to all of you. I watched 'The Martian' movie a few weeks back with my team mates in office and it was so thrilling that I was holding onto the edge of my seat. Do watch it, its awesome. Today's post is about lip primers. While applying lipsticks we face the problems of dry, chapped, flaky lips which results in cakey, peeling lipsticks. Lip primers come handy during such times. They not only hydrate your lips but increase the wear time of your lipsticks just like face primers do for face. I'm listing down the best lip primers you can buy in India. No Indian brand has lip primers surprisingly.
What is a lip primer?
Lip primer is like a foundation/base for your lip makeup. It helps to smoothen lips, fill in lines and creases and facilitate easy application of lipstick/lip gloss. Also, it enhances the staying power of your lip products and prevent them from feathering and fading.
How to use?
Lip primer is not meant to be used on its own. Apply a thin coating after exfoliating your lips and before applying lipstick. Allow it to dry for a few seconds before proceeding with other products.
List of Best Lip Primers in India
MAC Lip Prep + Prime: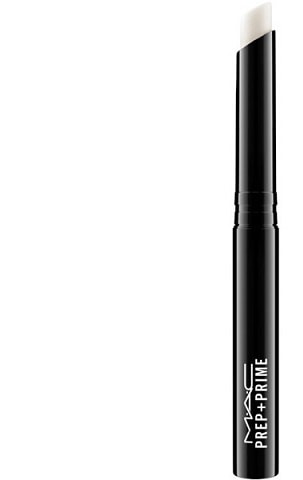 A colour-free, nude base to wear under lipstick. It moisturizes, smooths and refines the lips. MAC Prep + Prime prevents lipstick feathering by providing deep hydration. The product is fragrance-free, oil-free and dermatologist tested. It is raved about by a lot of beauty bloggers worldwide so its safe to say that its one of the best lip primers in India. Price in India: Rs.1000
NYX Cosmetics Lip Primer: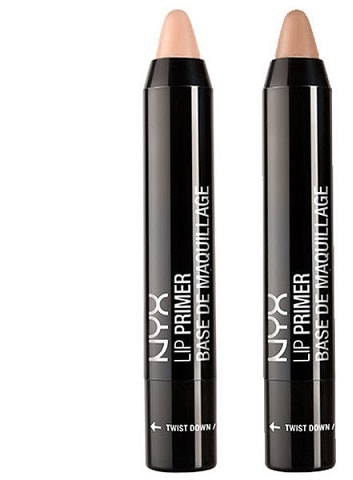 It has a dual color correcting and texture adjusting formula to make lip color look its best. The primer comes in a handy twistable crayon like packaging for easy application. It prevents lipstick from feathering and makes it last longer. Comes in two shades – Nude and Deep Nude. Price in India: Rs.1444
ELF Studio Lip Primer & Plumper: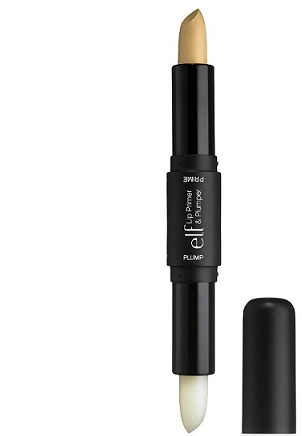 A two-in-one product with a primer and plumper on either sides. First, apply the primer on bare lips. Follow up with a lip color and finally finish off with the plumper to achieve naturally fuller lips. The primer holds the color for all day while the cinnamon flavored plumper helps give you glossy, fuller lips. Price in India: Rs.1492
Too Faced Lip Insurance Lip Primer: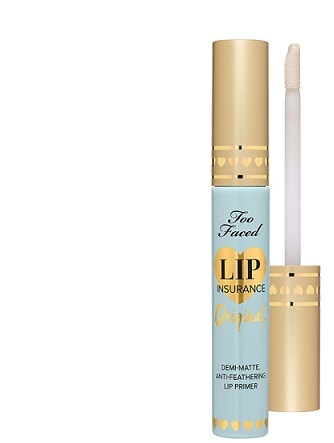 A hydrating, quick-drying formula that locks down lip color and provides even coverage. Prevents feathering, fading and tranfering of lip color. If you want to bulletproof your lipstick for a long day ahead, get this one. Price in India: Rs.2139
Urban Decay Ultimate Ozone Multipurpose Primer Pencil: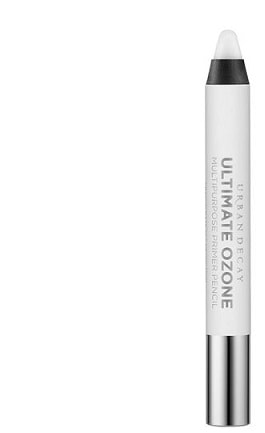 Urban Decay earlier had a Lip Primer Potion which I guess has been discontinued. This lip primer pencil is a transparent, clear lip primer with a creamy, long-lasting formula. Enriched with jojoba oil to nourish and moisturize so that your lips never become dry or cakey. Gives a perfect, flawless finish to lipsticks. Its multipurpose in the sense it can be used to fill lines under eyes before applying concealer or even just clean up mascara smears. Price in India: Rs.1950
Clinique Pop Lip Color + Primer: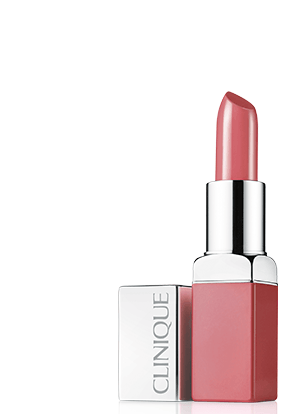 The luxury brand Clinique has a unique dual lip color and primer in one. Its a weightless formula which gives a bold, saturated color. The primer glides on smoothly giving a velvetty finish. The color stays for a long time while also providing adequate moisturization. Ideal for people who don't have time to use two different products. Comes in 16 lovely shades. It is 100% fragrance-free and allergy tested. Price in India: Rs.1615
Fusion Beauty XXL Advanced Contouring Priming Plumping Pencil: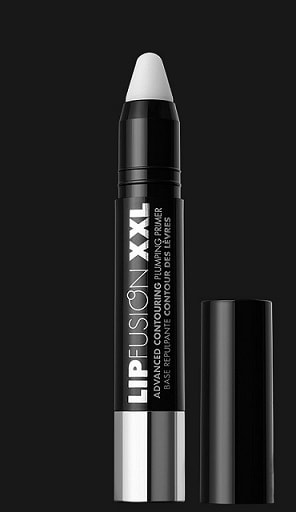 It comes in a pencil form and helps to plumpen and smoothen lips. The concentrated collagen-filling formula redefines lips and fills in lines and wrinkles. The 2x hyaluronic acid renews lip cells, smooths wrinkles and gives lips a fuller, younger look.
Cargo HD Picture Perfect Lip Primer:
This is a paraben-free lip primer with a good moisturizing formula which creates an adhesive-like base for lip color. Its not too waxy and absorbed quickly without drying out. Helps extend the wear of lip color. Also, creates a subtle plumping effect. Contains silica spheres which create a visual impact upon application, filling in lines and imparting a soft focus effect. Lips look fuller with even color that doesn't budge. Price in India: Rs.1200
Bite Beauty Line & Define Lip Primer: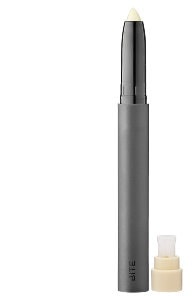 Its a 100% natural, moisturizing formula to instantly prep, plump and prime your lips. Contains jojoba and argan oil to condition and smooth lips while mint extract gives naturally plumper lips. Free from parabens, sulphates, synthetic fragrances, dyes and petrochemicals. There is a built-in sharpener at the base for sharpening the tip of the pencil. Price in India:

Rs.3523
Studio Gear Prime Objective Lip Primer: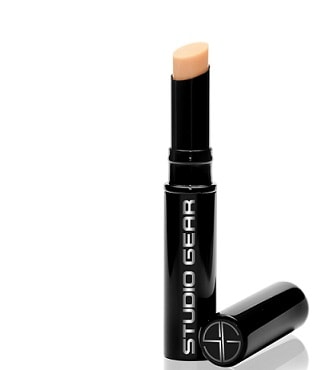 This primer helps to visually diminish discoloration and surface imperfections on the lips while also improving the application and wear of lipstick. Though the fragrance is a little strong. Price in India: Rs.2819
I agree that a lot of them above are insanely priced but thats their imported price. Internationally you can buy them much cheaper. But since none of the Indian brands make lip primers, we have to rely on these. All the above lip primers can be bought from Amazon, Strawberry.NET, SkinStore, etc. Which ones have you tried? Share your favorite picks.
By Contributor: Archana
Read More:
Best Tinted Lip Balms in India
Maybelline Baby Lips Candy Wow Peach
Lipstick Tutorials for Beginners
Benefit Cosmetics The POREfessional Primer
Which is your favourite lip primer? Share your reviews with us.