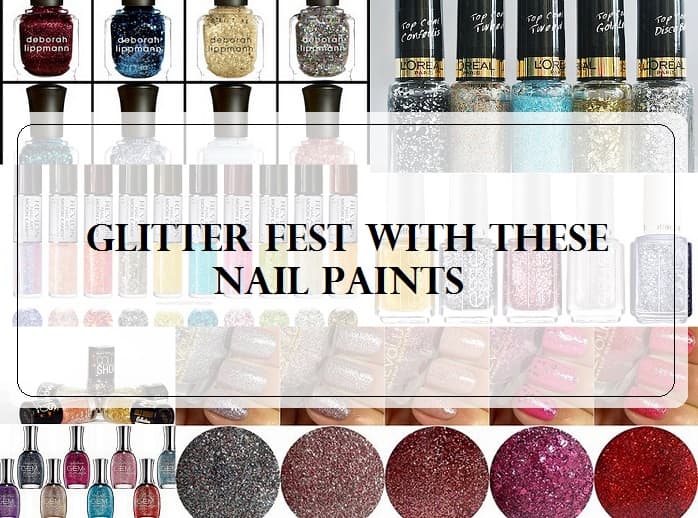 Top 10: Best Glitter Nail Polishes and Brands in India with Reviews, Price List
To me, my nail paint is never complete unless there is a coat of glitter or graphitti on it. Coats of glitter often add a spirit of cheer and charm on the hands and they are perfect for the festive seasons. Glitters are a girl's best friend and they look perfect on nails. There are 2 types of glitter nail paints available, one with scarce glitters in transparent liquid and the other one with solid glitters. Both of them are pretty in their own ways. The ones with the transparent liquid can be paired with several nail polishes while the solid ones can be worn on their own. Here is a compilation of 10 best glitter nail polishes or brands who have the best glitter nail polish collection in India.
In the beginning only two colours, gold and silver were available but now there are several shades and mixed colour glitters are available in the market.
List of Top Ten Glitter Nail Paints in India
Maybelline Gold Digger Collection:
Maybelline recently launched their Gold Digger collection which is breathtaking and gorgeous. It is a collection of 6 nail polish 3 of them being top coats and the other 3 are opaque colours. These nail lacquers are perfect for the festive season and can also be worn on a regular basis thanks to the unique shades. The top coats can be paired with other colours or can be worn independently. Gilded Rose is my favourite shade. It is a glittery shade of rose gold which is very beautiful. These cost INR 145.
Maybelline Glitter Mania: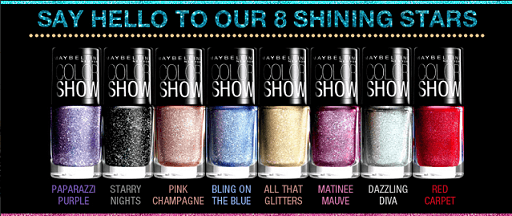 The glitters are a mixture of micro and macro particles which makes the nail polish liquid quite thick and it dries very quickly. One coat of each is enough but to achieve a more solid colour, 2 coats is needed. They have a very good staying power and they stay put without chipping for a week or more! These are the perfect nail polishes which define the word "bling" and we all love bling! One of the best glitter nail polishes in India without doubt. Price: Rs.125
Sally Hansen Gem Crush Nail Colour: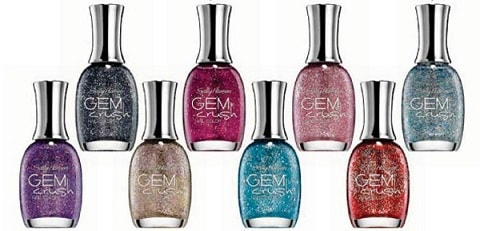 They released a collection of 8 quirky and fun glitters which provide very dense and concentrated shades. These are very similar to the Glitter Mania collection their micro and macro particles. Several shades have a bluish undertone in them. However they have a tendency to peel off when the coats get to thick. They don't have a strong staying power.
Essie Glitter Collection: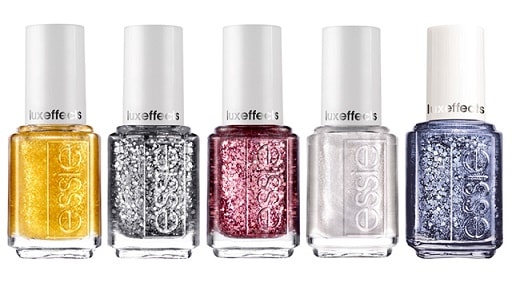 These give off a very professional look on the nails almost like a salon manicure as the colours do not spill or end up in cuticles. The liquid is clear with glitter and is very dense and opaque. They are also available in several stunning shades which are not usually available. The shades are very unique and new. The glitters may be a little difficult to remove but a rubbing it a bit more will do the trick!
Deborah Lippmann: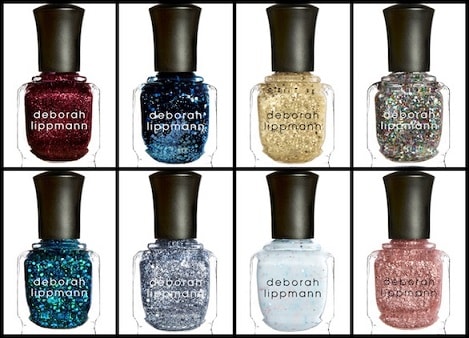 The texture of these nail polishes are very creamy and rich. It also gives a very sheer gloss on the nails and add the extra shine of the glitter. The pastel shades are the prettiest shades. This collection is very vibrant and has a very playful vibe and very wearable.
Makeup Revolution Glitter Nail Polish:
Like their other shades and collection, the glitter shades are very dense and rich. They glide on smoothly and silkily. However, the glitters here are scarce and few of them are top coats while a few of them provide an opaque finish. They also have a very decent staying power. Makeup revolution has own Indian website now where you can order from. Its makeuprevolution.in
L'Oreal Paris Glitter Nail polishes: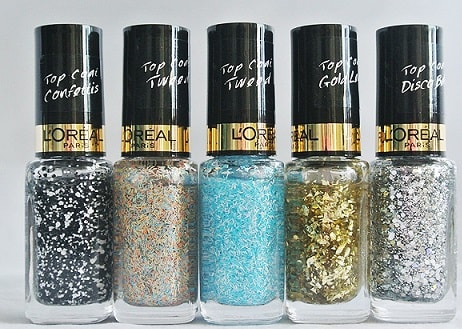 These nail polishes are very similar to the glitter mania collection from Maybelline. It is a collection of 9 sparkly shades with varied shades and glitters. They have a basic base colour and are topped off with glitters. The glitters are of several shades, gold, red, silvers, blues, turquoise and many more. They come in very sleek glass bottles which is also travel friendly.
Colorbar Glitterati Nail Polish: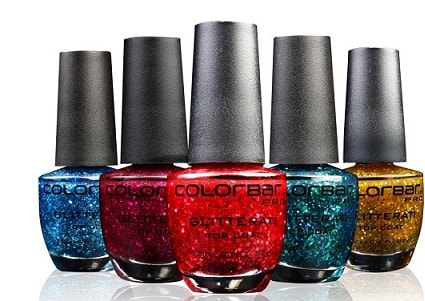 With a thick brush, they offer a fuss free clear application. To get the jewelled look, apply the paint on top of other coloured paints. The glitters are uniform and spread like a dream. A single coat is sufficient enough to achieve the desired glitter. Several coats may cease the drying process. The packaging is similar as the ones of OPI nail polishes. They are available in 8 shades.
NYX Glitter Nail Polish: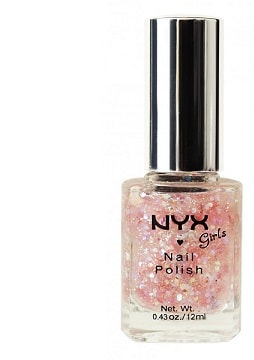 The glitters are quite flaky and they are like a top coat so they can be worn individually or can be paired with other shades. They look the best when paired with light pastel shades and also with dark shades.
Revlon Moon Candy Nail Art Polish: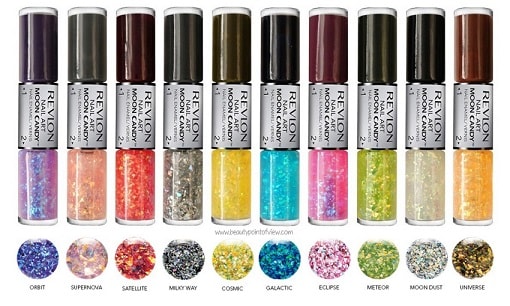 The nail polish comes in tubes of two. One contains a solid colour while the other contains the glitter top coat. Several shades of glitters are available and both can be used independently as well. They are also very affordable and available online as well. They have a decent staying power when paired with a clear top and base coat.
By Contributor: Ananya
Which is your favourite Glitter Nail Polish? Share your reviews with us.