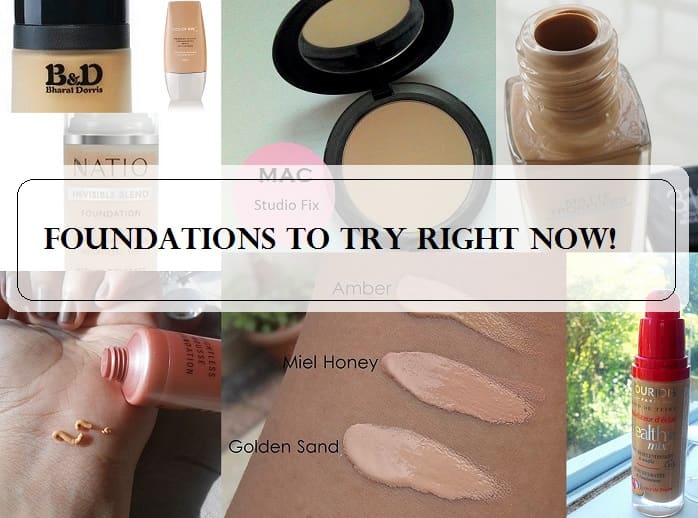 Top 10: Best Foundations for Indian Skin Tones, Reviews, Swatches, Prices
When you know a post will be read by all the VNA followers, and some of you might decide to invest in one or many of these products, it makes me feel all perky and excited. Gives me that extra push to ensure I have got my grounds covered, as much as possible. Especially, with makeup foundations! This is one makeup product we always want to get right, since the base defines how our final look turns out to be, right? Here goes my list of top 10 foundations available in India, in no particular order, available in stores or online or both. These foundations have the best shade matches for indian skin.
It is kind obvious that each one of us have our personal favorites. And, then, factoring in the skin types, priorities and such. However, in the midst of all, we still love a 'top 10' list. Personally, I love reading the Top 10 articles. Gives me names of brands, options, and helps in deciding what I can or should not invest in.
List of Top Ten Foundations for Indian Skin Tones: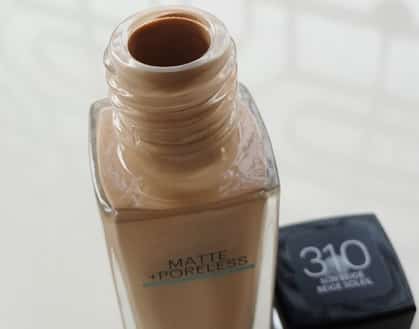 This one is, currently, quite the hot stuff. It is easily one of the highly recommended and most reviewed foundations in 2016. From makeup artists, to beauty gurus, the Maybelline Fit Me foundation is impressing the crowds. I personally, love the fact that it comes with a range of shades, from lightest to the darkest to suit our indian skin tones. As the name says, you will find a 'fit' for yourself. I enjoy wearing this, and find myself reaching out to this on most days.
Gives medium coverage, for days when you do not want to look all 'made up' and this does not sit on my dry patches at all! The consistency makes it easy to blend, and easily gives me 4 to 6 hours of coverage. I would say, not bad for the price tag. Maybelline did very well, with this range!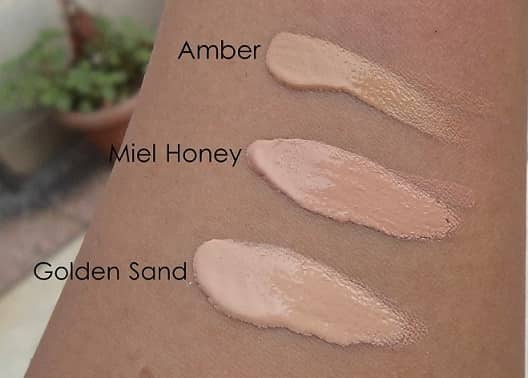 I remember watching a review of this foundation on a famous California based Youtuber, last year, much before it launched in India. I loved how flawless her skin looked, and I hoped this would hit the Indian cosmetic market, soon! Prayers answered, and a few months later the Infallible foundation was launched here. Coming to the product, I have to say it took a few days to love this product, entirely. Some days I was in love with it, and other days, i was not very sure. But, my final verdict is that this is a top level foundation.
Easy to apply, and blend, it gives full coverage, and depending on how you play with it, it can pass as a medium one, as well. A single pump works, for my entire face and neck, too. I just have one piece of advice – if you have dry skin, make sure you moisturize well or it tends to sit on your dry patches. Other than, that, you are sorted for a good 8 to 10 hours. Ahem, i have not worn make up for 24 hours, so not sure about that.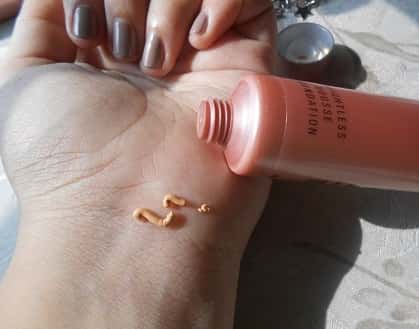 This is a foundation with mixed reviews. However, I recommend this entirely from personal experience. This foundation is a tube of convenience and decent coverage. I recommend buying this, after you have tried it at a store. This is my quick fix foundation, which means I mix this with my moisturiser and apply with a foundation brush. That way, I get a nice tinted coverage and also keeps it in pl ace for a longer time.
It does tend to give a feeling of a white cast on your face, so I have a fix for that. Use a translucent setting or a compact powder, and you are good to go. It does have a faint flowery scent, which wears off in the first 15 to 20 minutes. Overall, it's a good buy!
4. Natio Invisible Blend Foundation (Price: Rs. 1200)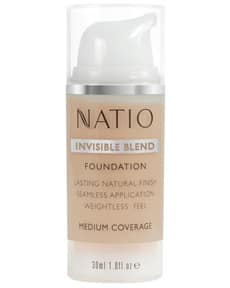 This is a medium coverage foundation, which gives a dewy finish. The product is very light, almost feels like a nourishing skin care product. Leaves the skin feeling fresh, with a glow. So, for those of us with a tendency to get shiny around the T-zone, we should set our base with a loose setting powder.
Natio, in fact, has a translucent one and it's perfect. I wear this mostly, on days, when I want to have a fresh looking face, but not too heavy. Perfect, for the oncoming summer! The only con I see is that it's slightly on the expensive side, but foundations are not overused like moisturisers, so it will last for a while.
5. Revlon Nearly Naked SPF 20 (Price: Rs. 750)
I have to say, by the end of this post, you might think I am a foundation hoarder, since I talk about personal experiences with each of these foundations. Guilty! Anyways, this is a foundation, I picked up on a whim. One of those online shopping days! And, I have to say, am so happy with this. Medium coverage foundation, but you can build it up to get fuller coverage. That's one of the pros of a medium coverage foundation, it's always easy to build on.
This one, in particular, does not cake up. Just as the name says, it's almost feels like your skin, but better, giving an even tone. I choose these on days, am rushing out as this one needs very little time to blend and easily distributes across the face. Only con, would be that it does not come with a pump and might lead to a bit of product wastage.
6. Bharat & Dorris Liquid Foundation (Price: Rs. 700)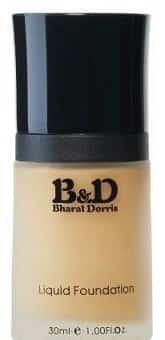 People with oily skin, can thank Bharat & Dorris. This foundation comes in a simple glass bottle, gives medium to full coverage. A single pump is enough to cover the entire face and completely evens out my skin tone, sets immediately and the finish is matte, neither dewy nor extremely matte and therefore, suitable for all skin types. Set it with a powder, and it stays on for a good 5 to 6 hours. It is waterproof, and sweatproof too. Unless, you remove it with a good makeup remover, this foundation stays put! I didn't see it oxidize on me, so that's another plus.
7. Colorbar Perfect Match Foundation (Price: Rs. 725)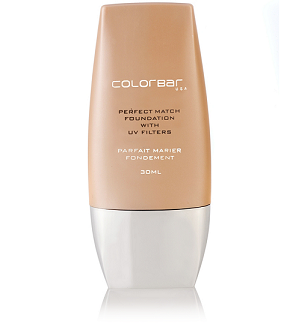 This is a lightweight foundation with light to medium coverage. This has a little more coverage than your regular tinted moisturizer.Comes in a nozzle bottle, and the look and feel of the bottle and texture of the foundation both remind me of the Chanel Vitalumiere Aqua. Comes in three different shades, it is the perfect foundation for these dreadful summer months.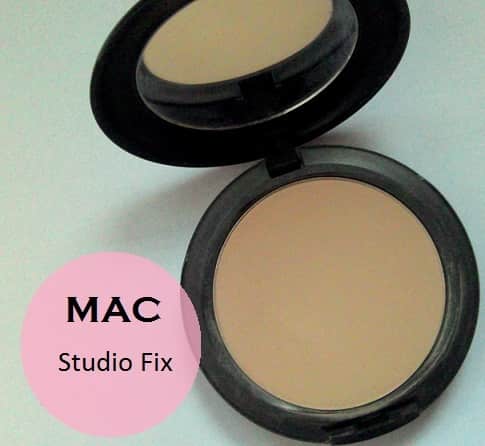 Studio Fix is a powder and foundation in one that combines good coverage with ease of application. Designed to be used dry, it gives matte, velvety texture! The compact is compartmentalized into 3 – one for the mirror, second for the product and third for the disc sponge. I have been using this for about four months now and as per the name, it fixes your foundation woes like none other.
Foundation and powder put together to make the task easier, with Studio Fix, your routine is one step shorter. It gives your skin a flawless matte finish, and you are sorted for at least 8 hours. Even with my combination to oily skin, I am in foundation heaven. Expensive, but highly recommend this one, if you want just one foundation and don't like too many choices. The best foundation in India in my opinion.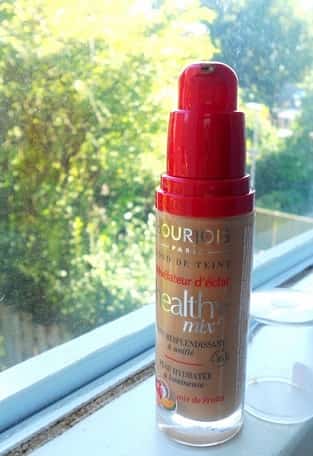 This foundation happened to me on one my visits to Mumbai, and I have fallen in love with it. You instantly know if a foundation is working for you, the minute you try it on. Most times, I buy after some research, and reading about a dozen reviews. But, this one felt right the minute I tried it on. It blends on my skin within seconds. I love how it brings back life to my tired face (underslept, most days), something which I would otherwise achieve after a good 6 hr sleep.
It has a light feel on the skin and my face looks natural, soft and flawless, quite comparable to air brushed finish provided by professionals. It gives a glowy feel, without making the face look shiny like a disco ball. Great for normal to combination skin, and has never broken me out. It stays fresh for up to 6 hours, so I'm sorted for a hectic day! The best everyday foundation available in India.
10. StudioWest Pure Passion Flawless Finish Makeup Foundation (Price: Rs. 550)
New in the market and already on my top 10 foundations list. This one is such a versatile foundation, can be used as a medium foundation and built to get an almost full coverage. Has a very supple finish, blends smoothly, leaving the skin looking flawless. For such an affordable price, this is a really great foundation. For some days, when you do not want to apply foundation but want some coverage, you can mix a pea size amount of this foundation with your moisturiser and it gives a lovely tint and evens out the face. Tip – blend with a wet beauty sponge.
High end to affordable, this list covers a range of foundations that would work beautifully on almost all skin types. And, these foundations are tried, tested, and loved!
By Contributor: Pooja B
Read More:
Foundations For Indian Bridal Makeup
Which is your favourite foundation in India? Share your reviews with us.