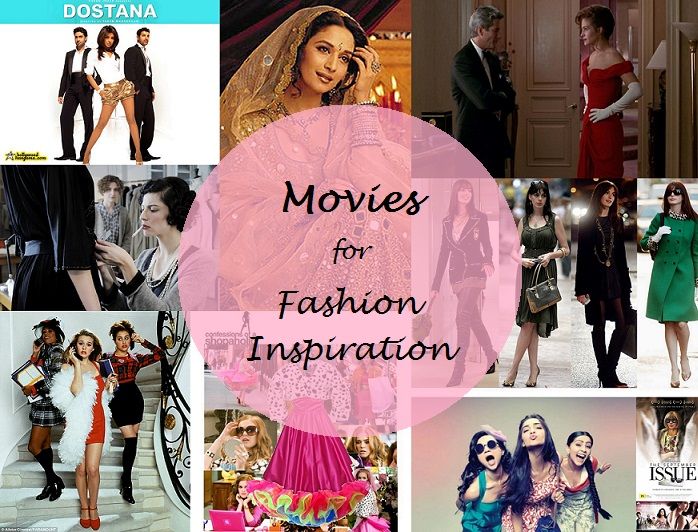 Top 10 Fashion Movies for Fashionistas and Girls – Chic Lit Humour
By Contributor: Uzma
I don't need a Valentine… I need Valentino. I saw this quote on Pinterest today and died laughing. Couldn't help agreeing to it. Even watching the most romantic movie of the century the thing I notice is the exquisite piece of pearl necklace. So, here is the list of movies from both hollywood and bollywood which are on must watch list of all the fashionistas. All these girly films inspire us to pirate atleast one look from each. They upgrade our knowledge of fashion and best part is they are Entertaining in true sense.
When an actress fret over the fitting of a dress we sympathize with her and when she flaunts the couture with elegance we laugh along with her. #SoulMates. Most of these are already seen, some are on must watch list. Let's proceed to our best fashion movies drool worthy journey.
1. The Devil wears Prada:
A comedy based on a novel of the same name. Aren't stories taken from novels rather good. Story is a cliché makeover story but the theme is much more deeper. The movie is all set in the fashion world and believed to be the most expensively costumed film in the history. Anne Hathaway is always beautiful and stylish. My first Red Lipstick was inspired by her but seriously! No one can pull it off like her.
2. Coco Before Chanel:
A 2009 french film about the prestigious French designer Coco Chanel. Audrey Tauteu stars as the creator of the famous fashion house. Movie depicts her evolution from her early days as a bar girl and hat seller to her later success-while wearing a string of pearls, of course! It won the Cesar award for Best costume Design. If you want to take some Vintage dressing inspiration, you must watch this one.
3. The September Issue:
A documentary behind-the-scenes drama about the fashion bible Vogue and its editor in chief Anna Wintour. Film features appearances by many top models and fashion designers including Jean-Paul Gautier and Oscar de la Renta. This documentary has some really drool worthy outfits to satisfy our fashion appetite.
4. Confessions of a shopaholic:
A rom-com based on a novel (again!). All she ever wanted was a little credit ~ Story of our lives. Story of a girl who gets all stuck up with her past (say her debts) right when she has got a job. Tragic + Messy! But the story revolves around a girl who just can't get enough of incredible clothes and accessories. Naturally there are tons of scenes and shots of wonderful outfits and gorgeous pieces. Also, the wardrobe shown is incredibly colorful and vibrant.
5. Pretty Woman:
Classic movie with an unconventional story of a prostitute. Movie has some iconic dresses of all time. Whether it's her shabby appearance in first scene where her dress hides nothing and reveals all. Or the red gown Robert wore in the movie. Her over-the-top dressing portrayed her image as a prostitute perfectly, whereas her makeover is shown through the sophistication in her dressing. The red gown represents the pinnacle of her progression to a 'lady'.
6. Clueless:
This fashion movie is a loose imitation of Jane Austen's Emma about a breathtaking fashion obsessed girl who does matchmaking and gives fashion tips to her friends. She is attractive, popular and extremely wealthy. It's rather an old movie but an interested take on fashion and passion.
7. Fashion:
An intense drama film by Madhur Bhandakar which captures some bitter truth of fashion industry. When it's pertaining to fashion, it has to be stylish. It got a National award to Priyanka Chopra. She reportedly wore 137 costumes in the film.
8. Aisha:
Plot is based on Jane Austen's Emma (See! I told you). A millionaire match maker who ruins others life by constantly interrupting them and her own too by being constantly stupid and stubborn. There is Sonam Kapoor, then she is a millionaire and then she is playing a Delhite- movie has to be a hit for its fashion sense. Whether it's a Polo match or her bed time she is looking Oh! So perfect. There is Ira Dubey- with her chick yet comfortable style. Her expressions are icing on the cake!
9. Dostana:
A comedy where two guys pretend to be homosexuals but fall in love with the same girl. Movie is high on fashion quotient because leading lady Priyanka is shown to be working for a fashion magazine. She is stunning whatever she wears- be it a one piece bikni or a golden saree. I especially loved metallic hues from this movie. Bikni, blouse and the shorts worn in the above picture.
10. Devdas:
The odd one out of this list and my personal favourite. Every thing about this movie is grand- sets, cinematography, costumes, dialogues everything. Dresses were designed by Neeta Lulla, Abu Jani- Sandeep Khosla and Reza Shariffi and also won them a National Award for Best Costume design. Two of Madhuri's costumes weighed 30 kg and 16 kilos. Aishwarya wore simple cotton dhakai sarees in first half and saree worn in the last half were a minimum of 8-9 meters. Each drape took approximately 3 hours to be pleated in a way which would look authentic. Take inspiration from this movie if you want some really authentic pre-nuptial or wedding couture. You will find mind-boggling ideas, trust me!
This is my list of some of the best fashion movies I have seen. If you have any good films to add then let me know.
Which is your favourite movie for fashion inspiration? Share your views with us.