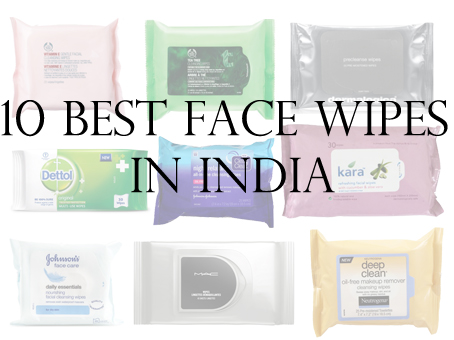 Top 10 Face Wipes or Wet Tissues Available in India with Reviews and Prices
India is generously blessed with hot summers which are truly "too hot to handle" and along with these summers, come skin problems! Dry skin, oily skin or sensitive skin, summers are a menacing for all. Wet wipes can really help to keep your face sweat free and selfie ready on hot summer days. In fact, a good wet tissue suiting your skin type can be a blessing not just during summer, but throughout the year. It helps you refresh your skin and make it moist on the go! No face wash, no water, no hassles! With more and more awareness about the different skin types and face woes faced, a variety of tissues are offered based on one's skin tone and their preferences. Let's see the best face wipes that are available in the Indian market which you could use this summer.
Also, the wet wipes are perfect for all the lazy souls out there who just refuse to walk to the bathroom to wash off their make up. They are extremely convenient. As they are pre-moistened, they have already been infused with all the good stuff required to keep our skin fresh and make up free. But, care has to be taken while picking a face tissue based on your skin type and the brand. Without further ado, lets move on to my favourite brands.
List of Best Quality Face Wipes:
1. Clean and Clear All in one cleansing wipes
These wipes are convenient as they come in travel size perfect for on the go. The clean and clear ones help remove excess oil and sweat from your face and are suitable during travels. These wipes are not recommended for people with dry skin, as it may ripe the skin off its natural oils and sebum leaving it dry and flaky. They are opthalmologically tested hence are 100% safe to use. It has a very sweet fragrance and will give you a very relaxing feeling once used on your skin. Price in India: Rs.1158
2. Kara Refreshing Facial Wipes
Kara Wipes for oily face are infused with Aloe Vera, Cucumber and Mint which leaves behind a very refreshing feel which is perfect for the hot summers. The Aloe Vera keeps the skin hydrated and fresh while cucumber soothes the skin and soothes heat burns. These oil free wipes are suitable for Oily Skin as the Mint controls the oil secretion by strengthening the skin tissues. They come in a pack of 30 wipes for Rs. 90 . They are definitely cost effective and cheap as compared to other brands out in the market.
3. The Body Shop Cleansing Wipes
The Body Shop wipes are infused with Tea Tree oil which unclog your pores easily without much effort and make your skin fresh and shine free. Containing biodegradable and natural elements, be sure that these tissue papers will have no harsh effects on your delicate skin. They come in small packs which are perfect for travel and are very convenient to use.  They soak up excess oil from the skin leaving your face shine free and matte. They cost Rs. 495 for 25 wipes. Worth every penny spent as these are one of the best wet wipes for oily skin.
4. Neutrogena Deep Clean- Oil Free Make Up Remover
Neutrogena wipes are super soft, pre-moist wipes which are suitable for wipes on the go. The oil absorbing essence in these wipes easily dissolve oil and sebum secretions from your skin and leave no residue behind, keeping your skin absolutely fresh and sweat free. Suitable for those with oil skin. They come in a pack of 25 wipes costing Rs. 2000
(as shown on eBay India). These face tissues are allergy tested, suitable for those with highly sensitive skin.
5. Johnson's Facial Cleansing Wipes
Johnson's Wet Wipes are approved by dermatologist, hence they are safe for those with sensitive skin and can be used to remove waterproof eye makeup. It does not contain any harsh chemicals so it's 100% skin friendly and contains no chemicals or alcohol. With doctor's recommendations for infant care, these baby wipes are a big thumbs up for those with dry or sensitive skin as the contents are very mild and skin friendly so the chances of complications arising are reduced drastically. A very popular wet wipe for face if you have sensitive skin.
6. The Body Shop Vitamin E Cleansing Wipes
Body Shop wipes are 100% biodegradable and easily gets rid of dead skin cells and impurities with just a wipe. As the name suggests, it consists of Vitamin E which are a great source of antioxidants for your skin hence perfect for sensitive and dry skin. Body Shop is one of the most renowned beauty and skincare wipes all over the world, so the credibility of this product is definitely not a concern. They cost Rs. 500 for a pack of 25 wipes  (available on The Body Shop India official website), surely worth a buy.
7. Nivea Daily Essential Facial Cleansing Wipes
Nivea Wipes are perfect for removing tough, waterproof makeup. It is absolutely skin friendly and does not cause any irritation while cleansing the eye area. The Vitamin E keeps your skin moisturized and fresh. These come in a pack of 25 wipes for a price of Rs. 2,352 (available on Amazon India). Nivea is one beauty brand we have grown up with, so these wipes are definitely reliable and are suitable for oily acne prone or sensitive skin.
8. Dettol Multi Use Wipes
Dettol Wipes can be used not only for the face, but also on your body. Although it may not be the best option for removing make up, they can be considered when in need. They are perfect for removing grim and dirt that accumulates on your face throughout the day. These wet wipes are not recommended for those with dry skin, as it may dry out and stretch your skin. As they are multi-purpose, they can be used from head to toe along with killing bodily germs. These come in a pack of 30 wipes for Rs.115 (buy online on Flipkart).
9. Dermalogica Pre-Cleanse Wipes
Dermalogica Wipes are 100% eco friendly. They do not contain any chemicals or perfumes and contain organic ingredients only and are completely biodegradable. These tissue papers cost Rs. 1750 for a pack of 20 wipes
. In case you're looking for reliable, environment friendly products that wont burn a hole in your pocket, these wipes are the ones for you. They remove waterproof make up in an instant and the addition of water to these wipes form an emulsion which remove make up gently. These wipes for face are suitable for oily skin types. But, these are expensive.
10. MAC Wipes
These wipes are on the pricier side and are definitely a splurge costing around Rs.2500 for 100 wipes. If you're MAC loyalist, these wipes are the ones for you. One glide and the make up is off your face. These wipes are infused with Vitamin E and are very gentle on your skin and leave your skin feeling moist and supple. It's perfect for those with highly sensitive skin.
Now that you know all that you need to know about face wipes, go shop for your face wipes online girls! But don't forget to check the manufacture date and the ingredients to see if they suit all your skin needs. Keep in mind your skin types as some are meant for dry skin while the other tissues are meant for oily skin. Happy shopping!
Read More:
Which is your favourite wet tissue in India? Share your reviews with us.