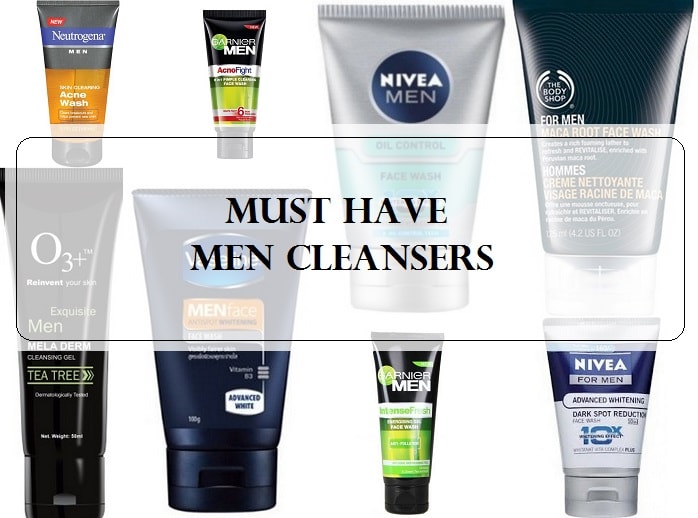 Top 10: Best Face Washes for Men in India with Reviews, Prices
We women wash our face all the time to keep it clean and clear. Well so do men! They are exposed to the same amount of dirt and pollution as we are and that does affect their skin, no matter how much they protest otherwise! Face washes for men are different than women and contain more powerful ingredients than the face washes we use. There are several skin care brands in India who are making and producing men's face washes everyday but there are only a few brands which really stand out and make great cleansers for boys. I'm putting down a list of the best men face washes available in India for oily and dry skin. Also listing down their mini reviews and prices for you to select the top cleanser according to your skin type like oily, acne prone, dry and combination skin and needs.
List of top ten men face washes in India:
1. Fair and Lovely Max Fairness Face Wash: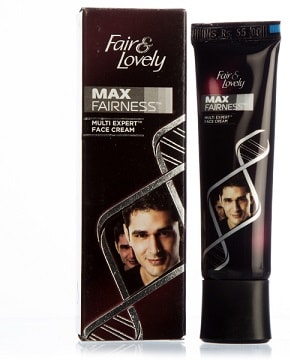 It is a very affordable foam based face wash which goes deep into the skin and removes all the dirt and impurities, revealing a visibly fair and clean face. This brand also makes fairness creams for men but can't comment on it but this whitening cleanser for men is very effective and it should be used twice daily for maximum results. This face wash also contains UV protection and leaves the skin looking clean, smooth and oil free. Price: 300 inr
2. Vaseline Men Whitening Face Wash: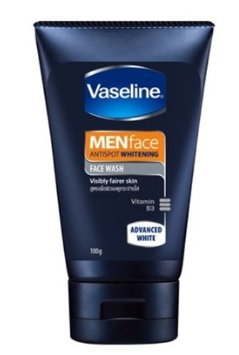 This is another very affordable face wash for men in the market. The face wash is gentle and goes deep to remove all the dirt and impurities. The consistency is rich and makes the skin feeling very nourished and moisturized. The skin looks clear and healthy after every wash as the face wash is enriched with antioxidants and Vitamin B3. It also helps in reducing and removing spots from the skin. Price: 165 inr
3. Garnier Men Intense Fresh Face Wash: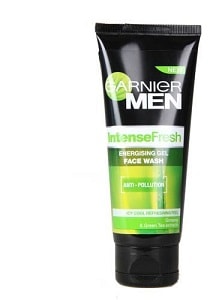 It is a gel based face wash which smells so refreshing and amazing. It has green tea extracts in it and is formulated with Ginseng extracts. It removes impurities and cleanses the pores very well. It is very hydrating and makes the skin look lighter and radiant thanks to its cell revival properties. It keeps the skin fresh and clean for the whole day and makes it so soft. Price: 135 inr
4. Nivea Advanced Whitening Dark Spot Reduction 10 in 1 Face Wash: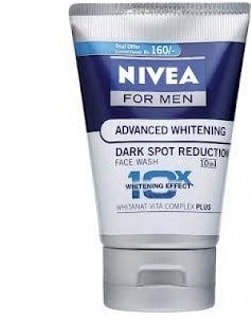 Nivea is one of the best skin care companies which produces really good products and this boys face wash is one of them. It works on the naturally tough skin of men and helps reduce acne and the lightens and eventually removes the dark spots on the skin. It deeply cleanses the skin and helps control oil for several hours. Skin looks incredible soft and smooth after using this. It is suitable for all skin types and is also very affordable. Price: 180 inr
5. Garnier Acno Fight 6 in 1 Pimple Clearing Face Wash: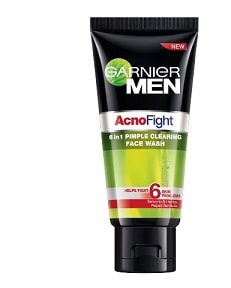 Pimples can be a big bother for both men and women. This facial cleanser by Garnier helps reduce redness and gets rid of the pimple by drying it out. It also helps tighten the pores and lighten dark marks and spots on the skin. Skin feels very fairer and refreshed and energized due to the presence of Menthol and lemon in the face wash. It also helps control excessive oil in mand is a perfect choice for oily, pimple prone men. Price: 170 inr
6. Garnier Men Oil Clear Deep Cleansing Face Wash:
This is yet again another very affordable face wash for men in India which helps them control excess oil on their skin. The face wash is enriched with mineral clay which helps wash away all the skin dirt, oil and impurities which eventually lead to pimple formations. It helps calm down skin thanks to the presence of cyro-menthol and gives fresh, radiant and bright skin. Price: 165 inr
7. Neutrogena Men Skin Clearing Acne Wash Face Wash: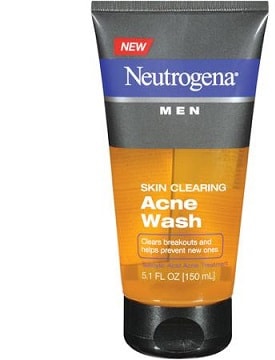 This face wash from Neutrogena is a bit on the higher price side. It is an anti acne and pimple clearing face wash which goes deep into the skin and clears out all the pores and prevents pimple break outs. It also removes oil and helps control it throughout the day. It contains Salicylic acid which is a wonderful agent that helps reduce the production of pimples on men's skin. A good choice for boys with very oily skin. Price: 1,693 inr
8. The Body Shop For Men Maca Root Face Wash: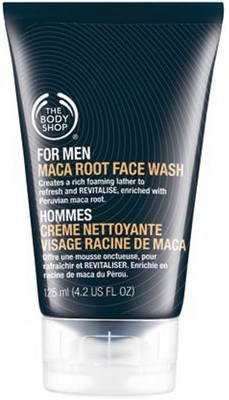 This is another face wash with a higher price tag but is so worth it as it leaves the skin so revived, refreshed and squeaky clean and soft. It goes deep within and helps boost skin vitality and washes away all the skin impurities. The men facial cleanser is enriched with the goodness of Maca Root, Brazil Nut, Glycerine and Aqua which helps the skin look renewed and refreshed and helps in giving a bright skin complexion. Price: 970 inr
9. O3+ Men Tea Tree Mela Derm Cleansing Gel Face Wash:

This men face wash contains all the goodness of tea tree extracts and aloe vera which help calm the skin down and revive dull skin. It helps improve the skin's appearance and texture by washing all the dead skin cells and deeply cleans the pores. It is also very affordable. Price: 390 inr
10. Nivea Advanced Whitening Oil Control 10 in 1 Face Wash: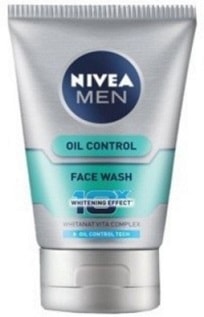 This is one of the best face washes available in the Indian market for men with oily skin that helps clear out all the excess oil that leads to pimples. It also helps eliminate all the pimple causing bacteria and deeply cleans out the pores. It also helps in the reduction of dark spots, making the skin lighter, brighter and fairer! Price: 180 inr
Read More:
Which is your favourite face wash for men? Share your reviews with us.