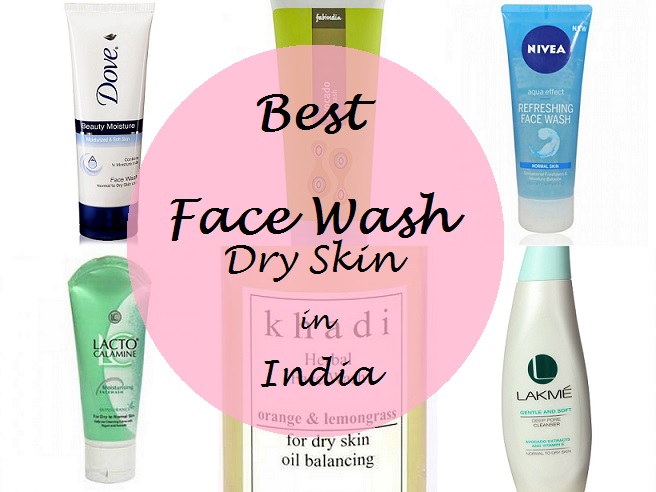 Top 10 Face Washes for Dry Skin in India
By Contributor: Moupee
The problem of dry skin can indeed be quite cumbersome making you feel utterly uncomfortable. If you have dry skin, your skin would lack the healthy gloss that comes from the natural skin oils. Instead your skin would feel rough and stretchy, tightly drawn over the bones making you feel quite uneasy. Dry skin is susceptible to itching, sensitivity and even various sorts of skin infections because you tend to scratch the skin often, thereby transporting germs from your nails onto your skin pores. In the cold dry wintry months, the problem exacerbates to the extent that your skin might turn intensely flaky and even painful. With the use of right skin care products like face wash and cleanser you can take care of this issue.
The lack of moisture in the chilly air around leads to a condition which indeed needs immediate attention. Those who have dry skin need to be extra-cautious when the winters are around. Both internally as well as externally you need to adopt preventative measures to fight the dry skin problem. Given below are best Face Washes for Dry Skin available in India market.
1. Himalaya Herbals Gentle Hydrating Face Wash:
Its soap free. Hence doesn't irritate your skin. The cream-based formula is ideal for your dry skin. The face wash washes away all dirt, impurities from your skin, leaving it fresh and supple. The Aloe in the product adequately hydrates your skin and the cucumber in it soothes you giving a cool feeling. Price: Rs.85
2. Everyuth Cream Face Wash:
Your dry skin will indeed feel buttery soft after being cleansed by this totally soap-free creamy cleanser powered by hydrating ingredients such as peach, wild cherry and Aloe. This is in fact a must-have for the skin drying winter months. Price: Rs.45
3.
Khadi Orange & Lemon Grass Face Wash:
This is one wise buy for dry skin; a face wash launched by Khadi that very subtly boosts your skin's moisture content. So you will bid adieu to your dry skin problem and the associated discomforts. Khadi makes pure herbal products. So you need not worry about harsh chemical ingredients like mineral oil or parabens. The softness and necessary oils that your skin gets with every wash comes from pure natural ingredients like lemon oil, bergamot oil, lemongrass oil, orange oil etc. So after every wash your skin feels soft, nourished and clean. Price: Rs.220
4. Nivea Aqua Effect Refreshing Face Wash:
This cleanser, a product of the famed cosmetic brand Nivea is specially formulated with deep cleansing ingredients. Its nomenclature itself suggests its functions. The deep pore cleansing actually leaves your skin superbly refreshed. However its cleansing action is gentle on your skin and because of the fact that it has Hydra IQ Gel and Vitamin E as its chief ingredients, your skin is sufficiently nourished during the cleansing process and the moisture balance in it is perfectly maintained. Price: Rs.99
5. Garnier Moisture Rescue Fresh Foaming Cleanser:
Lock moisture into your skin by daily washing your face with the Garnier Moisture Rescue Fresh Foaming Cleanser. It foams richly thereby leaving your skin completely dirt-free. However there's no loss of moisture from the skin as the antioxidant-rich apple water in it acts as a moisture lock plus the grape extracts enriched with oligo elements and mineral salts shield the skin against external skin foes like dirt, dust, smoke, smog etc. The result is, with every wash your skin turns smooth, fresh and feels thoroughly cleansed. Price: Rs.250
6. VLCC Cacti & Lichi Gentle Hydrating Face Wash:
VLCC is a quite reputed and trusted brand. To make your dry flaky skin soft and supple you could definitely try this amazing product by VLCC that has Lichi and Cacti as its chief ingredients. These natural cleansers are soft on your skin. They very gently de-congest your skin pores of impurities, making your skin feel utterly cleansed and refreshed. The ingredients have the power to prevent moisture loss from your skin. Hence your skin looks hydrated and healthy even after many washes. Price: Rs.220
7. Dove Beauty Moisture Face Wash:
You can also try the Dove Beauty Moisture Face Wash too. It would adequately replenish the moisture loss that takes place with every cleanse. This is because it is formulated by special moisture lock technology. Among its ingredients at least 1/4th consists in rich moisturizing milk that sufficiently moisturizes the skin, doing away with all dryness. Dirt, dust and grime are washed away by the lather that forms when combined with water. So your skin looks remarkably soft, radiant and refreshed. Price: Rs.79
8. Lakme Gentle and Soft Deep Pore Cleanser:
The brand Lakme actually needs no introduction. This facial cleanser from Lakme is ideal for those with dry skin. The chief ingredients in the cleanser are Vitamin E and Avocado extracts. Avocado is an excessively oily fruit. So the extracts give your dry skin the oiliness it needs to ward off the bothersome dryness. Vitamin E thoroughly conditions and nourishes your skin, giving it all the smoothness it needs after each detox. Price: Rs.75
9. Lacto Calamine Moisturizing Face Wash Cream:
Give your dry chapped skin the soothing nourishing care of Lacto Calamine Moisturizing Face Wash cream, a rich creamy cleanser that brushes aside all roughness and dryness from your skin nourishing it with ingredients like extra-oily avocado extracts and rich yoghurt cream. The result is, your skin will feel soft and supple like never before with every wash. All damages from skin dryness will heal in no time and the glow of flawless skin will soon show up on your radiant cheeks! Price: Rs.52
10. Fabindia Avocado Face Wash:
The renowned brand Fabindia has launched the special dry skin treatment, the Avocado Face Wash to address the concern of all those suffering from this problem. It is formulated with the very oily avocado extracts supplies your skin with the necessary oils that it lacks, thus boosting skin smoothness and lessening the dryness. It is creamy in texture cleansing all impurities gently without leaving face dry. The citric acid in it also leaves a brightening glow on your face thus improving your complexion with every wash. Price: Rs.165
Some of the measures you can take are:
You need to take 8-10 glasses of water daily to keep your system hydrated sufficiently. That'll naturally hydrate your skin
Secondly stay away from faulty diet such as food high in saturated fats or caffeine
Apply topical moisturizing lotions and creams of reputed brands to replenish the moisture loss
Dry skin condition worsens with every face cleansing: Know why
It has been witnessed that the condition of dry skin worsens every time you wash your face. This happens because with every face wash you are also washing away whatever little percentage of sebum or skin oil was left on your skin. Resultantly your skin turns more and more dry, increasing your pain, discomfort and giving you an unsightly appearance on the whole.
So you must be very careful while choosing your facial cleanser if you have a dry skin. There are special Face Washes ideally made for dry skin with active moisturizing ingredients and optimum quantity of oily substances which wouldn't allow your skin to go dry even after many washes. So these are the top 10 face washes you could try to say 'NO' to dry skin.
Which is your favourite face wash? Share your views with us.