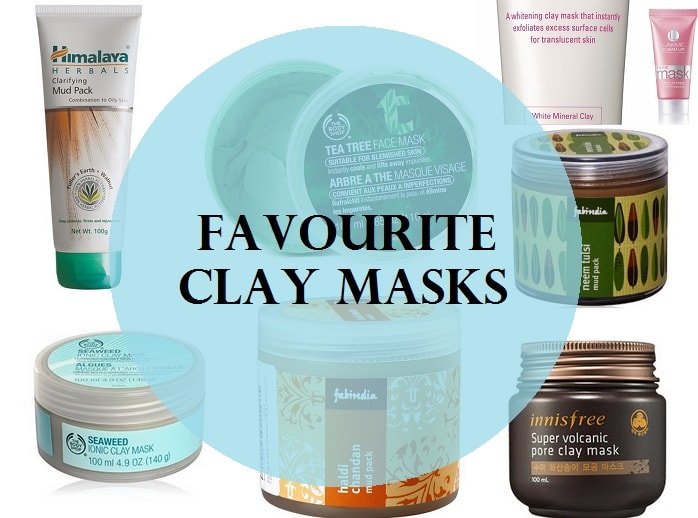 Top 10 Clay Masks Available in India for Oily Skin, Blackheads with Reviews and Prices
By Contributor: Ananya
One of the oldest beauty "products", Clay masks were a favourite for Cleopatra, the beautiful queen of ancient Egypt who flaunted her luxuriously smooth and glowing skin. The high mineral content in a clay mask rejuvenates, exfoliates, stimulates blood circulation in our skin helping with blackheads, large pores, oily skin, etc. You can choose a clay superficially by its colour, but here is your basic guide to different types of clays to help you choose which one suits your skin type and your needs the best i.e oily skin, dry skin, sensitive skin, etc. Now here is a list of the best clay masks available in India for every budget and price range. So, go ahead and take your pick!
Before buying, you must make sure that the clay you are about to purchase is suitable for your skin type as cosmetic clays have a variety of mineral content and, hence, colours. The usual kinds of clays comprise of Rhassoul Clay, Bentonite Clay, French Green Clay, Fuller's earth, Kaolin clay or white clay and so on. These clays are constitutionally different based on their mineral content and place of origin and also serves different skin types differently. For example, White clay basically comes from China, it is very gentle and is perfect for sensitive skin. Rhassoul clay and French green clay are fine, spa quality clays
and have been used for centuries. Also, Rhassoul clay (reddish-brown in colour, turns pinkish on adding water) is from Morrocco and both these clays are stronger than white clay and can be used for normal to combination skin types. Bentonite clay is greyish due to its (volcanic) ash content, is super absorbent and strong and is perfect for normal skin types. Fuller's Earth has moderate properties and is fine for oily skin types.
List of Best Clay Masks in India:
The Body Shop Seaweed Ionic Clay Mask:
It's thick consistency dries out really fast and the fragrance is lovely. This product is designed for combination/oily skins. It helps reduce pores and breakouts. This is not suitable for sensitive skin as it will make your skin red. The price in India is Rs.1095 for 100ml. It cleanses face thoroughly and doesn't leave it dry.
Lotus Claywhite Black Clay Skin Whitening Face Pack:
Cost in India is Rs.185 for 120 grams. It has a delicate package with a plastic flip open cap. It lightens skin tone and removes tan sufficiently. The clay spreads well and is very smooth which absorbs excess oil. It has a faint minty smell and returns a good value for money.
Comes in its usual, simple Himalaya packaging, this mud pack rejuvenates facial skin by eliminating impurities and excess oil. The mud is Fuller's Earth and it is also enriched with walnuts. The clay and its constituents extract black heads and improves circulation. It's great for oily and combination skin types. It's very affordable at Rs.130 for 100g and Rs.70 for 50 g.
Oriflame Pure Nature Organic Burdock extract purifying clay mask:
Cost in India is Rs.279 for 50ml. Burdock (a herb) is used as a blood purifier to clear out the blood streams of toxins. The mask (uses organic Burdock extracts) is not very thick and is white is colour. It has a very fresh fragrance and just a little amount spreads wonderfully across the face. Suitable for oily, acne prone skin, Makes skin softer and smoother.
The Body Shop Tea Tree Face Mask:
The tea tree clay mask mask works on redness and pimples and prevents inflammation. It is a very smooth texture which cools and soothes skin and draws out dirt and oil and doesn't leave your skin itchy or dry. Price in India is Rs.960 at Amazon.
Fab India Neem Tulsi Mud Pack:
Price in India is Rs.200 for 100ml. Quick to dry, th is pack leaves skin feeling smooth and dries any active acne and after a few more applications, eliminates them. It is easy to apply and was off. The tulsi purifies skin and tightens pores.
Fab India Haldi Chandan Mud pack:
This pack has multanimitti (Fuller's earth) as base and also contains haldi and chandan which improves complexion and clears skin. Price in India is Rs.200 for 100ml. Consistency is smooth which spreads evenly on skin. It brightens skin and makes it look fresh and healthy.
Za Exfoliating Clay Mask:
It s a thick white cream with minute exfoliating granules which are not harsh for sensitive skin and does a really good cleaning job. It has a pleasant sweet fragrance which is not overpowering. It gets rid of excess oil and dirt. It's best for dry skin or for regular use. It leaves your skin bright and glowing. One of the best clay mask and scrubs into one. Price in India is Rs.399 for 100g.
Innisfree Super Volcanic Clay Mask:
Comes in a really attractive packaging, this mask is paraben, ethanol and benzophenone free. It has little beads to help clean clogged pores. The consistency is thick and spreads easily. Colour is gray. This thick korean clay mask really makes a difference for people with big or visible pores. It goes deep into the skin and clears all the junk and cools down your skin. Our blogger-in-chief Anshita swears by it. She made a post on her instagram (@vanitynoapologies) about the trick she uses to make this mask a quick fix for acne. Price in India is Rs.950 for 100 ml.
It comes in a sturdy, attractive pack. It has a creamy texture and glides easily onto skin. Skin feels smooth and soft and imparts a healthy glow. It's quite moisturizing and easily available. Another one of Anshita's favourites when she is going out in the morning to give her an instant glow. Price in India is Rs.110 for 50g and Rs.225 for 100g.
Regular usage of clay on your skin clears pores, removes dead skin cells, improves circulation and absorbs harmful toxins. The main function of a clay mask is to absorb all the dirt, oil and toxins from your skin leaving it dry and smooth. It's wonderful ability to absorb all the excess oil production, makes it an excellent choice for people with acne prone skin. Different facial masks use different kinds of clay. Hope this list of the best clay masks in India for different skin types helps you.
Read More:
Vichy Aqualia Thermal Dynamic Hydration Serum
Lotus Herbals Youth RX Active Anti Ageing Exfoliator
Spinz Sun Tan Remover Instant De Tan Cream
Lancome Visionnaire Advanced Multi Correcting Cream
Nutrova Collagen+Antioxidants Supplements
Everyuth Naturals Golden Glow Peel Off Mask
Lacto Calamine Skin Balance Daily Nourishing Lotion
Olay Natural White Light Instant Glowing Fairness Serum
Which is your favourite clay mask? Share your reviews with us.