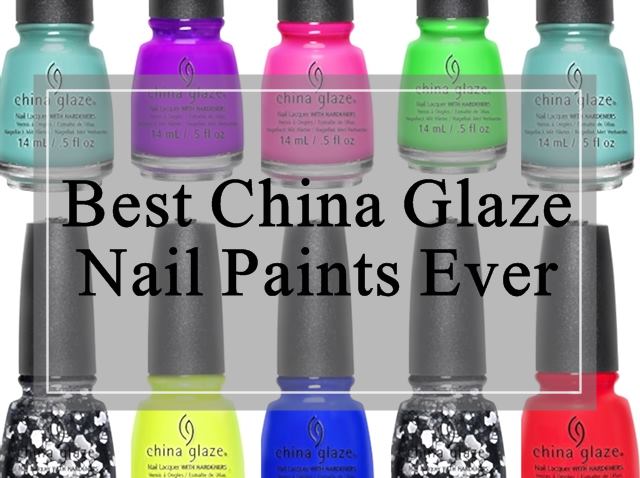 Top 10: Best China Glaze Nail Polish Colors, Must Haves
When I think of a good nail paint, there are a few brands that always come to my mind like Sally Hansen, OPI, Zoya, China Glaze, etc. These are the brands that I can trust blindly when it comes to nail paints. Their nail paints are great in texture, come in a wide variety of shades, stay on for days without chipping and are just trustworthy in general. So today I'm bringing you a round-up of my top 10 china glaze nail polishes with the must have colors and shades. China Glaze nail paints retail for about $7.50 – $15 and you can find them in India for around INR 500 or upwards. I will be soon doing a post on their best glitter nail polishes too.
These are the nail paints that I've had my eyes on for a long time and I would love to try them out given a chance. China Glaze nail paints are widely popular abroad and their availability is not a big issue. However, in India, you don't find these readily available. Although you can buy certain popular shades on various online shops and even some shops that sell imported cosmetics in India.
The USP of China Glaze nail paints is the texture. These nail paints glide on to the nails like a dream, feel super smooth, dry up in less than a minute and do not look streaky at all. They are pretty good in texture. Most of their nail paints come with the nail hardener technique that doesn't damage your nails and in fact makes them stronger and less prone to breakages or chips. They are not runny at all and if you apply these nail paints in thin coats, your nails can end up looking like you got them done from a professional manicurist.
So if you have China Glaze on your mind
and have been meaning to check out the brand, have a look at my top picks from the brand. These are the shades that are the
most popular and best sellers too
. If you had to buy just one shade from China Glaze, I'd recommend going for one of the shades from the 10 shades listed below because they are absolutely gorgeous in my opinion.
List of Top Ten China Glaze Nail Polish Colors
1. China Glaze Too Yacht To Handle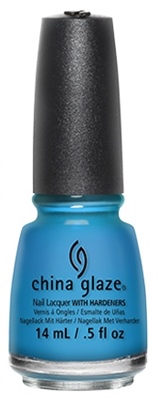 Too Yacht To Handle is a light blue creme color. It is kind of thick in consistency and on most occasions, you can get away with applying just one coat too if you aren't too messy. This is the kind of nail color that would look awesome in the hot months of the year. It is not too pastel or neon which makes it an everyday wear kind of color. I think this is one of those shades of blue that would suit most Indian skin tones. Yay!
2. China Glaze That's Shore Bright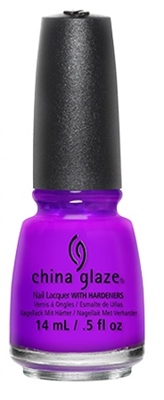 That's Shore Bright is a gorgeous purple color of nail paint from CG. Again this is not a very neon shade so one can get away with wearing this shade all year round since it is not exactly a summer shade. If teamed with a nice accent nail paint, this color can look really pretty. Since it is a cool toned shade, it would definitely make your hands look fairer and leaner too!
3. China Glaze Flip Flop Fantasy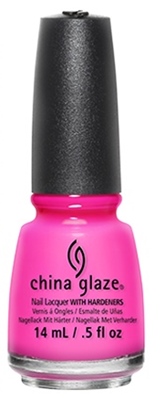 Flip Flop Fantasy is more of a light, pastel orange kind of color although it looks more pink in its picture from China Glaze's website. It is kind of a coral pink with warm undertones. It is one of the most beautiful China Glaze nail polishes I've seen. I would love to wear it all throughout the summer. It is a lovely color and can also look a bit neon on some, depending upon the light etc. Nevertheless, I do recommend this one!
4. China Glaze I Sea The Point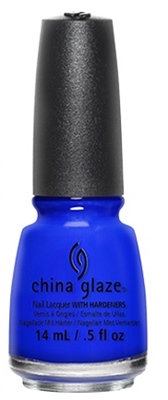 I sea the Point is a gorgeous electric blue kind of color. I love how blue this one is. It is one of those unique shades from china glaze that always fetch you a ton of compliments from girls. It is such a unique and rich shade and because of its cool undertones, this one will suit almost every Indian skin tone. Also, I would absolutely love to team up this gorgeous shade of blue with a glittery silver nail paint on an accent nail just to jazz things up a little.
5. China Glaze Aquadelic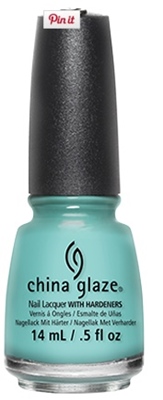 Aquadelic can be described as an aqua blue with hints of mint green in it. It is not one of those paints whose dupes you can find very easily. Because it is such a unique shade, it obviously had to make it to this must haves list. This nail paint shade screams spring summer like no other. It is one of those eye-catching shades that will definitely make you stand out in the crowd. If you like to experiment on things, this shade is the one for you, girl!
6. China Glaze Kiwi Cool – Ada


Kiwi lovers, this shade is for you! This color looks exactly like the fruit Kiwi does, hence the name. It is a cool toned light green nail polish. It can end up looking more neon on you depending upon the lighting. Nonetheless, it's cool to sport a neon color on your nails once in a while, especially when it's summer. This is again, a very unique polish and because of China Glaze's brilliant consistency and texture of nail paints, this is not one nail paint you'd want to miss.
7. China Glaze Yellow Polka Dot Bikini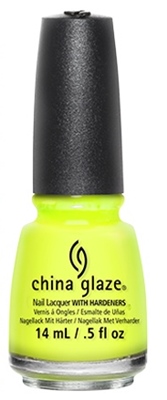 Yellow Polka Dot Bikini is a true yellow color. It is not green – yellow, it is not orange – yellow, it is just pure yellow. If you are someone who always likes to try something that no one else would, and you like to make a statement each time you step out of the house, then Yellow Polka Dot Bikini is the nail polish for you. I can think of a ton of ways how you can style this on nails- apply it a french manicure, apply it as an accent nail with black nail paint, or alternate it with some hot pink on your nails. You will definitely be asked a number of times what shade you're wearing on your nails when you're wearing this one!
8. China Glaze Loco Motive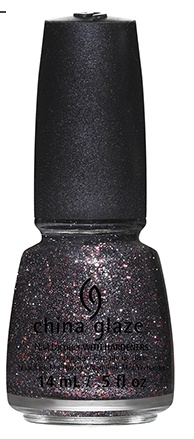 Loco Motive by China Glaze can be described as a deep purple – black nail paint with chunks of silver glitter in it. It is the perfect nail paint to apply when you want to look fancier than usual. This nail paint would look absolutely stunning with any color of dress you're wearing. And this nail paint is the perfect one to wear for a fancy formal occasion or a night out. If you want to sparkle, go for this nail paint!
9. China Glaze Whirled Away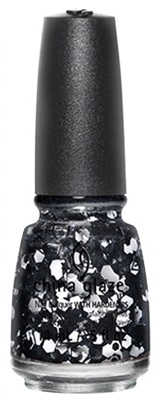 Whirled Away can be described as a very pretty black and white bokeh nail polish. It is a clear nail paint with flecks of black and white polka dots. You can wear it over just about any bright nail paint under the sun and this nail paint would look absolutely gorgeous. It is a very unique nail shade. You can wear it over a hot pink for some flirty, summery nails or over a oxblood nail paint for a more grunge look. Really, the choices are endless. So Whirled Away has made it to this list of Top 10 China Glaze nail paints for its versatility and uniqueness.
10. China Glaze The Heat Is On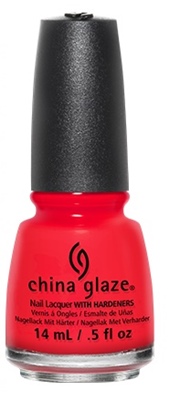 Oh My God, this color! It is the most gorgeous red nail polish ever. Obviously no nail paints list is complete without a red nail paint on it. The Heat Is On by China Glaze is a cherry red color with cool undertones. This is one such shade that will look beautiful on everyone and because of its cool undertones, it would make your hands look slightly fairer. It is a shade you can wear all year round and it would also look fabulous on your toenails. If I ever spot this nail paint somewhere, I'm gonna stock up on it just in case China Glaze ever decides to stop making this color.
So this was my list of must have china Glaze nail paints. The nail paints mentioned above are best in my opinion and if I get a chance, I'd buy all of them in a beat; I love all these colors. China Glaze has a variety of other shades and collections too that you must check out when you spot China Glaze in a store. These polishes are not only top quality and great in texture in longevity, but are also  quite affordable. I recommend China Glaze nail polishes to everyone! So which one of the above mentioned nail paints is your favorite? Comment below and let me know!
Read More:
Beauty Secrets of Bollywood Actresses
Celebs at Zee Cine Awards 2016
Lotus Herbals Ecostay Nail Enamels
Best Beauty and Makeup Products 2015
Which is your favourite China Glaze nail polish? Share your reviews with us.