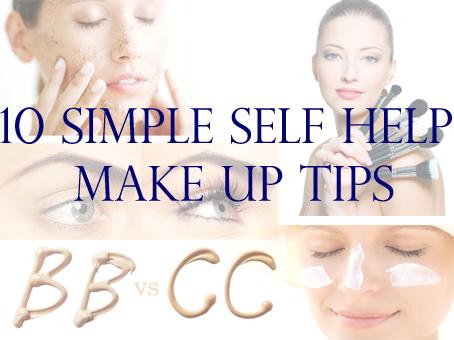 How to Do Self Makeup: Beauty Tips and Tricks
We have all heard people say that your makeup can change your complete look. Which is true I'd say, because our entire outfit depends on how we apply make up. Then come those days when you just can't get your eyeliner right..absolutely disastrous! Then come those woes whether the expensive makeup you bought was worth it or not, whether it suits your skin tone or not, the list is endless! But don't you ladies worry, here I have a list of very simple self help makeup tips that can give you a perfect makeover and save you the time early in the morning before rushing to work. Let's get start with the makeup application tips and tricks.
List of Top Self Help Tips for Perfect Makeover
Beauty Tip 1: Apply your foundation on your Jaw in Natural Light
So how many times does it happen that you buy a foundation in the store and when you get back home, it just doesn't feel right. That's because you my friend have been deceived by the pretty lights in makeup stores. Brighter lighting is used to make a person look fairer, which is something that we all want. When in reality, they have duped you into buying something that is 2 shades lighter. Also, please do NOT swatch foundation on your wrist. Your body tends to tan more as compared to your face, so if you're buying the shade similar to your wrist, you've definitely bought a shade darker. Test the foundation on your jaw and go outside in the natural light to check it.
Beauty Tip 2: Apply mascara
Use mascara. Lots of it. It has the ability to make your eyes pop instantly on days when you haven't had a minute of sleep. It makes your eyes look bigger and draw attention away from the baggy dark circles. Now mascara is something that you don't have to be careful about, because they match all skin tones. The more you coat your mascara, the more will your eyes pop. Try using baby powder between coats so it acts as a layer for the next layer to sit on. Don't buy any cheap ones, we want our mascara to last all day! And also, don't sneeze while applying mascara, it'll ruin your makeup. And your day.
Tip 3: Exfoliate you Face and Lips
As mentioned earlier, we all like soft and smooth face to apply makeup on . Exfoliate once a week, otherwise you'll end up with dry and irritated skin. Choose an exfoliating mask or face wash based on your skin type, there are a lot available in the market based on your skin type whether you have oily skin or dry skin. If you use a mild exfoliating face scrub, you could use it every alternate day if you face pollution everyday. Otherwise, scrubbing twice a week works just fine.
Tip 4: The right lip shade
Now this is very important. Always wear lipstick shades that compliment your skin tone whether its fair, medium or dark. No matter how beautiful you look in your outfit, a bad lipstick shade can ruin everything. For those with fair skin can go for peach, coral colours, mauve and mocha shades. For those with wheatish medium skin tone can opt for bronze, cinnamon and nude colours or shades of deep berry and red will suit you the best. Those with dark Indian skin can wear subtle brown and berry shades or shades like brick red, brownish red and caramel. And of course, if all else fails, just apply a red lipstick like MAC Ruby Woo.
Makeup Tip 5: Wear sunscreen
Sunscreen is so important! Sunscreen can help give you younger, glowing skin. It reduces age lines, protects you from tan. It helps restore the proteins in your skin such as collagen and  keratin. Sunscreen must be reapplied every two hours for better protection during the hot summers.
Makeup Tip 6: Applying make up
The method you use to apply make up at a particular area largely depends on the kind of strokes you use in that area. For foundation and concealers, use a beauty blender or a sponge. Dab gently onto your skin, don't rub the product as you may end up displacing it from it's original spot. For eye shadows, use an eye shadow wand or brush that comes along and dab on your eyelid. Again, do not rub, you will end up hurting yourself. Be gentle with your make up. For contouring and highlights, use a big buffing brush to smooth the product evenly rather than leaving it patchy and clumpy.
Beauty Tip 7: Keep earbuds handy
No I'm not talking about cleaning your ears. They are so useful while applying make up! In case you ruin your eye shadow while applying eyeliner, just run a damp earbud over it and it will absorb all the eyeliner required. Then, using an earbud again, reapply your eye shadow at the spot where correction is required. Earbuds can also be used while applying lipsticks. While using a dark lip shade, we tend to spill over that just looks extremely unappealing. For sharp and defined lips, dip your earbud in some foundation and line your lips with it for a more defined outline.
Beauty Tip 8: Uses of CC Creams and BB Creams
BB and CC stand for Beauty Balm and Color Corrector respectively. They are used to hide any blemishes or pigmentation present on your skin and are very lightweight. They don't leave your skin feeling cakey or heavy after application. A BB Cream helps lighten blemishes with ease while a CC Cream helps in diminishing signs of aging due to it's color correcting properties. These beauty creams are very useful. They can replace foundations and concealers when you're in a rush early in the morning. The best part, they just have to be patted into your skin and do not require any fancy brushes or tools for application. They are so light, you won't even feel like you're wearing make up.
Tip 9: Use Coconut Oil to remove makeup up
Make up removers cost a whole lot of money and the best results are not guaranteed depending on the kind of make up you use. Instead, use coconut oil to remove make up. First of all, it's cheap, so you're saving a lot of money. Just take a coin sized amount of coconut oil and massage it all over your face for a minute. Wipe your face thoroughly with a wipe and repeat this process once again. Wash your face with your favourite face wash once all your make up is off. Coconut is natural
, so it will not have any side effects on your face. Not only will it moisturize and soothe your skin, but the oils also break down the chemicals in waterproof make up. This beauty tip is very useful if you apply make up regularly.
Tip 10: Replacing Blush with Lipstick
If you are not a blush kind of person like me, this makeup tip is perfect for you. Take some lipstick onto your fingers and smudge it on the hollows of your cheeks once you pucker your lips. Then, gently rub the product around to lighten the effect for rosy blushed cheeks. This tip helps you experiment with a lot of blush shades and saves money on buying an extra product which you may or may not use in the future.
I hope you found these top self makeup tips helpful and hope you get a beautiful makeover. Do let us know your favourites in the comments below. Until then, have a great day ladies!
Read More:
Which is your favourite self makeup tip? Share your reviews with us.