It looks pretty fluffy with a round tip but flattens out while you apply. Overall, the packaging and applicator is well designed, great for travelling and perfect addition to your makeup kitty.
Shades – The first shade is L'Oreal 332 Violet Vendome which is a deep plummy magenta and the second shade L'Oreal 442 Coral Trianon is a true coral with a hint of neon. Violet Vendome complements every skin tone and brightens up your hand. The shade Coral Trianon is perfect for fair to medium skin tones. Both the colors are perfect for the upcoming spring and go well with gold accents. There are other 20 gorgeous shades available from the Color Riche L'Huile collection.
Pigmentation – The pigmentation of the nail polishes won my heart. With a single swipe, it deposits rich amount of color to the nails and with the second coat you get the perfect opaque finish. There are occasions when I simply skip the base coat but even then it has not affected the pigmentation at all.
Texture, Formula and Finish – The texture of the nail paints is creamy and smooth. There is a faint sweet feminine smell which I like. The USP of the texture is that these l'huile nail polishes have an oil-infused formulation which delivers deep, vibrant color and intense shine. The rich and creamy consistency is beyond perfect and it adds a gloss to the nails. The glossiness stays for a long time and you can also apply a gel coat on top to make it long lasting.
The formula of loreal color riche l'huile nail varnishes is really good and it doesn't streak or look uneven at all. Also, it dries up pretty quickly without having to wait forever. Overall, the texture, formula and finish is top notch.
Staying power – Both the colors stay on my nails for around 4-5days without chipping at all and without a top coat. When I want to increase the wear time, I apply nail colors with top coat to seal the longevity. I believe the pricing is perfect for the excellent quality it delivers. Overall, these loreal paris nail paints are absolutely gorgeous.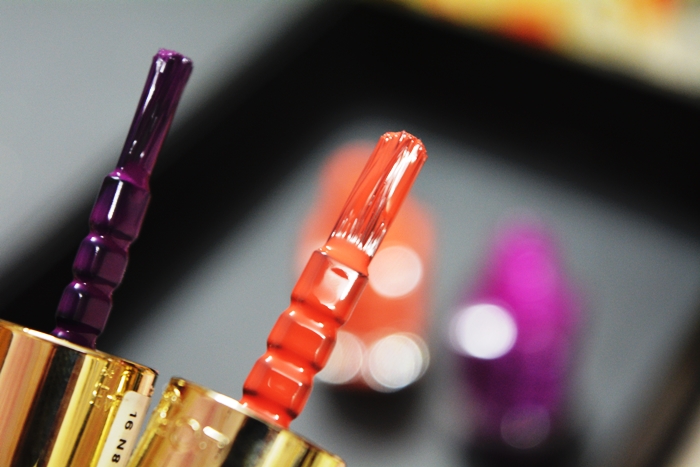 Pros of L'Oreal Paris Color Riche L'Huile Nail Varnish:
Gorgeous cut glass packaging.
Efficient applicator with round tip and flat profile.
Violet Vendome is a deep plummy magenta while Coral Trianon is a true coral with a hint of neon.
Both the shades are perfect for spring/summer.
Insanely pigmented.
Cream smooth texture with perfect consistency.
Non-streak formula and dries quickly.
Glossy finish.
Staying power is 4-5days.
Cons of L'Oreal Paris Color Riche L'Huile Nail Varnish:

Price in India: L'Oreal Paris Color Riche Gold La Palette Rs.1450, L'Oreal Paris Color Riche L'Huile Nail Varnish Rs.399
VNA Rating: L'Oreal Gold La Palette 4/5, L'Oreal L'Huile Nail Varnish 5/5
Where to Buy Online in India: nykaa.com
Recommendation: The L'Oreal Paris Color Riche Gold La Palette isn't a must-have but if you are looking for a shimmery palette for festive or bridal purpose, is would be the right pick. Quality wise, it is really good. On the other hand, Color Riche L'Huile Nail Varnishes are extremely stunning and choosing one or two colors from the collection would be difficult. They surely deserves some love and quality wise these are excellent.
Have you tried L'Oreal Paris Gold Obsession Collection? Share your reviews with us.