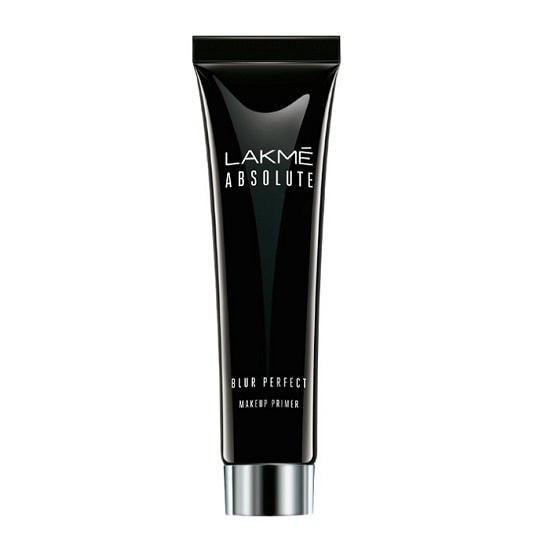 Price, Buy Online Lakme Absolute Blur Perfect Primer
OMG Lakme has finally launched a face primer! I was so waiting for it after they started launching all these new products and finally this July they released the Blur Perfect Primer under their Absolute makeup range. This isn't exactly a review of the primer but more of a first impressions thing because I just I have just started using it. I will keep using it for a month to a share my review and swatches on the lakme primer. But I still wanted to inform you about this primer in the Indian market in case you wanted one yourself. Let's get on to the details like price and my experience.
A lot of us are blessed with great features. Big eyes, soft lips, petite nose, pointed chin and perfectly symmetrical cheeks. Many of us have all of this in addition to soft, glowing, blemish free pampered skin. Now, if all of us were so perfect to look at, probably all the cosmetics shops would have pulled their shutters. Apart from the fact that not many of us are blessed with great features, another beauty challenge remains till date is giving that flawless look all the day.
Skin might be dry, oily or normal, but all of us suffer from some or the other ailment in its purest form. Maybe pimples, blemishes, pores, or fine lines? It does not end for women like me, who have all the beauty disasters stitched up neatly on her face. Apart from the fact that I need to work really hard to keep my skin neat and clean, it also needs to stay covered throughout the day to avoid the entry of any dirt and unwanted elements via the large, open huge pores.
Yea, you must be thinking, oh! She claims to be a beauty blogger!! Now, that I blog, I often switch and toggle between products, which directly means that a lot many times the skin gets damaged. The pores, start healing, and do not quite welcome the new product all of a sudden. My cheeks hate being guinea pigs, but sorry cheeks, that's my job!
But recently, I stumbled upon this blur perfect lakme Primer while browsing online. This product was launched in July 2016. After using it for, say three times, I got addicted. Now let me first introduce you to the concept of a Primer. It is a thick, foundation like product, aimed to bridge the gap between the pores and the even skin. It is thicker than a foundation, and slimmer than a Mousse. Apart from filling the open pores, Primers are also supposed to fill those thin weird lines, and prevent the pancake/foundation from cracking after sometime.
Does that excite you? Okay, so when I was found Lakme Absolute Blur Perfect Makeup Primer while shopping on amazon india, I was thrilled. Apart from the fact that we always wanted a maintenance free look throughout the day, this one also promises to enhance the quality of the skin by allowing the skin to breathe properly. As a woman who has hit thirties, most of us want:
That makeup should not look made up
One product should be able to resolve all the problems
Skin should be able to breathe
No external particles should be able to harm the open pores
All makeup products should be smudge proof and water proof
Easy on pockets!
Not that I am expecting too much, but the Primer, is supposed to do all of this in addition to enhancing the texture of my skin. Lakme Absolute Blur Perfect Primer promises to fulfill all the fascination and euphoria we have long associated with the art of looking beautiful.  I am going to use this product because:
My skin is oily
I need waterproof makeup in monsoons
I cannot do a touch up every hour
I am very lazy but want to look great
At times, I am clumsy with my make up
Open pores, fines lines, acne, pimples, blemishes do visit me very often.
You can use this blur perfect primer even if your skin is dry or normal. All you need to do is stroke it outwards using your fingers before you have 'done' your foundation. If you use eye liners, then just a little touch of lakme primer before eyeliner, and your eye makeup will not bother you throughout the day. But I honestly recommend getting an eye primer for that. If you use a lip gloss, apply a light layer of lip balm, stroke your lips with primer once and apply your lip gloss or shimmer afterwards. This will increase the 'stay on' hours.
This Primer should be a must have product for all of us. Firstly, it enhances the capability of staying on. Secondly, Lakme Blur Perfect Primer also contains pigments which improve the overall texture of skin. Plus it waterproof!!
The pigments retain the moisture of the skin, thereby maintaining the pH level of face.
The pigments also act as filers, and eventually break down into new molecules which make the skin appear rejuvenated, fresh and young.
Absolutely safe as the matte look does not precipitate. The components increase the elasticity and stop the entry of foreign elements into the open pores.
The color correction aspect is supposed to gel with your skin tone, by lightening the blemishes.
This product can be used throughout the year! Winters, summers and yes, monsoons. It is waterproof.
Lakme Primer also absorbs the excessive secretion of oil which is one of the main reasons for dirt to accumulate on your face. It absorbs the oil and imparts an illuminating and radiant look.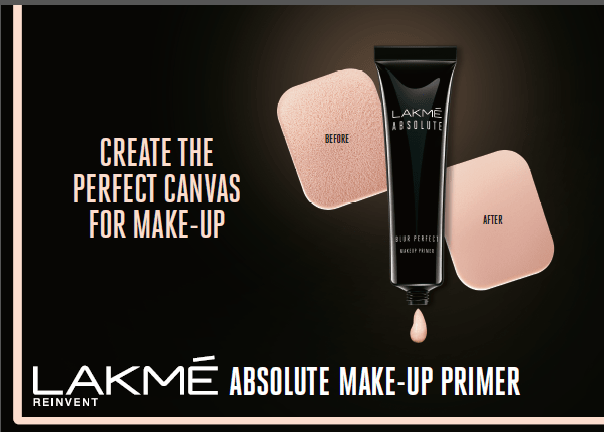 I am saying all of this after using this primer from lakme. Skin creams and night products are used almost by every girl or woman who is conscious and aware of her looks. Looks are indeed important, and even if we cannot afford a rebirth just to look beautiful, we can be well groomed and skin can be well taken care of and pampered! I want to die like a beautiful lady.
What is the price of Lakme Absolute Blur Perfect Primer?
The price of the face primer is Rs. 650 for a 50 g tube. Its cheaper than colorbar and loreal makeup primers. It is black in color and travel friendly. In case you just do not feel like applying the Concealer, Foundation, Mousse or Pancake, just rub a little primer around your face for that smooth look.
Another add on here happens to be the brand- Lakme, which has never cheated or disappointed me till date. A lot of Indian women have been using Lakme products and the quality does not vary. Always prefer a matte look for day time. Strobing should be reserved for parties and weekends, and a blur perfect Primer like this will make you feel liberated as the daunting task of correcting the makeup will eventually be done away with. Till we meet again! I hope soon, with the Primer on.
Read More:
Have you used Lakme Absolute Blur Perfect Primer? Share your reviews with us.