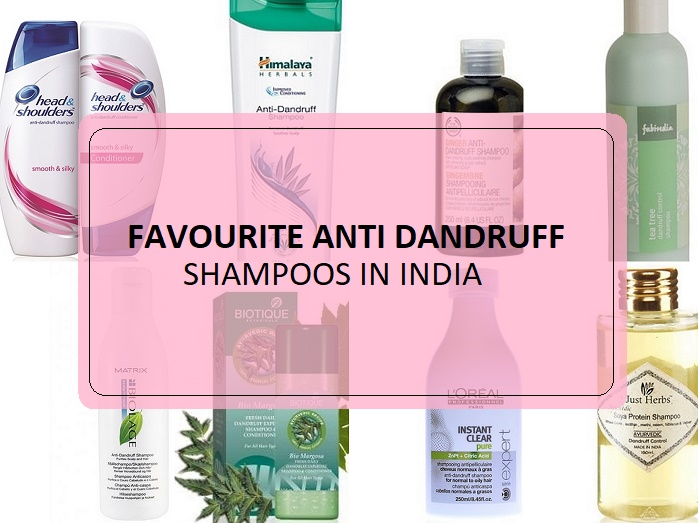 Top 10: Best Anti-Dandruff Shampoos Available in India for Men, Women, Oily Scalp, Price List
Dandruff is the most embarrassing problem which most of us face everyday. Continuous itching all the time, visible flakes which stop you from wearing black dresses, I am sure all of us have faced this some time or another. Today, I am listing down some of the best Anti-Dandruff Shampoos available in India for oily scalp which can be used by both men and women as men tend to have dandruff issues a lot more. I have included dandruff shampoos in all price ranges and both ayurvedic and medicated ones. Go through the list to pick one suitable for your needs. Be it winter or summer you need to keep one anti dandruff shampoo at home to fight it off.
List of Best Anti Dandruff Shampoos in India:
1. Head & Shoulders Smooth & Silky shampoo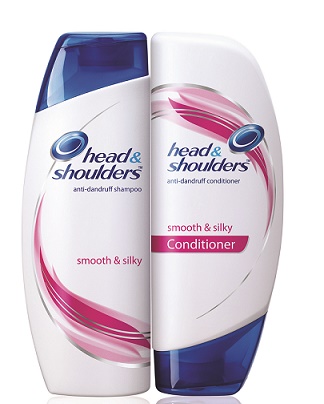 My trusted Head & Shoulders Smooth & Silky shampoo acts as a moisture-rich pick-me-up for those days when my hair feel dull and dry. The shampoo leaves my hair silky smooth, and takes care of the dandruff from the first wash itself. With add moisturizers as the key ingredient, this shampoo replenishes the moisture balance from the roots. It is available in Shampoo and Conditioner which makes for a dream team as the shampoo takes care of the dandruff while the conditioner makes sure my hair feel moisturised. Price in India: Rs.60 for 80ml (shampoo) and Rs.75 for 80ml (conditioner)
2. Matrix Biolage Scalp Therapie Anti Dandruff Shampoo:
Its one of the best shampoos for stubborn dandruff problems. This one from Matrix cleanses and removes all pollutants and limit the growth of dandruff causing bacteria on scalp. It also soothes and protects against scalp irritation. Hair is smooth and soft without any dryness. Price in India: Rs.205 for 200ml.
3. Himalaya Herbals Anti-Dandruff Shampoo:
It is a mild shampoo which gently removes dandruff and ensures a healthy scalp. Enriched with natural ingredients like tea tree oil, chickpea and aloe vera, this shampoo doesn't cause dryness and makes hair soft and smooth. It also alleviates itching and cures fungal infections. Its safe to be used even on colored or permed hair. Additionally, its also free from parabens and SLES. Best for low to medium cases of dandruff. One of the best ayurvedic anti dandruff shampoos in India. Price in India: Rs.70 for 100ml, Rs.130 for 200ml and Rs.220 for 400ml
4. The Body Shop Ginger Anti-Dandruff Shampoo:
It is a gel based shampoo and it feels really refreshing on the hair and scalp. Within 3 washes, you can observe significant reduction in itching and flaky scalp. Makes scalp squeaky clean. But you need to follow up with a good leave in serum as it tends to make hair dry and static. Again one of the top anti-dandruff shampoos in the world. Price in India: Rs.795 for 250ml.
5. Fabindia Tea Tree Dandruff Control Shampoo:
Fabindia has lot of effective products and their dandruff control shampoo is one of them. Made with tea tree oil, this shampoo helps to control dandruff by unblocking unclogged hair follicles. Also protects the scalp from fungal infections. It is gentle enough for everyday use. Effective for mild to moderate dandruff. Price in India: Rs.350 for 250ml.
Its one of the most popular shampoos which I guess most of us would have used atleast once. Contains ZTPO formula to treat dandruff and Micro Moisture Serum to provide moisturization. Also helps control hairfall. Price in India: Rs.75 for 80ml, Rs.170 for 180ml and Rs.290 for 360ml.
7. L'Oreal Professional Expert Serie Instant Clear Anti-Dandruff Shampoo:
One of the most popular salon-range products for dandruff. Its very effective in curing dandruff and flaky scalp. Also soothes and calms the itchiness. Scalp feels totally clean and refreshed. It doesn't dry out hair much, unlike other anti-dandruff shampoos thus giving strong, shiny and healthy hair. One of the best anti dandruff shampoos in the Indian market. Price in India: 575 for 250ml.
8. Khadi Neem and Aloe Vera Anti-Dandruff Shampoo:
This is a SLS and paraben-free shampoo. It cleanses dead cells and fights against dandruff and flaky scalp disease giving you healthy hair and scalp. Only downside, being a herbal product, the results are slower, that is, you need to keep using it patiently for atleast 2-3 months to see good improvement. Price in India: Rs.210 for 210ml.
9. Biotique Bio Margosa Anti-Dandruff Shampoo & Conditioner:
It is a blend of ayurvedic herbs like margosa, bhringraj, reetha, neem and sandalwood extracts. The shampoo gently cleanses while also keeping a check on dandruff. Since its a two-in-one shampoo + conditioner, it doesn't dry out the hair and you can skip on a separate conditioner unless you have very dry hair. Though its suitable only for mild cases of dandruff. Price in India: Rs.99 for 120ml.
10. Just Herbs Dandruff Control Ayurvedic Soya Protein Shampoo:
This ayurvedic shampoo from Just Herbs brand contain a whole lot of natural ingredients beneficial for hair like amla, methi, neem, hibiscus, vetiver and wheatgerm oil. It is a very mild everyday use shampoo to keep your hair clean and flakeless. Its free from SLS, SLES, petrochemicals and parabens. Makes your hair so soft, silky and conditioned and even controls frizz. Price in India: Rs.475 for 100ml.
Bonus Entry: Cipla 8x Anti Dandruff Shampoo:
Its a medicated shampoo, recommended by dermatologists, which can cure all levels of dandruff. It decreases itchiness, flakiness and controls dandruff. Its pH balanced and also contains aloe vera for extra conditioning. Though you need to follow up with a conditioner as it makes hair drier. And its very affordable as well. Price in India: Rs.155 for 100ml.
So, which anti-dandruff shampoo are you currently using? Which ones do you feel are effective in combating itchiness and flakiness? Share your experience in the comments below.
By Contributor: Archana
Read More:
L'Oreal Paris Total Repair 5 Shampoo
TRESemme Ionic Strength Shampoo
L'Oreal Paris 6 Oil Nourish Shampoo
Which is your favourite Anti Dandruff Shampoo in India? Share your reviews with us.